In our effort to bring good content to as many people as possible the text in this blog post has been machine translated so please excuse any mistakes. Thank you!
Par Esther Arnaut Amador
Un contact visuel, un sourire sincère et un câlin chaleureux étaient les trois ingrédients dont j'avais besoin pour commencer une amitié quand j'étais enfant. Au fil du temps, cette liste d'éléments a commencé à s'allonger, mais je n'ai jamais pensé ajouter une distance de 6 pieds, un masque et un appel vidéo. De nos jours, rencontrer de nouvelles personnes est difficile; il y a trop de choses à penser avant d'être avec quelqu'un de nouveau: cette personne est-elle vaccinée? Est-il prudent? Et s'il est malade? Et une liste interminable de questions qui nous amènent à trop réfléchir à une simple interaction.
Cela ne semble pas très facile, mais si j'y pense, même en ces temps difficiles, j'ai eu la chance de rencontrer des gens incroyables. Certains d'entre eux sont maintenant vraiment spéciaux pour moi. Et je me demande, comment faisons-nous cela? Si je ne peux pas vous sourire ou vous étreindre, comment pouvons-nous développer une amitié? La résilience et l'adaptabilité sont ma réponse.
La vie a été plus dure, différente et compliquée pour tout le monde depuis le début de la pandémie, c'est certain. Certaines personnes ont perdu un membre de leur famille ou ont passé des semaines dans un hôpital; d'autres souffraient d'anxiété et de dépression. Parce que comme moi, ils étaient loin de chez eux, passant des mois sans voir leurs proches et leurs proches, se demandant chaque jour s'ils seraient en sécurité et s'ils auraient l'opportunité de leur sourire, de les serrer dans leurs bras et de les sentir proches.
Et tout l'isolement et le stress nous ont rendus plus forts; cela nous a aidés à réaliser et à valoriser ce que nous avons et ce que nous sommes. Nous avons appris à vivre dans le présent parce que toutes ces choses que nous tenons pour acquises ont disparu une fois, et c'était douloureux. Nous avons eu le temps de nous connecter avec ce qui compte et de clarifier nos objectifs. L'école éloignée nous a aidés à réaliser à quel point nous sommes intelligents, forts et capables, les enseignants n'ont pas cessé d'innover et les élèves ont cherché des moyens de s'adapter et de se soutenir les uns les autres parce que, après tout, nous sommes dans le même bateau, n'est-ce pas?
Quelqu'un m'a dit un jour, «la pression fait des diamants», et c'est ce qui nous est arrivé; nous sommes ici, nous sommes arrivés jusqu'ici pour une raison et nous n'abandonnerons pas. Ce monde, cette vie, a trop à offrir, et le contact visuel, les sourires sincères et les câlins chaleureux sont au coin de la rue; Je peux déjà le sentir.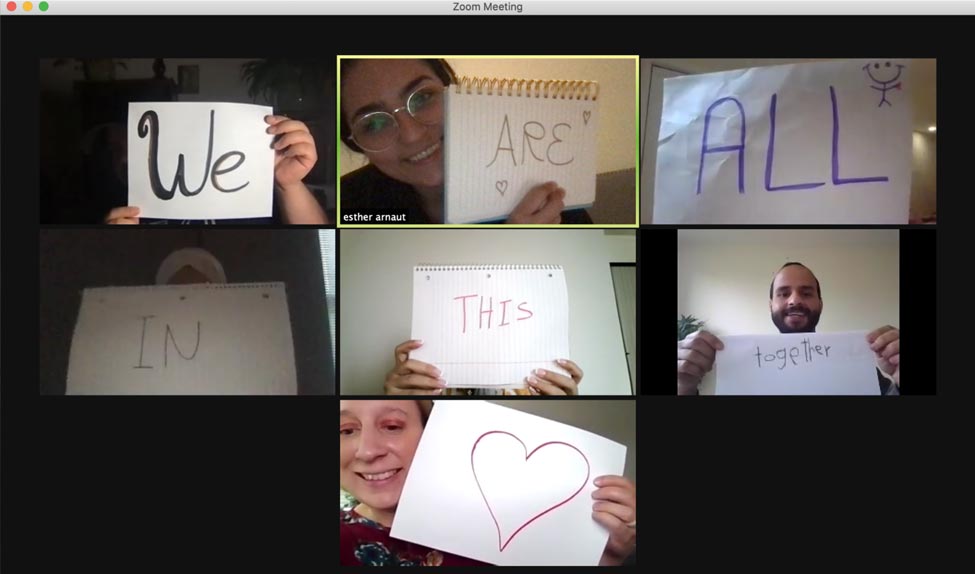 Ceci est une photo de ma classe distante dans le programme ELA de l'Université DePaul. Mes camarades de classe, mes professeurs et moi avons trouvé un moyen de développer une amitié virtuelle et authentique.
---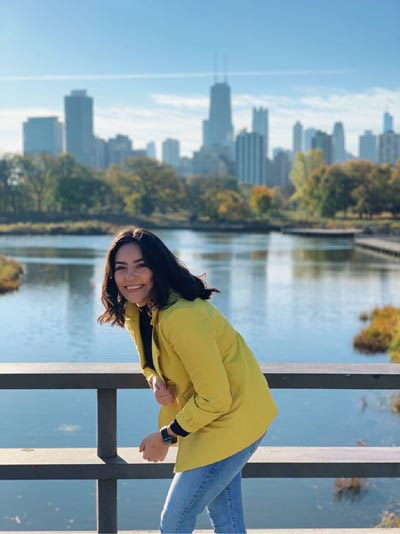 Esther Arnaut Amador de La Paz, au Mexique, étudie l'anglais à la English Language Academy de l'Université DePaul à Chicago, dans l'Illinois.