In our effort to bring good content to as many people as possible the text in this blog post has been machine translated so please excuse any mistakes. Thank you!
Por Esther Arnaut Amador
El contacto visual, una sonrisa sincera y un cálido abrazo eran los tres ingredientes que necesitaba para iniciar una amistad cuando era niña. Con el tiempo, esa lista de elementos comenzó a crecer, pero nunca pensé que agregaría una distancia de 6 pies, una máscara y una videollamada. En estos días, conocer gente nueva es difícil; Hay demasiadas cosas en las que pensar antes de estar cerca de alguien nuevo: ¿Está esa persona vacunada? ¿Tiene cuidado? ¿Y si está enfermo? Y una lista interminable de preguntas que nos llevan a pensar demasiado en una simple interacción.
No parece muy fácil, pero si lo pienso, incluso en estos tiempos difíciles, tuve la oportunidad de conocer a mucha gente increíble. Algunos de ellos ahora son realmente especiales para mí. Y me pregunto, ¿cómo lo estamos haciendo? Si no puedo sonreirte o abrazarte, ¿cómo podemos desarrollar una amistad? La resiliencia y la adaptabilidad son mi respuesta.
La vida ha sido más difícil, diferente y complicada para todos desde que comenzó la pandemia, eso es seguro. Algunas personas perdieron a un familiar o pasaron semanas en un hospital; otros padecían ansiedad y depresión. Porque como yo, estaban lejos de casa, pasando meses sin ver a sus familiares y seres queridos, preguntándose todos los días si estarían a salvo y si tendrían la oportunidad de sonreírles, abrazarlos de nuevo y sentirlos cerca.
Y todo el aislamiento y el estrés nos hicieron más fuertes; nos ayudó a darnos cuenta y valorar lo que tenemos y lo que somos. Aprendimos a vivir en el presente porque todas esas cosas que damos por sentado una vez se fueron, y fue doloroso. Tuvimos tiempo de conectarnos con lo que importa y aclarar nuestros objetivos. La escuela remota nos ayudó a darnos cuenta de lo inteligentes, fuertes y capaces que somos, los profesores no han dejado de innovar y los alumnos han buscado formas de adaptarse y apoyarse unos a otros porque, después de todo, estamos juntos en esto, ¿verdad?
Alguien me dijo una vez, "la presión hace diamantes", y eso es lo que nos pasó; Estamos aquí, hemos llegado tan lejos por una razón y no nos rendiremos. Este mundo, esta vida, tiene mucho que ofrecer y el contacto visual, las sonrisas sinceras y los cálidos abrazos están a la vuelta de la esquina; Ya puedo sentirlo.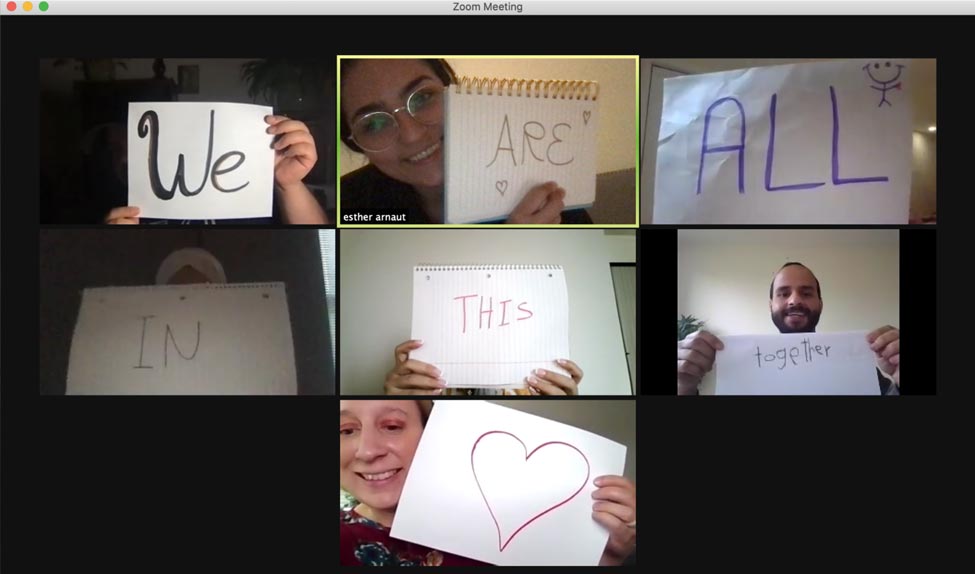 Esta es una foto de mi aula remota en el programa ELA en la Universidad DePaul. Mis compañeros, profesores y yo hemos encontrado la manera de desarrollar una amistad virtual y genuina.
---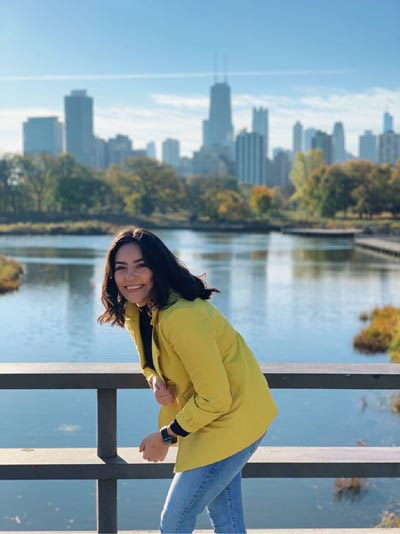 Esther Arnaut Amador de La Paz, México, está estudiando inglés en la English Language Academy de la DePaul University en Chicago, Illinois.