Friendship in Pandemic Times
By Esther Arnaut Amador
Eye contact, a sincere smile, and a warm hug were the three ingredients I needed to start a friendship when I was a child. Over time, that list of elements began to grow, but I never thought I would add 6-ft-distance, a mask, and a video call. These days meeting new people is difficult; there are too many things to think about before being around someone new: Is that person vaccinated? Is he careful? What if he is sick? And an endless list of questions that lead us to overthink a simple interaction.
It doesn't seem very easy, but if I think about it, even under these challenging times, I had the chance to meet many incredible people. Some of them are now really special to me. And I wonder, how are we doing that? If I can't smile at you or hug you, how can we develop a friendship? Resilience and adaptability are my answer.
Life has been harder, different, and complicated for everyone since the pandemic began, that's for sure. Some people lost a family member or spent weeks in a hospital; others suffered from anxiety and depression. Because like me, they were far away from home, spending months without seeing their relatives and loved ones, wondering every day if they would be safe and if they would have the opportunity to smile at them, hug them again and feel them close.
And all the isolation and stress made us stronger; it helped us realize and value what we have and what we are. We learned to live in the present because all those things we take for granted once went away, and it was painful. We had time to connect with what matters and clarify our goals. The remote school helped us realize how smart, strong, and capable we are, teachers have not stopped innovating, and students have looked for ways to adapt and support each other because, after all, we are in this together, right?
Someone once told me, "pressure makes diamonds," and that's what happened to us; we are here, we have come this far for a reason, and we will not give up. This world, this life, has too much to offer, and eye contact, sincere smiles, and warm hugs are around the corner; I can already feel it.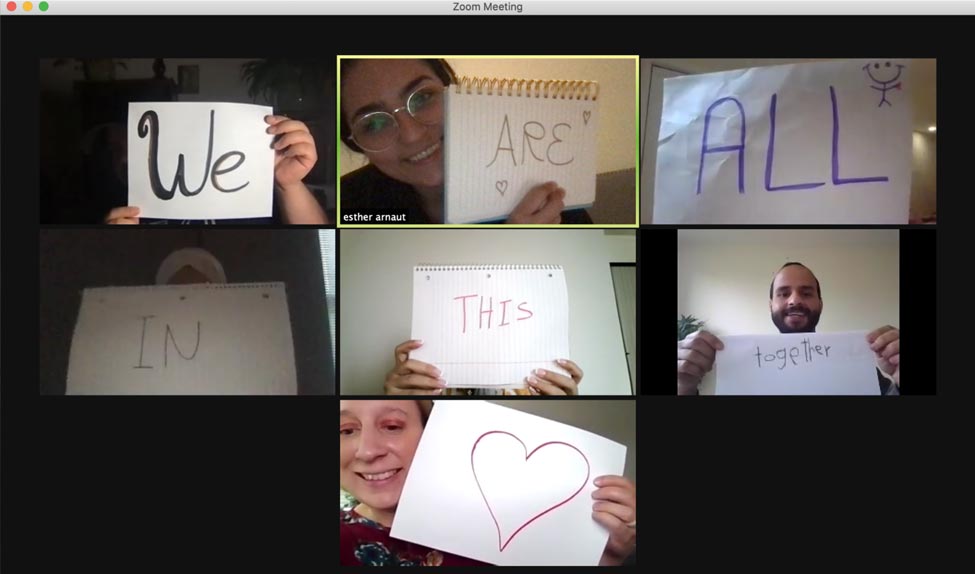 This is a photo of my remote classroom in the ELA program at DePaul University. My classmates, teachers, and I have found a way to develop a virtual and genuine friendship.
---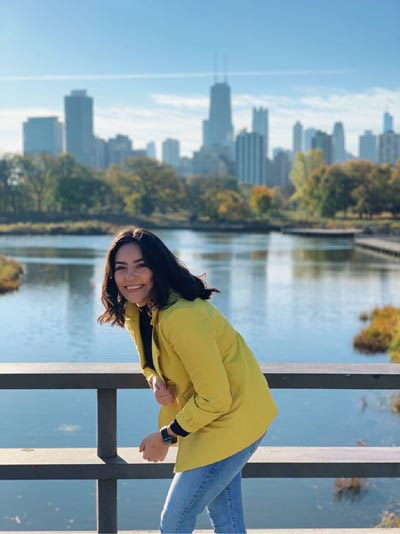 Esther Arnaut Amador from La Paz, Mexico, is studying English at the English Language Academy at DePaul University in Chicago, Illinois.
Written by
Esther Arnaut Amador
Get matched to the best program for you
Let us know what you're looking for so we can find the best school for you.
$1,000—$5,000 Semester
English Programs
Secondary/Boarding
Certificate/Short Term
$10,000 — $15,000 Year
Online
Bachelor Degree
English Programs
Start your U.S. adventure with Study in the USA
What's your dream? We can guide, advise, and connect you with your perfect U.S. school. We can also help you with the application process.
Partner Services
Learn About U.S. education financing, housing, and more
Prove your English and achieve your goals with the Michigan English Test – widely recognized and available on your own schedule at a test center or from home.
TestDEN's Online TOEFL Test Prep is just what you need to quickly and effectively prepare for the TOEFL test. Since 1998, TestDEN has helped tens of thousands of students raise their TOEFL scores.
Ready to make your MBA dreams a reality? Register now for a virtual or in-person event with The MBA Tour! Don't miss your chance to speak directly with leading business schools, such as Harvard University, Boston University, Columbia University, UC...
Testimonials
StudyUSA.com has brought me a lot of ideas and inspiration about the USA, before I even landed. Thanks so much!
Kallol Kumar Bhattacharyya India
Study in the USA showed me international students' experiences while they were studying and how the process of transferring and taking your classes here was.
Study in the USA helped me expand my academic horizons and developed my ability to adapt to different educational settings. It also helped me adapt to different styles of teaching...
Resources
Learn about American culture and education direct from our experts at Study in the USA. Read more