In our effort to bring good content to as many people as possible the text in this blog post has been machine translated so please excuse any mistakes. Thank you!
Hamdiatu Yakuba tarafından
Bu benim ilk kez evimden çok uzakta, neredeyse farklı bir dünyaya geliyorum. Kendimi Orta Batı ABD eyaleti, Iowa'da buldum. Evet, ABD'deki en soğuk eyaletlerden biri, aslında soğuk ve dondurucu havayı sevmiyorum, ancak bu kırsal bölge benzeri eyaletle ilgili diğer şeyleri seviyorum. Iowa'yı o kadar çok sevmeyebilirim, ancak gelecekte bir ara tekrar gelmeyi sevmem için 5 neden söyleyerek kendimle çelişmeme izin verin.
Beşinci sebepten başlayarak, Iowa'daki geniş tarım arazilerinden aldığım Afrika hissi. Bunu kimin bildiğini bilmiyorum ama tıpkı birçok Afrika ülkesi gibi Iowa da tarım ve çiftlik ürünleri ile tanınıyor. Dünyaca ünlü Quaker Yulafı, mısır, soya fasulyesi, çavdar, buğday ve elma gibi meyveler gibi diğer çiftlik ürünlerinin yanı sıra Iowa'da üretilmektedir. Pekala, evim gibi hissettirdiği için oraya geri dönmeyi çok isterim ve bu da bana "Amerika'nın bir kısmı bir bakıma Afrika gibi" diye düşündürdü.
Bir sonraki sebebim okulum olacak, Kirkwood Community College (KCC) . Kirkwood'u seviyorum. Bekle, kim okulunu sevmez? Yapmazsınız? Ben çok yaparım. Kirkwood, eyaletteki birçok kampüsü ile Iowa'daki en büyük topluluk kolejidir. Çeşitli kurslar, bölümler, kulüpler, salonlar, burs programları vb. İle benim gibi yüzlerce ve binlerce uluslararası öğrenciye ev sahipliği yapmaktadır. Ana kampüsü Cedar Rapids'dedir. Başka bir AA istiyorsam Kirkwood'a tekrar gelmeyi çok isterim. Kirkwood'un öğrenciler için danışmanlık hizmetleri, yazı merkezi, finansal hizmetler, teknik destek, uygulama stüdyoları vb. Gibi harika kaynakları vardır. Öğretim görevlileri iletişime, açıklamaya, yardıma ve ekstra öğrenime açıktır. Kampüs ortamı hoş ve sakinleştiricidir. Beni "Şimdi bu bir öğrenme ortamı" gibi hissettiriyor.
Yeter Kirkwood, Iowa'daki güzel tarihi kasabalardan bahsedelim. Cedar Rapids - en sevdiğim - Dubuque, Iowa City, Des Moines (henüz oraya gitmediler), Kalona, Amana Colonies, Coral Ridge, vb. Bu kasabaları seviyorum, yani başkent Des Moines hariç, güzellikleri için ve muhteşem binalar. Tarihi hislere sahipler ve binalar eski günlerde olduğunuzu hissettiriyor. Detaylı tuğla hatları ve canlı renkler ile çok güzel mimari binalar. Dubuque, binaları ve daha sonra bahsedeceğim bir şey nedeniyle Iowa'da en sevdiğim yer. Binalara hayran olmak bana bir gün mümkünse aynı tasarımlarla kendi evimi yaptırma hissini veriyor.
Bu sebep, Nature'da kaldığım süre boyunca nasıl hayatta kaldığıma katkıda bulunuyor. Doğa derken, gökyüzünü, nehirleri, hayvanları, öngörülemeyen hava koşullarını, ağaçları, çiçekleri, kuşların seslerini, canlı yeşil çimenleri, pek yakmayan güneşi burayı sakin ve sessiz kılıyor. Evet, sessiz bir ortamı seviyorum, evim çok sakin, dingin ve serin, bu da bunaldığımda iyileşmeme yardımcı oluyor. Nehirleri seviyorum çünkü suyu seviyorum, bu yüzden Dubuque'u daha çok seviyorum. Neden? Çünkü Chicago'ya giderken Mississippi ile tanışmamı sağladı. Gökyüzü süper serin mavisi, canlı yeşil, pembe, beyaz, lavanta, şarap vb. Ağaçlarıyla muhteşemdir. Hayvanlar, korkabilirim ama hayvanat bahçesindeki mirketler, develer, zürafalar, kakadular, geyikler gibi bir çifti sevebilirim. , sincaplar, bobcat, vb. Nerede olursanız olun doğa harikadır, bu yüzden Iowa'yı daha çok seviyorum.
Şimdi, Iowa'yı tekrar tekrar ziyaret etmeyi sevmemin en önemli nedenine - ev sahibim / akıl hocam ailem. Lauri ve Richard aka Butch, Iowa'da başıma gelen en iyi şeyler. Bu adamlar beni evlerine, ailelerine, hayatlarına, sonra kalplerine götürdüler ve o zamandan beri bana kendileri gibi davrandılar. Amerikalıların hepsinin değil aile odaklı olmadığını kim söyledi? Beni özletiyorlar ama evi de özlemiyorlar, Iowa'yı evden uzakta bir ev yaptılar. Sarılmalar, akşam yemekleri, geziler, geçirilen zaman, Butch'la (favorim) gezintiler ve benim için sahip oldukları diğer bilinmeyen planlar. Iowa'ya her zaman en azından onlar için gelirdim.
Sanırım bu nedenler benim için sadece öznel, peki daha önce gittiğiniz bir yeri ziyaret etme nedenleriniz nelerdir? Ve eğer mümkünse neden Iowa'ya gitmiyorsun ve benim sahip olduğum gibi kendi nedenlerini bul.
---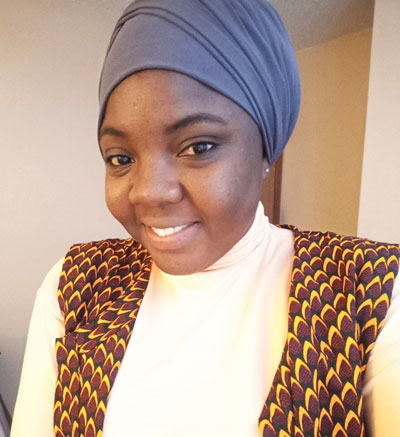 Gana, Batı Afrika'dan Hamdiatu Yakubu, şu anda Iowa, Cedar Rapids'deki Kirkwood Community College'da gazetecilik okuyor. Doğayı, yemek yapmayı, film izlemeyi, dilleri, yazmayı ve fotoğrafçılığı sever.