In our effort to bring good content to as many people as possible the text in this blog post has been machine translated so please excuse any mistakes. Thank you!
Por Hamdiatu Yakuba
Esta es la primera vez que estoy realmente lejos de casa en un mundo casi diferente. Me encontré en el estado del Medio Oeste de Estados Unidos, Iowa. Sí, uno de los estados más fríos de los EE. UU. En realidad, no me gusta el clima frío y helado, pero sí me gustan otras cosas de este estado rural. Puede que no me guste mucho Iowa, pero permítanme contradecirme diciéndoles 5 razones por las que aún me encantaría volver en el futuro.
Comenzando con la quinta razón es el sentimiento africano que obtengo de las vastas tierras de cultivo en Iowa. No sé quién sabe esto, pero al igual que muchos países africanos, Iowa es conocida por la agricultura y los productos agrícolas. El mundialmente conocido Quaker Oats se produce en Iowa, junto con otros productos agrícolas como maíz, soja, centeno, trigo y frutas como las manzanas. Bueno, me encantaría volver a ese lugar, ya que se siente como en casa y eso me hizo pensar que "alguna parte de Estados Unidos es como África en cierto modo".
Mi próxima razón sería mi escuela, Kirkwood Community College (KCC) . Amo a Kirkwood. Espera, ¿quién no ama a su escuela? ¿Tu no? Bueno, lo hago mucho. Kirkwood es el colegio comunitario más grande de Iowa con muchos campus en todo el estado. Es el hogar de cientos y miles de estudiantes internacionales como yo con varios cursos, departamentos, clubes, pasillos, programas de becas, etc. Su campus principal se encuentra en Cedar Rapids. Me encantaría volver a Kirkwood para estudiar si quiero otro AA. Kirkwood tiene excelentes recursos para los estudiantes, que van desde servicios de consejería, centro de redacción, servicios financieros, soporte técnico, estudios de práctica, etc. Los profesores están abiertos a la comunicación, aclaraciones, ayuda y matrícula adicional. El ambiente del campus es agradable y tranquilo. Me hace decir: "Este es un entorno de aprendizaje".
Suficiente de Kirkwood, hablemos de las hermosas ciudades históricas de Iowa. Cedar Rapids, mi favorito, Dubuque, Iowa City, Des Moines (aunque aún no he estado allí), Kalona, Amana Colonies, Coral Ridge, etc. Me encantan estas ciudades, me refiero a todas, excepto Des Moines, la capital, por su hermosa y edificios asombrosos. Tienen el aire histórico y los edificios te hacen sentir como si estuvieras en los viejos tiempos. Muy bonitos edificios arquitectónicos con líneas detalladas de ladrillos y colores vibrantes. Dubuque es mi lugar favorito en Iowa por sus edificios y otra cosa que mencionaría más adelante. Admirar los edificios me da la sensación de tener mi propia casa construida con los mismos diseños algún día si es posible.
Esta razón contribuye a cómo he sobrevivido durante mi estadía aquí, Naturaleza. Cuando digo naturaleza, me refiero al cielo, los ríos, los animales, el clima impredecible, los árboles, las flores, los sonidos de los pájaros, la hierba verde vibrante, el sol no tan ardiente, todo lo que hace que este lugar sea tranquilo y silencioso. Sí, me encanta un ambiente tranquilo, mi residencia es muy tranquila, serena y fresca lo que me ayuda a recuperarme cuando estoy abrumado. Amo los ríos porque amo el agua, por eso amo más Dubuque. ¿Por qué? Porque me llevó a encontrarme con el Mississippi de camino a Chicago. El cielo es magnífico con su azul súper fresco, los árboles vibrantes de verde, rosa, blanco, lavanda, vino, etc. Animales, puedo temer, pero amo a una pareja como las suricatas en el zoológico, los camellos, jirafas, cacatúas, ciervos , ardillas, linces, etc. Supongo que la naturaleza es asombrosa sin importar dónde estés, por eso amo Iowa aún más.
Ahora, la razón más importante por la que me encantaría visitar Iowa una y otra vez: mi familia anfitriona / mentora. Lauri y Richard, alias Butch, son las mejores cosas que me han pasado aquí en Iowa. Estos muchachos me llevaron a sus hogares, a su familia, a sus vidas, luego a sus corazones y desde entonces me han tratado como a los suyos. ¿Quién dijo que los estadounidenses no están orientados a la familia, bueno, no todos? Me hacen extrañar pero no extrañar mi hogar, han hecho de Iowa un hogar lejos del hogar. Los abrazos, cenas, viajes, tiempo dedicado, paseos con Butch (mi favorito) y todos los otros planes desconocidos que tienen para mí. Siempre vendría a Iowa al menos solo por ellos.
Bueno, supongo que estas razones son solo subjetivas para mí, entonces, ¿cuáles son tus razones para visitar ese lugar en el que has estado antes? Y, si es posible, ¿por qué no ir a Iowa y encontrar sus propias razones como las que tengo yo?
---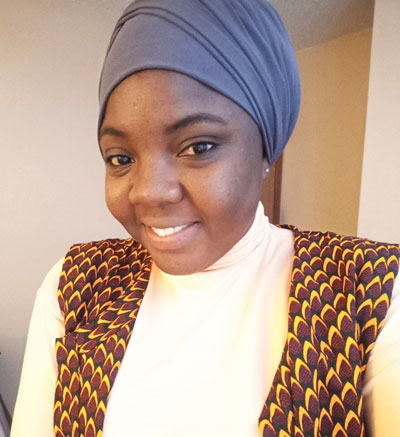 Hamdiatu Yakubu de Ghana, África Occidental, actualmente estudia periodismo en Kirkwood Community College en Cedar Rapids, Iowa. Le encanta la naturaleza, cocinar, ver películas, los idiomas, la escritura y la fotografía.