In our effort to bring good content to as many people as possible the text in this blog post has been machine translated so please excuse any mistakes. Thank you!
Nicole Awad tarafından
Son iki yılın ne kadar hızlı geçtiğini düşünmek çılgınca. Hayatımın en harika deneyimlerinden birini yaşamaya hazırlandığım iki yıl öncesinden çok canlı anılarım var. Tampa'ya gelip çevreyi, kültürü ve insanları tanımak için heyecanlı ve heyecanlıydım. O zamanlar 19 yaşındaydım ve burada inşa edeceğim birçok anı hakkında hiçbir fikrim yoktu ve Hillsborough Community College'da (HCC) sadece iki yıl içinde ne kadar öğrenebileceğim hakkında hiçbir fikrim yoktu. Başlangıçta ihtiyacım olan tüm destek ve ilgiye sahiptim ve fakülte, öğrenciler, HCC danışmanları ve diğer ekip üyeleri bana çok nazik davrandılar. HCC'deki deneyimlerim beni daha güçlü ve daha olgun hale getirdi, yumuşak becerilerimi ve liderlik becerilerimi geliştirdi ve beni proaktif, bağımsız ve yaratıcı kıldı. HCC, kendimin daha iyi ve daha profesyonel bir versiyonuna dönüşmek ve sonuç olarak dünya görüşlerimi etkilemek, birçok iç engeli kırmak ve beni sınırlarıma itmek için alan verdi.
Beni bu kadar iyi karşılayan ve kendimi gerçekten rahat hissettiren, dolayısıyla hayatımın iki muhteşem yılı boyunca evim haline gelen bir yere veda etmek zor. Yolumdan geçen herkese ve burada öğrendiğim her derse müteşekkirim. Kesinlikle hayatım boyunca her şeyi yanımda götüreceğim. Şimdi, mezuniyet törenimde resmi olarak HCC'ye veda etmeye hazırlanıyorum ve üniversitedeki yolculuğum boyunca beni takip eden tüm bu tanıdık yüzlerle bu kucaklayan topluluğun biraz daha tadını çıkarmak için son fırsatı elde ediyorum. Yakında hayatımın başka bir bölümü başlayacak, bu sefer yeni bir kurumda. Ama yine de çok uzak olmayacağım.
Şu anda bana hakim olan birçok duygu var ve bunların HCC'ye kaydolmak üzere olduğum ana ne kadar benzediğini düşünebiliyorum. Bu yeni bir başlangıç ve her şeyin farklı olacağını biliyorum ama aynı zamanda Güney Florida Üniversitesi'nde (USF) yeni anılar ve deneyimler inşa edeceğim için çok mutluyum. Çok yakında yaşayacağım büyük dönüşümün hala duygusal olarak farkında olmadığımı hissediyorum, özellikle de USF'ye katılacağım gerçeğinin yanı sıra başka bir yere de taşınıyorum. Bazen, özellikle her zamankinden daha fazla adapte olduğumuzu hissettiğimizde, rahatlık alanımızdan çıkmak korkutucu olabilir. Ancak öte yandan, HCC'deki geçmişime dönüp baktığımda, kendimi burada kolejde edindiğim tüm bilgileri uygulamaya daha hazır ve hazır hissediyorum. Ek olarak, insan zihni ve psikolojinin kendisi hakkında daha derinlemesine öğreniyor olacağım için mutluyum.
Derslerim Ağustos'ta başlıyor ve hala üç ay daha kalmış olmasına rağmen, geçen her gün onlara daha yakın olduğumu hissediyorum. Yeni bir işim, yeni profesörlerim, yeni oda arkadaşlarım ve burada HCC'de sahip olduğum sınıflardan farklı sınıflarım olacak. Kesinlikle HCC'de benden bir parça bırakacağım, ancak HCC aracılığıyla tanıştığım harika insanları bugün gerçekten ailemi arayabileceğim harika insanları getireceğim. Dahası, bu yeni realitede olmaktan ve hayatımın bu aşamasında elimden geldiğince keyif aldığım için heyecanlıyım. Kesinlikle daha fazla odaklanma, çalışma, kararlılık ve çalışma gerektirecek, ancak mümkün olduğunca fazla bilgiyi özümsemeyi umuyorum, böylece gelecekteki kariyerim boyunca insanlara yardım etmek için elimden gelen en iyi profesyonel olmaya hazır olabilirim.
---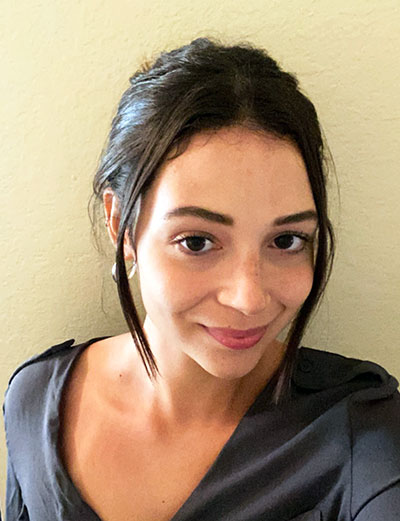 Brezilya'dan Nicole Abel Fouad Awad, Hillsborough Community College'daki son dönemini yeni bitirdi ve şu anda 2021 sonbahar dönemi için Güney Florida'daki Üniversiteye kaydolmaya hazırlanıyor.