In our effort to bring good content to as many people as possible the text in this blog post has been machine translated so please excuse any mistakes. Thank you!
Por Nicole Awad
É uma loucura pensar como esses dois anos se passaram rápido. Tenho vívidas lembranças de dois anos atrás, quando me preparava para viver uma das experiências mais incríveis da minha vida, senão a maior. Eu estava ansioso e animado para vir a Tampa e conhecer o meio ambiente, a cultura e as pessoas. Eu tinha 19 anos na época e não fazia ideia das muitas memórias que construiria aqui e do quanto poderia aprender em apenas dois anos estudando no Hillsborough Community College (HCC). Tive todo o apoio e atenção de que precisava no início, e o corpo docente, os alunos, os orientadores do HCC e outros membros da equipe foram muito gentis comigo. Minhas experiências na HCC me tornaram mais forte e mais maduro, melhorou minhas habilidades sociais e habilidades de liderança e me tornou proativo, independente e criativo. O HCC me deu espaço para crescer em uma versão melhor e mais profissional de mim mesmo e, consequentemente, impactar minhas visões de mundo, quebrando muitas barreiras internas e me empurrando para fora de meus limites.
É difícil me despedir de um lugar que tão bem me acolheu e me fez sentir verdadeiramente à vontade, tornando-se, consequentemente, a minha casa durante dois anos espectaculares da minha vida. Agradeço a cada pessoa que cruzou meu caminho e a todas as lições que aprendi aqui. Certamente vou levar tudo comigo pelo resto da minha vida. Agora, estou me preparando para dizer adeus oficialmente ao HCC na minha cerimônia de formatura e ter a última oportunidade de desfrutar um pouco mais desta comunidade abrangente com todos esses rostos familiares que me acompanharam ao longo de minha jornada na faculdade. Em breve outro capítulo da minha vida começará, desta vez em uma nova instituição. Mas eu não irei muito longe.
Muitas emoções estão me dominando agora, e posso imaginar como elas são semelhantes ao momento em que eu estava prestes a me matricular no HCC . É um novo começo, e sei que tudo será diferente, mas ao mesmo tempo fico muito feliz por poder construir novas memórias e experiências agora na Universidade do Sul da Flórida (USF). Ainda me sinto emocionalmente inconsciente da enorme transformação que estarei passando muito em breve, principalmente porque além de frequentar a USF, também estou me mudando para outro lugar. Às vezes pode ser assustador sair da nossa zona de conforto, principalmente quando nos sentimos mais adaptados do que nunca. Mas, por outro lado, olhando para a minha experiência no HCC, me sinto mais preparado e pronto para aplicar todo o conhecimento que adquiri aqui na faculdade. Além disso, estou feliz por estar aprendendo mais profundamente sobre a mente humana e a própria psicologia.
Minhas aulas começam em agosto e embora ainda faltem três meses, sinto que a cada dia que passa estou mais perto deles. Terei um novo emprego, novos professores, novos colegas de quarto e aulas diferentes das que tive aqui no HCC . Certamente vou deixar um pedaço de mim aqui no HCC, mas vou trazer pessoas incríveis que conheci através do HCC que posso realmente chamar de minha família hoje. Além disso, estou entusiasmado por estar nesta nova realidade e desfrutar o máximo que puder nesta fase da minha vida. Definitivamente exigirá mais foco, trabalho, determinação e estudo, mas espero absorver o máximo de informações possível para estar preparado para ser o melhor profissional que puder para ajudar as pessoas em minha carreira futura.
---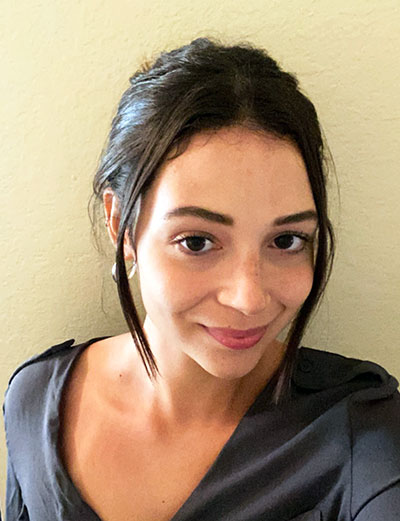 Nicole Abel Fouad Awad, do Brasil, acabou de terminar seu último semestre no Hillsborough Community College e atualmente está se preparando para se matricular na University at South Florida para o semestre de outono de 2021.