In our effort to bring good content to as many people as possible the text in this blog post has been machine translated so please excuse any mistakes. Thank you!
Par Nicole Awad
C'est fou de penser à quelle vitesse ces deux dernières années se sont écoulées. J'ai des souvenirs vivants d'il y a deux ans, où je m'apprêtais à vivre l'une des expériences les plus étonnantes de ma vie, sinon la plus grande. J'étais impatient et excité de venir à Tampa et de connaître l'environnement, la culture et les gens. J'avais 19 ans à l'époque, et je n'avais aucune idée des nombreux souvenirs que j'allais construire ici, et de tout ce que je pourrais apprendre en seulement deux ans au Hillsborough Community College (HCC). J'ai eu tout le soutien et l'attention dont j'avais besoin au début, et le corps professoral, les étudiants, les conseillers HCC et les autres membres de l'équipe ont été très gentils avec moi. Mes expériences chez HCC m'ont rendu plus fort et plus mature, amélioré mes compétences générales et mes compétences en leadership, et m'ont rendu proactif, indépendant et créatif. HCC m'a donné de l'espace pour devenir une version meilleure et plus professionnelle de moi-même, et par conséquent, avoir un impact sur ma vision du monde, briser de nombreuses barrières internes et me pousser vers mes limites.
Il est difficile de dire au revoir à un endroit qui m'a si bien accueilli et m'a vraiment mis à l'aise, devenant ainsi ma maison pendant deux années spectaculaires de ma vie. Je suis reconnaissant pour chaque personne qui a traversé mon chemin et pour chaque leçon que j'ai apprise ici. Je vais certainement tout emporter avec moi pour le reste de ma vie. Maintenant, je me prépare à dire officiellement au revoir à HCC lors de ma cérémonie de remise des diplômes et j'ai la dernière occasion de profiter un peu plus de cette communauté embrassante avec tous ces visages familiers qui m'ont suivi tout au long de mon voyage à l'université. Bientôt un autre chapitre de ma vie commencera, cette fois dans une nouvelle institution. Mais je ne serai pas trop loin.
Il y a beaucoup d'émotions qui me dominent maintenant, et je peux juste penser à quel point elles sont similaires au moment où j'étais sur le point de m'inscrire au HCC . C'est un nouveau départ, et je sais que tout sera différent, mais en même temps, je suis si heureux de construire de nouveaux souvenirs et expériences maintenant à l'Université de Floride du Sud (USF). Je ne me sens toujours pas émotionnellement conscient de l'énorme transformation que je vais vivre très bientôt, surtout parce qu'en plus du fait que je serai à l'USF, je déménage également dans un autre endroit. Parfois, il peut être effrayant de sortir de notre zone de confort, surtout lorsque nous nous sentons plus adaptés que jamais. Mais d'un autre côté, en repensant à mes antécédents à HCC, je me sens plus préparé et prêt à appliquer toutes les connaissances que j'ai acquises ici à l'université. De plus, je suis heureux d'en apprendre davantage sur l'esprit humain et la psychologie elle-même.
Mes cours commencent en août et même s'il reste encore trois mois, je sens que chaque jour qui passe je suis plus proche d'eux. J'aurai un nouvel emploi, de nouveaux professeurs, de nouveaux colocataires et des classes différentes de celles que j'ai eues ici à HCC . Je vais certainement laisser un morceau de moi ici à HCC, mais j'amènerai des gens incroyables que j'ai rencontrés par le biais de HCC que je peux vraiment appeler ma famille aujourd'hui. De plus, je suis ravi d'être dans cette nouvelle réalité et d'apprécier autant que possible à ce stade de ma vie. Cela exigera certainement plus de concentration, de travail, de détermination et d'étude, mais j'espère absorber autant d'informations que possible afin d'être prêt à être le meilleur professionnel possible pour aider les gens dans ma future carrière.
---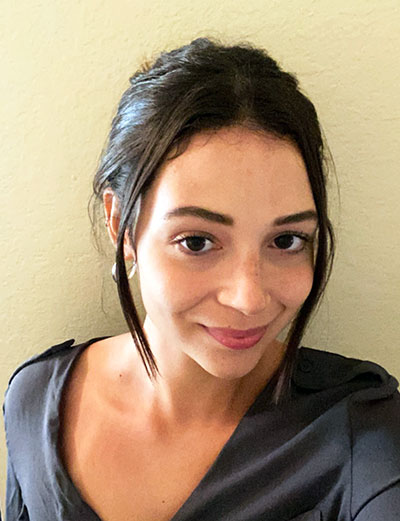 Nicole Abel Fouad Awad, du Brésil, vient de terminer son dernier semestre au Hillsborough Community College , et elle se prépare actuellement à s'inscrire à l'Université du sud de la Floride pour le semestre d'automne 2021.