Architecture Student Voices at Truckee Meadows Community College: Kallie Mendoza
By Alejandra Salas
For this blog, I decided to interview one of my closest friends, secretary of the American Institute of Architecture Northern Nevada (AIANN) Student Club, and architecture student at Truckee Meadows Community College (TMCC), Kallie Mendoza. We met taking design classes together and have the same interests regarding sustainability.
Kallie is 20 years old and was born and raised in Reno, Nevada. After graduating from high school, she decided to jump into her new academic journey and try different courses before choosing a specific degree. Her interest in design and technology led her to lean towards a more technology-related career such as computer science and biology at first; however, things always change depending on what you are exposed to, and in her case, benign exposure to nature and her passion for animal wildlife drove her to take an artsier and design-related course.
Following her passion
What inspired her to choose architecture as her career started in her first semester at TMCC when she took a variety of classes just to try her options and see what she liked the most. While taking one architecture class called "History of the Built Environment," her interest and excitement about the history of architecture and such slowly aroused in her the possibility to follow the path of design. Kallie's curiosity led her on and she mentioned that to our teacher, architect Kreg Mebust, who encouraged her to follow her passion and explore her design skills since it was pretty noticeable she was good at it. Since that first class, she became more involved in the architect community here in Reno, Nevada, and finally, after two semesters trying out different design classes, she has decided to go for an architecture degree. As she says, "It is all about trying out new things that somehow open so many doors of possibilities."
Coming from a Mexican family, where earning a degree and being educated is important, Kallie was taught at a very young age that school was an important part of life. Her mom, who is a teacher, always encouraged her to pursue higher education and believes having a degree is like a secret weapon to overcome life's difficulties. With such family influence, Kallie felt motivated, without pressure, since day one to earn her degree, and now, it's her main goal.
When it comes to deciding your future education, Kallie recommends having patience and taking your time; there is no time limit to getting your degree. She had the mindset of getting a degree and enrolling in university classes right away after graduating from high school. However, since she did not know at that time what major she wanted to study, the stress of the unknown made it difficult for her to find her way forward. Kallie feels grateful that she learned to go slow by starting with classes that appealed to her just to explore the possibilities. Nowadays, she feels comfortable with the path she took: an architecture degree in sustainable design.
Getting involved
Kallie's involvement in the architecture field at TMCC led her to be part of the American Institute of Architecture Students (AIAS) Club board. Even though it's only been 2 semesters so far, her experience as a member of the AIANN Student Club has been awesome since Kallie has been able to interact with the architect community in Reno by attending the AIANN monthly meetings, where the members talk about different projects related to the community. Also, what she likes the most about being a member of the board is the opportunity she has to share her ideas to improve the club activities for students. The club mainly focuses on helping architecture students to keep motivated and expand their professional network by encouraging them to get more involved in the community by attending architectural events around the Reno Area.
Kallie says it is quite amazing to see the results of a design process, especially after you start designing with a quick sketch, a bubble diagram, or even just a concept that inspires you. She believes that architecture is about exploring your ideas to the maximum; there is no wrong design if your design portrays your concept. Thinking outside the box is always your best option since architecture is about creating spaces from your creativity and making them a reality (with some math involved). It is such a rewarding feeling to see a project finished after all the hard effort and no-sleep days. After all, if you are passionate about it, nothing gets you tired. Be creative with your design, don't follow the trends, make your style a priority, and the rest will come with it. Kallie also recommends never giving up when designing a project; it is about enjoying the design process.
Being inspired
What Kallie likes the most about living around the Reno-Tahoe Area is nature; her inspiration is the contrast between the high deserts of Reno and the forests of Tahoe. One of her favorite activities around the Reno Area is exploring the outdoors in the summer season around Davis Creek for a perfect hike and barbecue with her family. It is absolutely beautiful to experience the sudden weather conditions Reno offers; from sunny days to rainy days and in a blink of an eye windy or snowy, depending on the season. However, Kallie thinks Reno will have a better tourism outcome if the city layout improves its pedestrian facilities for a better-integrated walkable city.
Every student's journey is differently marked by remarkable anecdotes. Kallie says winning an architecture-related American Institute of Architects of Northern Nevada scholarship made her whole semester. The opportunity came when she took a "design with nature'' class, and her instructor recommended that she apply for the scholarship due to her interest and achievements in the class. After applying, Kallie received a call congratulating her for winning the award, and after hanging up, she ran downstairs to tell her relatives about it and everybody was beyond happy for her. Moreover, another anecdote she shared was about forming the first gaming club called "TMGC" at TMCC. Being part of the clubs while studying in college helped her to get more involved in the community and interact with more people with the same ideals as her. One of the most iconic moments of this gaming club was that all the members used to gather together at the campus cafeteria and play Mario-Kart and other games.
Practical considerations
For Kallie, the most important step to getting an architecture degree if you are a prospective architecture student is to double-check that the classes that you take are related and transferable to your degree because degrees are always changing and sometimes transferable credits can be tricky if the syllabus of a class change. Also, make sure that the university you would like to transfer to is accredited by the National Architectural Accrediting Board (NAAB). She also advises future students to follow their intuition and skills when showing off, especially if they are artistic, creative, and most importantly wanting to design a better space for the future.
Once she graduates from TMCC, Kallie will transfer to the University of Nevada, Las Vegas (UNLV) and continue her academic journey as an architecture student to earn her bachelor's in Architecture, followed by a master's in Sustainable Design, since she believes that sustainability is an important topic nowadays. Also, one of her future goals is to design and open a sanctuary for the protection of wildlife due to her passion for animals and nature.
I hope you've enjoyed getting to know my friend Kallie and gotten some inspiration to stay focused on your education and pursue opportunities as they arise as you never know where they might take you.
---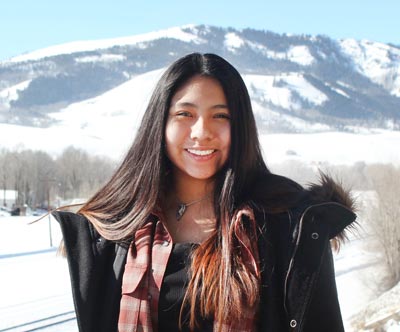 Alejandra Salas from Lima, Peru, is an architecture student and new International Peer Mentor at Truckee Meadows Community College.
Written by
Alejandra Salas
Get matched to the best program for you
Let us know what you're looking for so we can find the best school for you.
$40,000—$45,000 Semester
Bachelor Degree
Online
Masters
$5,000—$10,000 Year
Summer
Secondary/Boarding
English Programs
$40,000—$45,000 Year
Bachelor Degree
English Programs
Masters
Start your U.S. adventure with Study in the USA
What's your dream? We can guide, advise, and connect you with your perfect U.S. school. We can also help you with the application process.
Partner Services
Learn About U.S. education financing, housing, and more
Nomad Credit helps international students search for and compare education loan (student loan) options, including options for students with a US cosigner or those pursuing a graduate degree. The Nomad team will personally help you with your education...
ELSA - World's Best English Pronunciation App. Speak English like a native speaker. Get instant feedback on your speech from proprietary artificial intelligence technology. Learn more. Get a 10% discount using code: StudyUSA
You can now apply for a virtual internship and prepare for the global workforce from anywhere in the world. Internships are extremely flexible and run throughout the year, so you can apply at any time. Learn more!
Testimonials
Study in the USA is giving me informations about school in the United States.
StudyUSA.com provides a lot of useful information about universities. It also help me to contact with schools efficiently. Now, I'm finally being accepted by my ideal university. Thank you so much!
I remember my excitement when I first found Study in the USA's website. I subscribed to their website using my email and it used to send me success stories and the best universities to apply to in the USA.
Muhammadrazhab Elmurodov Tajikistan
Resources
Learn about American culture and education direct from our experts at Study in the USA. Read more