In our effort to bring good content to as many people as possible the text in this blog post has been machine translated so please excuse any mistakes. Thank you!
Por maria eduarda
Quando decidi estudar no exterior, a primeira coisa que fiz foi procurar estudantes brasileiros que estavam cursando um diploma no exterior e funcionários que pudessem me ajudar a planejar o processo de inscrição. Devo dizer que foi uma tarefa muito difícil porque é muito difícil encontrar pessoas com disponibilidade para falar com você e explicar como funciona todo o processo - uma vez que você iniciar a sua formação superior, você vai entender. Portanto, ao procurar essas pessoas, tive muita dificuldade, pois muitas vezes encontrei pessoas que me deram muito poucas explicações e que não foram muito simpáticas comigo e com a minha história. Além disso, como eu já havia iniciado o ensino superior no Brasil, tentar descobrir como poderia me inscrever como calouro no exterior foi ainda mais difícil. Por conta disso, várias vezes pensei em desistir do meu sonho e apenas continuar meus estudos no Brasil. Eu sabia que se tomasse essa decisão, não ficaria 100% feliz, mas também não me estressaria com nada. No entanto, minha mãe sempre foi uma grande defensora dos meus objetivos e ela sempre me deu incentivos para que eu pudesse estudar no exterior e, portanto, ela nunca me deixou simplesmente ficar "confortável". Assim, pela centésima vez, tentei entrar em contato com brasileiros que estudavam no exterior e foi aí que conheci o Tadeu Rodrigues, que agora é um grande amigo meu.
Na época, Tadeu era aluno do último ano do St. Francis College (SFC) e atleta de pólo aquático e natação. Ele era carioca, assim como eu, e também havia estudado em uma universidade no Brasil antes de se candidatar a uma universidade nos Estados Unidos e, desde o primeiro momento, foi muito receptivo a mim. Isso era muito diferente dos outros alunos com quem eu havia entrado em contato. Ele explicou tudo o que eu havia perguntado e até me colocou em contato com a gerente do Departamento de Admissões Internacionais, Bora Dimitrov, que em questão de segundos me contatou e agendou uma reunião para que eu pudesse entender mais sobre o St. Francis College's valores e comunidade. Foi a primeira vez em um ano procurando universidades no exterior que encontrei pessoas que realmente ouviram minha história e que estavam dispostas a me ajudar. Finalmente senti que as coisas estavam funcionando para mim - e realmente funcionaram!
O contato com o Tadeu e o Bora abriu tantas portas para mim que acho que nem consigo escrever todas aqui. Bora me contou sobre a oportunidade de ganhar uma bolsa integral e também sobre o Programa de Honras. Enquanto isso, Tadeu me apresentou a outros membros da equipe e alguns colegas, e então, em questão de meses eu já fazia parte da comunidade SFC! Antes de minhas aulas começarem, tive várias reuniões com os membros da equipe do SFC e, então, comecei a fazer amigos e ser conhecido por muitas pessoas. Fui reconhecida como "Maria do Brasil" e para mim foi incrível.
Minha experiência anterior em uma universidade foi muito diferente desta. Enquanto estudava no Brasil, eu era mais um número do que uma pessoa porque os professores não me conheciam e os alunos não se falavam, o que tornou toda a minha experiência muito frustrante. Então, para mim, estar tão distante fisicamente da minha faculdade atual (SFC), mas, ao mesmo tempo, tão conectado a ela foi simplesmente incrível.
Acho que, por ser tão comunicativo naquela época e tão disposto a fazer conexões, um mundo de oportunidades se abriu para mim. Meu contato inicial com Tadeu abriu meu caminho para a SFC, e então, fui apresentado a Bora e, mais tarde, a Esther, Dr. Reza Fakhari, Rob Oliva e tantos outros membros da equipe, todos trabalhando em nome de estudantes internacionais. Acredito que isso também foi possível porque o St. Francis College é uma escola pequena onde todos realmente se conhecem.
As turmas são pequenas para que os alunos tenham a chance de se envolver e fazer amizades. Meus primeiros anos me permitiram conhecer muitos professores e isso até me deu a chance de conseguir um emprego na escola no meu segundo semestre. Além disso, por fazer parte da Comunidade Internacional, na qual tivemos aulas com outros alunos internacionais, fiz amizades com pessoas de todo o mundo: Alemanha, Canadá, Trindad e Tobago, Espanha e Guiana, por exemplo. Agora, com a aproximação do tempo de estar presencial na escola, sinto que estou mais do que preparada para viver meu primeiro ano a quilômetros da minha família, pois já tenho amigos, professores e pessoas esperando para me receber!
---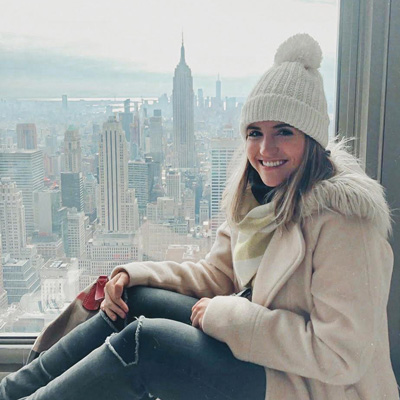 Maria Eduarda é uma estudante internacional brasileira no St. Francis College . Atualmente, seu curso está indeciso, mas ela se inclina para a ciência política. Ela também participa do Capítulo da Anistia Internacional nos EUA no SFC.