In our effort to bring good content to as many people as possible the text in this blog post has been machine translated so please excuse any mistakes. Thank you!
Por Maria Eduarda
Cuando decidí que quería estudiar en el extranjero, lo primero que hice fue buscar estudiantes brasileños que estuvieran cursando una carrera en el extranjero y miembros del personal que pudieran ayudarme a resolver el proceso de solicitud. Debo decir que fue una tarea muy difícil porque es muy difícil encontrar personas con disponibilidad para hablar contigo y explicarte cómo funciona todo el proceso; una vez que comiences tu educación superior, lo entenderás. Por lo tanto, al buscar a esas personas, tuve muchas dificultades, ya que a menudo me encontraba con personas que me daban muy pocas explicaciones y que no simpatizaban mucho conmigo y con mi historia. Además, debido a que ya había comenzado una educación superior en Brasil, tratar de averiguar cómo podría presentar una solicitud como estudiante de primer año en el extranjero fue aún más difícil. Debido a eso, hubo varias veces que pensé en renunciar a mi sueño y continuar mi educación en Brasil. Sabía que si tomaba esa decisión, no estaría 100% feliz, pero tampoco me estresaría con nada. Sin embargo, mi mamá siempre ha sido una gran defensora de mis metas y siempre me ha dado incentivos para que pudiera estudiar en el extranjero y, por lo tanto, nunca me dejó estar simplemente "cómoda". Así, por centésima vez traté de contactar con brasileños que estudiaban en el exterior y fue entonces cuando conocí a Tadeu Rodrigues, que ahora es un gran amigo mío.
En ese momento, Tadeu era un estudiante de último año en St. Francis College (SFC) y un atleta de waterpolo y natación. Él era de Río de Janeiro, al igual que yo, y también había estudiado en una universidad en Brasil antes de postularse a universidades en Estados Unidos, y desde el primer momento me fue muy acogedor. Eso era muy diferente de los otros estudiantes con los que me había puesto en contacto. Me explicó todo lo que le había preguntado, e incluso me puso en contacto con el gerente del Departamento de Admisiones Internacionales, Bora Dimitrov, quien en cuestión de segundos me contactó y programó una reunión para que yo pudiera entender más sobre St. Francis College's. valores y comunidad. Fue la primera vez en un año que buscaba universidades en el extranjero que encontré personas que realmente escucharon mi historia y que estaban dispuestas a ayudarme. Finalmente sentí que las cosas estaban funcionando para mí, ¡y realmente lo hicieron!
Estar en contacto con Tadeu y Bora me abrió tantas puertas que no creo que pueda escribirlas todas aquí. Bora me contó sobre la oportunidad de ganar una beca de matrícula completa y también sobre el Programa de Honores. Mientras eso sucedía, Tadeu me presentó a otros miembros del personal y a algunos colegas, y luego, en cuestión de meses, ¡ya era parte de la comunidad de SFC! Antes de que comenzaran mis clases, tuve varias reuniones con los miembros del personal de SFC, y luego, estaba haciendo amigos y siendo conocido por muchas personas. Me reconocieron como "María de Brasil" y para mí, eso fue increíble.
Mi experiencia previa en una universidad fue muy diferente a esta. Mientras estudiaba en Brasil, era más un número que una persona porque los profesores no me conocían y los estudiantes no se hablaban entre sí, lo que hizo que toda mi experiencia fuera muy frustrante. Entonces, para mí, estar tan lejos físicamente de mi universidad actual (SFC) pero, al mismo tiempo, tan conectado a ella, fue simplemente increíble.
Creo que debido a que era tan comunicativo en ese entonces y estaba tan dispuesto a hacer conexiones, se me abrió un mundo de oportunidades. Mi contacto inicial con Tadeu abrió mi camino hacia SFC, y luego, me presentaron a Bora, y más tarde a Esther, el Dr. Reza Fakhari, Rob Oliva y muchos otros miembros del personal, todos trabajando en nombre de los estudiantes internacionales. Creo que esto también fue posible porque St. Francis College es una escuela pequeña donde todos realmente se conocen.
Las clases son pequeñas para que los estudiantes puedan tener la oportunidad de participar y hacer amistades. Mis primeros años me permitieron conocer a muchos profesores y eso incluso me dio la oportunidad de conseguir un trabajo en la escuela en mi segundo semestre. Además, como formaba parte de la Comunidad Internacional, en la que teníamos clases con otros estudiantes internacionales, hice amistades con personas de todo el mundo: Alemania, Canadá, Trindad y Tobago, España y Guayana, por ejemplo. Ahora que se acerca el momento de estar en persona en la escuela, siento que estoy más que preparada para vivir mi primer año a kilómetros de mi familia, ¡ya que tengo amigos, profesores y gente esperando para recibirme!
---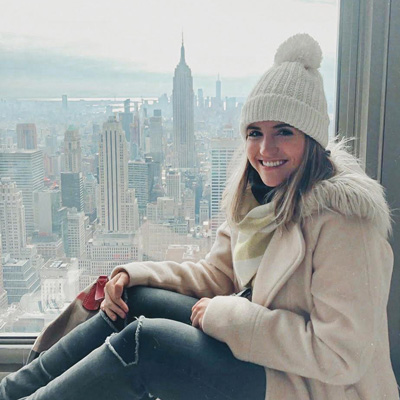 Maria Eduarda es una estudiante internacional de Brasil en St. Francis College . Actualmente, su especialidad está indecisa, pero se inclina hacia las ciencias políticas. También participa en el Capítulo de Amnistía Internacional USA en SFC.