In our effort to bring good content to as many people as possible the text in this blog post has been machine translated so please excuse any mistakes. Thank you!
Alejandra Salas tarafından
Seçimler yaklaştığında siyaset kesinlikle stresli bir konu olabilir ve kendimi ülkemin cumhurbaşkanlığı seçimlerinde her seferinde bu konumda buluyorum. Peru'dan uluslararası bir öğrenci olarak, 11 Nisan'da yapılacak seçimlerin ilk turu için oy kullanma gereğini hissettim. O Pazar sabah çok erken kalktım ve Tahoe Gölü'nden San Francisco'da bulunan en yakın Peru büyükelçiliğine gitmeye karar verdim. Gururlu bir Perulu olarak vatandaşlık hakkımı gerçekleştirmek ve ayrıca San Francisco Körfezi'nin tadını çıkarmak için oraya gitmeyi planladım. Ancak, elçiliğe vardığımda işler beklendiği gibi gitmedi; bu arada, oy vermeyi bekleyen çok sayıda Perulu da vardı.
Oraya vardığımda, halk sırasını takip ederek bloğun etrafında dolaştım ve oy verme merkezinin ana girişine vardım. Devasa bekleme kuyrukları vardı ama beklemeyi reddettiğimde girişe yöneldim ve tek yapmam gereken soyadımın harfine göre yerimi bulmak olduğunu öğrendim. Benimki S harfiyle başlıyor ve şanslıyım, çizgim neredeyse boştu; Çizgimdeki 4. kişi olduğum ve oylamaya bu kadar yakın olmanın yutturmacasını kontrol edemediğim için kendimi kutsanmış hissettim. Ancak, ön kapıda bir kez girme sırası bendeydi, ancak seçim danışmanlarından biri önce Peru kimlik numaramı istedi ve ikimiz de orada, asıl ikamet adresim olduğu için oy veremeyeceğimi fark ettik. hala Lima'da kayıtlıydı. Uluslararası bir öğrenci olarak, ülkemin büyükelçiliğine gelip oy kullanmanın oldukça basit olduğunu düşündüm, ama olmadı. Bu demokratik sürece katılmaya karar vermeden önce ülkemin yurtdışı oylama süreci hakkında kendimi bilgilendirmek için dersimi aldım.
Peru büyükelçiliğinden ayrıldıktan sonra hala sabah erkendi ve şimdiye kadar şehirde olmanın her saniyesinden keyif alıyordum. Mimariden ilham alarak şehir merkezinde dolaştım; dahası, San Francisco'daki Peru topluluğu büyük olduğu için, en çok taze balıkları ile tanınan "La Mar" adlı ülkemden ceviche ve diğer geleneksel yemekleri sunan iyi bir Peru restoranı bulabildim. Oy veremeyecek olsam da, çok özlenen Peru mutfağımın tadını çıkarabildim ve bu, tüm geziyi buna değdiğinden daha fazla yaptı; kötü haberi San Francisco Körfezi'nde harika bir deneyime dönüştürdü.

Öğle yemeğinden sonra SF Körfezi'nde dolaştım ve sadece eğlenmek için ve ayrıca sindirime iyi geldiği için Pier 39'u ve diğerlerini ziyaret ettim; inan bana, Peru yemeklerini yediğimden beri o kadar uzun zaman oldu ki tüm menüyü denedim, bu yüzden yürüyüşe çok ihtiyaç vardı. Park etmek zor olsa da, şehrin düzeni sizi yürüyerek, bisiklete binerek veya iskelelerin yanında bulunuyorsa bir scooter kiralayarak keşfetmeye davet ediyor. Ünlü bir blokta sekiz keskin dönüşe sahip olduğu için dolambaçlı yoluyla tanınan Lombard Caddesi'ndeyseniz, etrafta dolaşmanızı veya sadece yürümenizi tavsiye ederim; modern binalar.

O güneşli günde hava güzeldi, Golden Gate Köprüsü manzaralı sahili ziyaret etmek için mükemmeldi, bu yüzden etrafta dolaşıp biraz alışveriş yaptıktan sonra oraya gittim. Yolda, antik Yunan tapınaklarını anımsatan, büyük Korint sütunları olan bir parkın önünden geçtim, bu yüzden onu keşfetmek için hemen durdum. Oraya vardığımda, halka açık parkın "Güzel Sanatlar Sarayı" olarak da bilindiğini öğrendim ve bir saniyeliğine Avrupa'da bir tur yaptığımı hissettim, ama hayır, SF Körfezinde böyle bir birçok insanın fotoğraf çekmeye ve hatta gelin fotoğrafı çekmeye gittiği büyülü bir yer. Pandeminin neden olduğu zor zamanlara rağmen şehrin ne kadar canlı olduğunu görmek oldukça eğlenceliydi ve tabi ki bu tür kamusal alanlarda bile maske takmak zorunda kaldım çünkü pişman olmaktansa önlemek daha iyidir. Güzel Sanatlar Sarayı'na ani ziyaretimden sonra, planıma devam etmek ve Golden Gate Köprüsü'nün yukarısındaki başka bir halka açık parka gitmek zorunda kaldım. Gün benim lehime oldu ve bunu, otopark insanlarla dolu olduğu için söylüyorum, ama ben o otoparka girerken, başka bir araba az önce kalkıyor ve bize ücretsiz bir park cezası vermek için duruyordu; Nedenini tam olarak bilmiyorum ama çok nazikti ve gerçekten günü kurtardı. Körfezde yürüdüğümde, köprünün altında ve çevresinde sörf yapan pek çok insan, bir grup yelkenli ve gökyüzünde uçan martılar gördüm, sahilde huzur içinde olduğum, suyun ve manzaramın tadını çıkardığım muhteşem bir manzara. Eve giderken Golden Gate Köprüsü'nden geçerek şehrin silüetine baktım ve havaya elimden geldiğince çok kez geri döneceğimi söyledim çünkü San Francisco buna değer!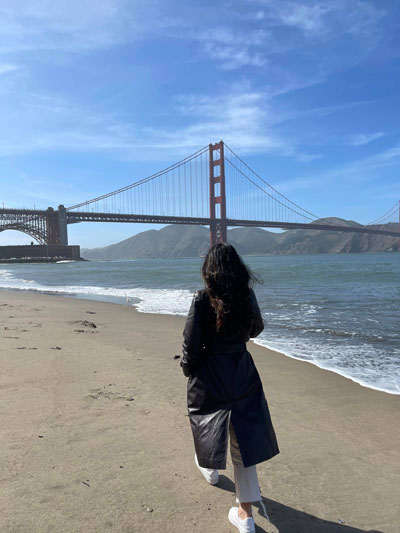 Genel olarak, bir şey sizin lehinize sonuçlanmazsa, yine de ondan en iyi şekilde yararlanabileceğinizi söyleyebilirim; her şey olayları olumlu bir perspektiften görmekle ilgilidir… ve en şaşırtıcı deneyimlerin planlanmadığını unutmayın.
Peru, Lima'dan Alejandra Salas, bir mimarlık öğrencisi ve Truckee Meadows Community College'da yeni Uluslararası Akran Danışmanıdır.