An Unforgettable Day Trip Driving Around San Francisco
By Alejandra Salas
Politics can surely be a stressful topic when elections approach, and I find myself in that position every time with my country's presidential elections. As an international student from Peru, I felt the necessity to vote for the first round of the electoral election that was on April 11th. That Sunday, I woke up pretty early in the morning and decided to drive from Lake Tahoe to the nearest Peruvian embassy, located in San Francisco. I planned to go there to accomplish my civil right as a proud Peruvian and also to enjoy the San Francisco Bay. However, things did not turn out as expected once I arrived at the embassy, which, by the way, had a huge line of Peruvians waiting to vote as well.
Once there, I walked around the block following the line of people and arrived at the main entrance of the voting center. There were huge wait lines, but in my refusal to wait, I headed to the entrance and found out that all I had to do is find my place in line according to the letter of my last name. Mine starts with the letter S and lucky me, my line was almost empty; I felt blessed since I was the 4th person in my line and couldn't control the hype of being so close to voting. However, once at the front door, it was my turn to enter, but one of the electoral advisors asked for my Peruvian ID number first, and we both realized, right there, that I wasn't able to vote because my main residence address was still registered in Lima. As an international student, I thought it was pretty simple to show up at my country's embassy and vote, but it was not. I did learn my lesson to inform myself regarding my country's overseas voting process prior to deciding to participate in this democratic process.
It was still early in the morning once I left the Peruvian embassy, and so far I was enjoying every second of being in the city. I walked around downtown while feeling inspired by the architecture; moreover, since the Peruvian community in San Francisco is big, I was able to find a good Peruvian restaurant that serves ceviche and other traditional food from my home country called "La Mar," best known for its fresh fish. Even though I wasn't able to vote, I was able to enjoy my pretty-missed Peruvian cuisine, and that made the whole trip more than worth it; turned bad news into an amazing experience at the San Francisco Bay.

After lunch, I walked around the SF Bay and visited Pier 39 and many others just for the fun of it and also because it is good for digestion; believe me, it was so long since I ate Peruvian food that I tried the whole menu, so a walk was much needed. Although parking can be challenging, the layout of the city invites you to explore it by walking, riding a bike, or renting a scooter if located by the piers. If you are by Lombard Street, known for its winding path as it has eight sharp turns in that one famous block, I would recommend driving around or just walking, with both choices still enjoyable as you get to see the most beautiful townhouses in contrast with modern buildings.

The weather was pretty on that sunny day, perfect for a visit to the beach with a view of the Golden Gate Bridge, so after walking around and doing some shopping, I headed out there. On my way, I passed by a park that had huge Corinthian pillars, reminiscent of the ancient Greek temples, so I instantly stopped to explore it. Once there, I found out that that public park was also known as the "Palace of Fine Arts," and for one second I felt I was doing a tour around Europe, but no, I was in the SF Bay enjoying myself in such a magical place where a lot of people go to take photos and even bridal photo sessions. It was pretty fun to see how alive the city was despite the difficult times due to the pandemic, and of course, even in such public spaces, I still had to wear a mask because it is better to prevent than to regret it. After my sudden visit to the Palace of Fine Arts, I had to continue my plan and go to another public park above the Golden Gate Bridge. The day was in my favor, and I say this because the parking lot was packed with people, but as I was entering that parking lot, another car was just leaving and stopped to give us a free parking ticket; I don't know the exact reason why, but it was very kind and it really saved the day. Once walking by the Bay I saw a lot of people surfing under and around the bridge, a bunch of sailboats, and seagulls flying all over the sky, an amazing landscape where I was in peace by the beach, enjoying the water and my view. On my way home, I drove by the Golden Gate Bridge, looking at the skyline of the city and saying into the air that I will come back as many times as I can because San Francisco is so worth it!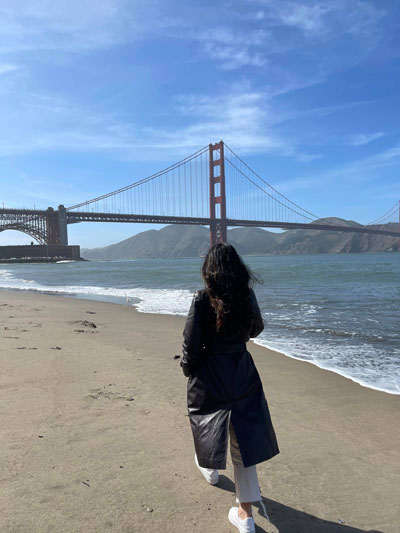 Overall, I would say that if something does not turn out in your favor, you can still make the most out of it; it is all about seeing things from a positive perspective… and remember that the most amazing experiences aren't planned.
Alejandra Salas from Lima, Peru, is an architecture student and new International Peer Mentor at Truckee Meadows Community College.
Written by
Alejandra Salas
Get matched to the best program for you
Let us know what you're looking for so we can find the best school for you.
$10,000 — $15,000 Year
Bachelor Degree
2yr/Community College - 2+2 Programs
Certificate/Short Term
$5,000—$10,000 Semester
Undergraduate
2yr/Community College - 2+2 Programs
Certificate/Short Term
$10,000 — $15,000 Semester
Undergraduate
Bachelor Degree
English Programs
Start your U.S. adventure with Study in the USA
What's your dream? We can guide, advise, and connect you with your perfect U.S. school. We can also help you with the application process.
Partner Services
Learn About U.S. education financing, housing, and more
MPOWER Financing is the top-rated lender offering international student loans without cosigners, collateral, or credit history for global citizens, PLUS international student scholarships & career coaching! Fully online application, 96% customer...
TestDEN's Online TOEFL Test Prep is just what you need to quickly and effectively prepare for the TOEFL test. Since 1998, TestDEN has helped tens of thousands of students raise their TOEFL scores.
Study in the USA's advisors can work with you to navigate the requirements to study abroad in the USA, UK, Canada, and Australia. We help you find the right school and apply.
Resources
Learn about American culture and education direct from our experts at Study in the USA. Read more