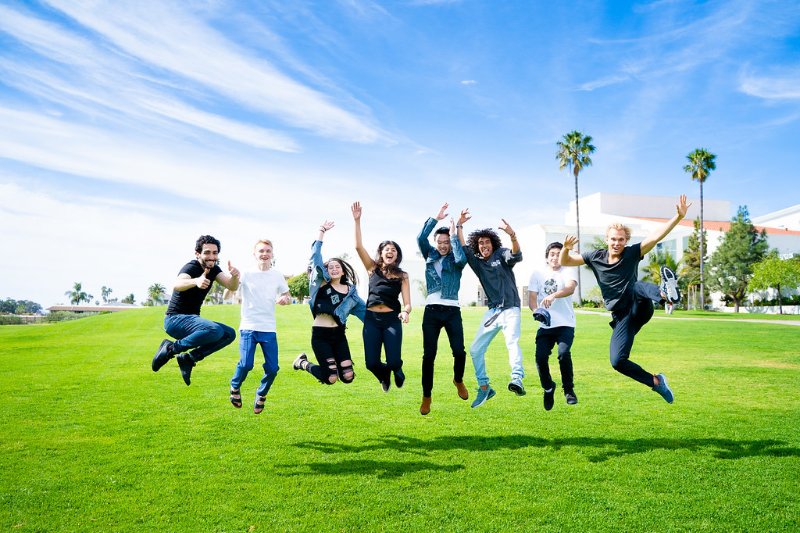 In our effort to bring good content to as many people as possible the text in this blog post has been machine translated so please excuse any mistakes. Thank you!
Oleh Johanna Davidsson
"Bagaimana saya menemukan perumahan di Santa Barbara? Dan di mana di Santa Barbara saya harus tinggal? " Itulah dua pertanyaan utama yang dimiliki siswa ketika mereka masuk ke Santa Barbara City College (SBCC). SBCC tidak menawarkan tempat tinggal di dalam kampus, jadi Anda perlu mencari tempat tinggal di luar kampus. Mungkin sulit untuk mengetahui dari mana harus memulai pencarian Anda, jadi saya akan memandu Anda dan memberi Anda saran berdasarkan pengalaman saya sendiri.
Bagaimana menemukan perumahan di Santa Barbara
Ada pilihan tempat tinggal yang berbeda, seperti tinggal di apartemen atau rumah bersama dengan siswa lain, tinggal dengan keluarga angkat, atau tinggal di asrama siswa. Pengalaman saya tinggal di apartemen bersama. Saya menemukan tempat tinggal dan teman sekamar saya dari grup Facebook yang berbeda untuk siswa SBCC dan Universitas Santa Barbara (UCSB). Saya merekomendasikan untuk mulai mencari lebih awal, setidaknya tiga bulan sebelum Anda pindah, sehingga Anda memiliki tempat tinggal ketika Anda datang ke Santa Barbara. Sesuatu yang harus Anda persiapkan adalah membayar deposit sebelum pindah, yang jumlahnya hampir sama dengan sewa bulanan Anda, tetapi bisa lebih. Dan Anda mungkin tidak memiliki furnitur saat Anda pindah, jadi Anda mungkin harus memikirkannya. Ketika saya pertama kali pindah ke Santa Barbara, saya membawa kasur udara untuk tidur selama beberapa minggu pertama sebelum saya membeli tempat tidur. Anda juga dapat menemukan perumahan berperabot, tetapi itu mungkin lebih mahal.
Keluarga angkat
Tinggal dengan keluarga angkat adalah kesempatan besar bagi Anda jika Anda tertarik untuk tinggal bersama keluarga Amerika. Anda akan mendapatkan pengalaman budaya dan Santa Barbara yang lebih personal. Grup Coral memberikan opsi ini kepada siswa internasional, dan mereka mengatur acara sosial dan kesempatan sukarela bagi siswa.
Aula tempat tinggal
Jika Anda ingin tinggal dalam gaya asrama, Anda dapat tinggal di asrama siswa. Peluang tempat tinggal ini biasanya memberi siswa rencana makan dan tempat tinggal bersama. Mereka juga memiliki kegiatan terorganisir untuk melibatkan siswa.
Daerah Sekitar di Santa Barbara
Ada berbagai kota dan lingkungan untuk tinggal di dalam Santa Barbara County. Beberapa lingkungan yang paling umum untuk siswa SBCC adalah The Mesa, Downtown, Goleta, dan Isla Vista.
Mesa
Jika Anda ingin dekat dengan pantai, taman yang bagus, kedai kopi, restoran, dan kampus SBCC, Mesa mungkin cocok untuk Anda. Daerah ini aktif, sekaligus santai dan damai.
Pusat kota
Ini adalah jantung Santa Barbara. Di sini Anda dapat menemukan restoran yang bagus, tempat belanja yang bagus, dan hiburan. Jika Anda ingin tinggal di tempat yang lebih semarak dan energik, pusat kota Santa Barbara mungkin cocok untuk Anda. Hotel ini tidak jauh dari SBCC, dan Anda dapat bersepeda atau naik bus untuk sampai ke sana dalam beberapa menit.
Goleta
Apakah Anda tertarik untuk tinggal di tempat yang tidak terlalu ramai, Anda mungkin mempertimbangkan untuk tinggal di Goleta. Anda dapat menemukan pantai dan taman yang tidak terlalu ramai, jalur sepeda yang bagus, dan jalur hiking yang bagus.
Isla Vista (IV)
IV adalah komunitas pelajar di Goleta di mana banyak siswa tinggal dan dianggap lebih keras dan lebih aktif daripada lingkungan lain. IV berada tepat di sebelah kampus UCSB, dan mudah untuk pergi ke SBCC dengan bus. Jika Anda tertarik untuk tinggal di dekat pantai dengan siswa lain yang suka bersenang-senang, Isla Vista mungkin cocok untuk Anda.
Saya harap ini membantu Anda ketika Anda mencari perumahan di Santa Barbara. Berikut beberapa video dengan informasi lebih lanjut tentang tempat tinggal untuk siswa Santa Barbara City College. Berlangganan ke Saluran YouTube kami untuk lebih banyak konten.
---
Johanna Davidsson dari Swedia adalah siswa internasional di Santa Barbara City College , tempat dia belajar administrasi bisnis dan ekonomi. Setelah menerima gelar associate-nya, Johanna berencana untuk bekerja satu tahun di OPT dan kemudian kembali ke Swedia untuk menggunakan pengalaman dan pengetahuannya dari SBCC untuk mengejar karir dan memulai bisnisnya sendiri.