In our effort to bring good content to as many people as possible the text in this blog post has been machine translated so please excuse any mistakes. Thank you!
Maria Eduarda tarafından
Amerika'da okumak istediğime ilk karar verdiğimde asıl endişem "Amerika'da yaşamayı ve okumayı nasıl karşılayacağım?" Neyse ki, onunla ilgili tüm endişeleri yatıştırmama yardımcı olan bir okul bulabildim ve bu yazıda keşfetmeyi planladığım şey bu!
Uluslararası bir öğrenci ve özellikle Brezilyalı bir öğrenci olarak, yurtdışında yaşamaya karar vermek, hayatta karşılaştığınız en büyük mali zorluklardan biridir. Bunun nedeni, Amerikan kültüründen farklı olarak, Brezilya gibi pek çok ülkede, ebeveynlerin çoğu üniversite ücretsiz olduğu için çocuklarının üniversite harçları için para biriktirmeye alışkın olmamasıdır. Ayrıca dolar Brezilya realinden çok daha değerli bir para birimi olduğundan, Amerika'da iyi bir yaşam kalitesini garanti etmek için çok para ve çaba gerekiyor. Bu nedenle, ne zaman biz uluslararası öğrenciler, kendi ülkelerimizden uzakta çalışmayı düşündüğümüzde, kendimize bunu nasıl yürüteceğimizi soruyoruz. Bu, iki yıl boyunca kendimi sorguladığım ve birçok sınıf arkadaşımın da yaptığı şeydi.
Üniversite seçeneklerimi aramaya başladığımda, genellikle benim için mükemmel uyumu bulamadığım için sık sık endişeli ve stresliydim. Sevdiğim her kolej çok pahalı görünüyordu, özellikle üniversite harçlarının benim tek masrafım olacağı düşünüldüğünde, ama örneğin kira, cep telefonu faturaları ve ulaşımla da ilgilenmek zorunda kalacağım. Bu yüzden insanlar bana yurtdışında okumak için ilk adımın ne olduğunu sorduğunda, bunun okumak istediğiniz bir kolej bulmak olduğunu söylüyorum ve genellikle onları bunun en zor adım olduğu konusunda uyarıyorum.
Bu nedeniyle, ben Francis College (SFC) varlığını keşfettiğinde ben heyecan hayal olmalı ve ben fark bunu göze olabilir. Bununla birlikte, öğrenimim benim için bulduğum diğer üniversitelerin çoğundan çok daha uygun olsa da, yine de biraz bursa ihtiyacım vardı. Brezilya'da bir devlet üniversitesinde okuduğum için aileme fazladan masraf vermek istemedim. Bu yüzden, uluslararası kabul ofisinden bir personel olan Bora Dimitrov, bana SFC'nin birçok burs imkânı olduğunu ve uluslararası bir öğrenci olarak tam kabul ettiğim anda bir tane almaya uygun olduğumu söylediğinde, çok rahatladım ve bir kez Yine o "olması gerekiyordu" hissine kapıldım. Çünkü gerçek şu ki, bir şeyler olması gerektiği zaman, onu ilk andan itibaren hissedersiniz.
Tam öğrenim bursu ile onurlandırılmak benim için hayatta aldığım en büyük nimetti. Başkanlık Bursu için beni tebrik eden e-postayı aldığım anı tam olarak hatırladım. O kadar mutlu olduğunuz anlardan biriydi ki, çevrenizdeki insanları duyamıyorsunuz ve aklınıza kısa bir film geliyor. Bugün, bursun beni başka hiçbir şeyin yapamayacağı şekilde güçlendirdiğini hissediyorum. Hikayemin pek çok insan tarafından duyulduğunu ve bana benim yapamayacağım bir şekilde inandıklarını hissediyorum. Şimdi geriye dönüp baktığımda, bursun öğrenci ve kişi olarak en iyi versiyonum haline gelmek için ihtiyacım olan destek olduğunu biliyorum.
Bu yüzden uluslararası öğrenci olarak, ya zaten düşük öğrenim ücreti olduğu ya da size burs sağlayabileceği için, karşılayabileceğinizi bildiğiniz bir üniversite bulmanızı tavsiye ediyorum. Dünyadaki hiçbir para size finansal hayatınızın ve akademik hayatınızın kontrolünün sizde olduğu hissini veremez. Bana verilen fırsat sayesinde, şu anda, gelecekte başarılı bir profesyonel ve şu anda mükemmel bir öğrenci haline gelen önceliklerime, bir dönem daha yurtdışında okumaya gücümün yetip yetmeyeceğini düşünmeden odaklanabiliyorum. Gerçekten yurtdışında okumak istiyorsanız, tam deneyimi yaşamayı hak ediyorsunuz! Okula gitmeyi, ders çalışmayı ve sınavlar konusunda stresli olmayı, arkadaşlarınızla takılmayı, ev diyeceğiniz yeni yeri tanımayı hak ediyorsunuz, ancak harcamalarınızdan asla korkmamalısınız.
---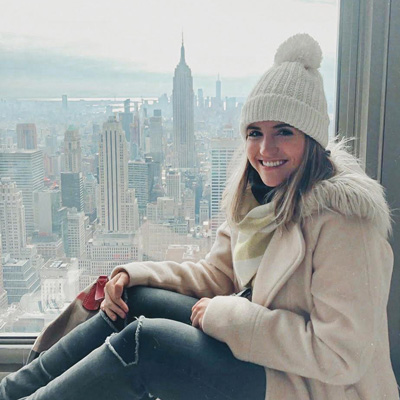 Maria Eduarda, Brezilya'dan St. Francis Koleji'nde uluslararası bir öğrencidir. Şu anda, branşı kararsız ama siyaset bilimine yöneliyor. Ayrıca SFC'de Uluslararası Af Örgütü ABD Şubesine de katılıyor.