In our effort to bring good content to as many people as possible the text in this blog post has been machine translated so please excuse any mistakes. Thank you!
Por maria eduarda
Quando decidi pela primeira vez que queria estudar na América, minha principal preocupação era "como vou conseguir viver e estudar nos Estados Unidos?" Felizmente, consegui encontrar uma escola que me ajudou a acalmar toda a ansiedade que a envolvia, e é isso que pretendo explorar neste post!
Como estudante internacional, e principalmente brasileiro, decidir morar no exterior é um dos maiores desafios financeiros que você já enfrentou na vida. Isso porque, diferentemente da cultura americana, em tantos países como o Brasil, os pais não costumam economizar para as mensalidades dos filhos, pois a maioria das universidades é gratuita. Até porque o dólar é uma moeda muito mais valorizada que o real, então é preciso muito dinheiro e muito esforço para garantir uma boa qualidade de vida nos estados. Portanto, sempre que nós, estudantes internacionais, pensamos em estudar fora de nossos países, nos perguntamos como vamos fazer isso funcionar. Isso é o que me questionei durante dois anos e o que muitos dos meus colegas também fizeram.
Quando comecei a procurar minhas opções de faculdade, muitas vezes ficava ansioso e estressado porque realmente não conseguia encontrar o ajuste perfeito para mim. Todas as faculdades de que eu gostava pareciam caras demais, especialmente considerando que a mensalidade da faculdade seria minha única despesa, mas eu também teria que lidar com aluguel, contas de telefone celular e transporte, por exemplo. Por isso, quando me perguntam qual é o primeiro passo para estudar no exterior, digo que é para encontrar uma faculdade em que queira estudar, e costumo avisar que essa é a etapa mais difícil.
Por isso, você deve imaginar o quão emocionado eu fiquei quando descobri a existência do St. Francis College (SFC) e quando percebi que poderia pagá-lo. No entanto, embora a mensalidade fosse muito mais acessível para mim do que muitas das outras universidades que criei, eu ainda precisava de uma bolsa de estudos. Por ter estudado em uma universidade pública no Brasil, não queria dar aos meus pais nenhuma despesa extra. Então, quando Bora Dimitrov, um membro da equipe do escritório de admissões internacionais, me disse que a SFC tinha muitas oportunidades de bolsas de estudo e que, como estudante internacional, eu era elegível para receber uma no exato momento de minha aceitação, me senti tão aliviado e uma vez Mais uma vez, tive aquela sensação de "É para ser". Porque a verdade é que, quando as coisas são para ser, você só sente isso desde o primeiro momento.
Ser homenageado com uma bolsa de estudos integral foi, para mim, a maior bênção que já recebi na vida. Ainda me lembrei do momento exato em que recebi o e-mail me parabenizando pela Bolsa Presidencial. Foi um daqueles momentos em que você está em tal nível de felicidade que simplesmente não consegue ouvir as pessoas ao seu redor e um curta-metragem vem à sua mente. Hoje, sinto que a bolsa me fortaleceu de uma forma que nada mais poderia fazer. Sinto que minha história foi ouvida por tantas pessoas e que acreditaram em mim de uma forma que nem eu poderia. Quando olho para trás agora, sei que a bolsa foi o impulso de que precisava para me tornar minha melhor versão como estudante e como pessoa.
Por isso, recomendo a você, estudante internacional, que procure uma universidade que você sabe que pode pagar, seja porque já tem baixa mensalidade, seja porque pode lhe dar bolsas de estudo. Nenhum dinheiro no mundo pode lhe dar a sensação de estar no controle de sua vida financeira e acadêmica. Pela oportunidade que me foi dada, posso focar nas minhas prioridades agora, que é me tornar um profissional de sucesso no futuro e um excelente aluno no presente, sem ter que me preocupar se poderei ou não estudar no exterior por mais um semestre. Se você realmente deseja estudar no exterior, merece viver a experiência completa! Você merece ir à escola, estudar e estressar com os exames, sair com os amigos, conhecer o novo lugar que você vai chamar de lar, mas nunca deve pirar com os gastos.
---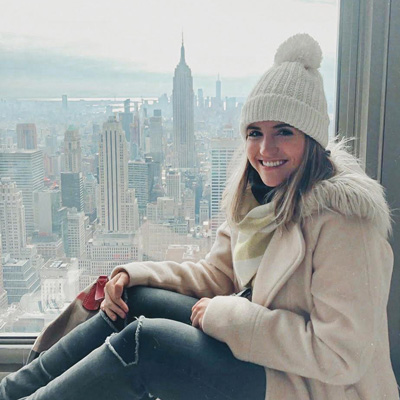 Maria Eduarda é uma estudante internacional brasileira no St. Francis College . Atualmente, seu curso está indeciso, mas ela se inclina para a ciência política. Ela também participa do Capítulo da Anistia Internacional nos EUA no SFC.