In our effort to bring good content to as many people as possible the text in this blog post has been machine translated so please excuse any mistakes. Thank you!
Oleh Maria Eduarda
Ketika saya pertama kali memutuskan saya ingin belajar di Amerika, perhatian utama saya adalah "bagaimana saya dapat membiayai hidup dan belajar di Amerika?" Untungnya, saya dapat menemukan sekolah yang membantu saya menenangkan semua kecemasan yang terkait dengannya, dan itulah yang ingin saya jelajahi dalam posting ini!
Sebagai siswa internasional, dan khususnya siswa Brasil, memutuskan untuk tinggal di luar negeri adalah salah satu tantangan finansial terbesar yang pernah Anda hadapi dalam hidup. Ini karena, berbeda dengan budaya Amerika, di banyak negara seperti Brasil, orang tua tidak terbiasa menabung untuk biaya kuliah anak-anak mereka karena kebanyakan universitas gratis. Juga karena dolar adalah mata uang yang jauh lebih berharga daripada real Brasil, maka banyak uang dan upaya diperlukan untuk menjamin kualitas hidup yang baik di Amerika. Oleh karena itu, setiap kali kami, siswa internasional, mempertimbangkan untuk belajar jauh dari negara asal kami, kami bertanya pada diri sendiri bagaimana kami akan membuatnya berhasil. Itulah yang saya pertanyakan pada diri saya sendiri selama dua tahun dan apa yang dilakukan banyak teman sekelas saya juga.
Ketika saya mulai mencari pilihan kuliah saya, saya sering merasa cemas dan stres karena saya benar-benar tidak dapat menemukan yang cocok untuk saya. Setiap perguruan tinggi yang saya suka tampak terlalu mahal, terutama mengingat biaya kuliah adalah satu-satunya pengeluaran saya, tetapi saya juga harus berurusan dengan sewa, tagihan ponsel, dan transportasi, misalnya. Itulah mengapa, ketika orang bertanya kepada saya apa langkah pertama untuk belajar di luar negeri, saya menunjukkan bahwa itu adalah mencari perguruan tinggi tempat Anda ingin belajar, dan saya biasanya memperingatkan mereka bahwa ini adalah langkah yang paling sulit.
Karena itu, Anda pasti membayangkan betapa senangnya saya ketika menemukan keberadaan St. Francis College (SFC) dan ketika saya perhatikan saya mampu membelinya. Namun, meskipun biaya kuliahnya jauh lebih terjangkau bagi saya daripada banyak universitas lain yang saya buat, saya masih membutuhkan beasiswa. Karena saya pernah belajar di universitas negeri di Brasil, saya tidak ingin memberikan biaya tambahan kepada orang tua saya. Jadi, ketika Bora Dimitrov, seorang anggota staf dari kantor penerimaan internasional, memberi tahu saya bahwa SFC memiliki banyak peluang beasiswa dan bahwa sebagai siswa internasional saya memenuhi syarat untuk menerimanya tepat pada saat penerimaan saya, saya merasa sangat lega dan sekali sekali lagi saya memiliki perasaan "Ini ditakdirkan untuk menjadi". Karena kenyataannya adalah, ketika segala sesuatunya ditakdirkan, Anda baru merasakannya sejak saat pertama.
Dihormati dengan beasiswa penuh, bagi saya, merupakan berkah terbesar yang pernah saya terima dalam hidup. Saya masih ingat saat saya menerima email ucapan selamat atas Beasiswa Kepresidenan. Itu adalah salah satu momen ketika Anda berada dalam tingkat kebahagiaan sehingga Anda tidak dapat mendengar orang-orang di sekitar Anda dan sebuah film pendek muncul di benak Anda. Hari ini, saya merasa beasiswa memberdayakan saya dengan cara yang tidak dapat dilakukan orang lain. Saya merasa bahwa cerita saya didengar oleh begitu banyak orang dan bahwa mereka mempercayai saya dengan cara yang saya sendiri tidak bisa. Ketika saya melihat ke belakang sekarang, saya tahu bahwa beasiswa adalah dorongan yang saya butuhkan untuk menjadi versi terbaik saya sebagai siswa dan sebagai pribadi.
Itulah mengapa saya merekomendasikan Anda, pelajar internasional, untuk mencoba mencari universitas yang Anda tahu mampu, entah karena biaya kuliahnya rendah atau karena universitas tersebut dapat memberi Anda beasiswa. Tidak ada uang di dunia ini yang dapat memberi Anda sensasi mengendalikan kehidupan finansial dan kehidupan akademis Anda. Karena kesempatan yang diberikan, saya dapat fokus pada prioritas saya saat ini, yaitu menjadi profesional yang sukses di masa depan dan mahasiswa yang berprestasi di masa sekarang, tanpa harus khawatir apakah saya mampu atau tidak mampu kuliah di luar negeri untuk semester berikutnya. Jika Anda benar-benar ingin belajar di luar negeri, Anda berhak mendapatkan pengalaman yang lengkap! Anda berhak pergi ke sekolah, belajar dan stres tentang ujian, bergaul dengan teman-teman Anda, untuk mengenal tempat baru yang akan Anda sebut rumah, tetapi Anda tidak boleh khawatir tentang pengeluaran Anda.
---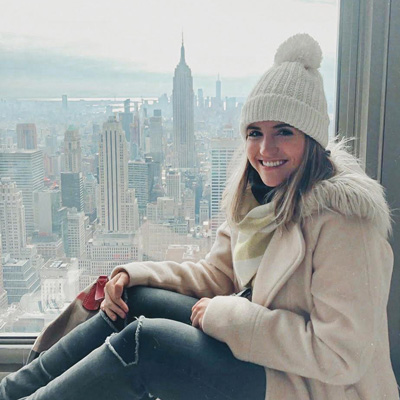 Maria Eduarda adalah seorang mahasiswa internasional dari Brazil di St. Francis College . Saat ini, jurusannya belum diputuskan, tetapi dia condong ke ilmu politik. Dia juga berpartisipasi dalam Amnesty International Chapter USA di SFC.