In our effort to bring good content to as many people as possible the text in this blog post has been machine translated so please excuse any mistakes. Thank you!
Por Maria Eduarda
Cuando decidí por primera vez que quería estudiar en Estados Unidos, mi principal preocupación era "¿cómo podré permitirme vivir y estudiar en Estados Unidos?" Afortunadamente, pude encontrar una escuela que me ayudó a calmar toda la ansiedad que la involucra, ¡y eso es lo que pretendo explorar en esta publicación!
Como estudiante internacional, y especialmente brasileño, la decisión de vivir en el extranjero es uno de los mayores desafíos financieros que debe enfrentar en la vida. Esto se debe a que, a diferencia de la cultura estadounidense, en muchos países como Brasil, los padres no están acostumbrados a ahorrar dinero para la matrícula universitaria de sus hijos, ya que la mayoría de las universidades son gratuitas. También porque el dólar es una moneda mucho más valorada que el real brasileño, por lo que se necesita mucho dinero y esfuerzo para garantizar una buena calidad de vida en Estados Unidos. Por lo tanto, cada vez que nosotros, estudiantes internacionales, consideramos estudiar fuera de nuestros países de origen, nos preguntamos cómo vamos a hacer que funcione. Eso es lo que me cuestioné durante dos años y lo que también hicieron muchos de mis compañeros.
Cuando comencé a buscar mis opciones universitarias, a menudo me ponía ansioso y estresado porque realmente no podía encontrar la opción perfecta para mí. Todas las universidades que me gustaban me parecían demasiado caras, especialmente considerando que la matrícula universitaria sería mi único gasto, pero también tendría que lidiar con el alquiler, las facturas del teléfono celular y el transporte, por ejemplo. Por eso, cuando la gente me pregunta cuál es el primer paso para estudiar en el extranjero, les señalo que es encontrar una universidad en la que quieran estudiar, y normalmente les advierto que este es el paso más difícil.
Por eso, debes imaginar lo emocionado que estaba cuando descubrí la existencia de St. Francis College (SFC) y cuando me di cuenta de que podía pagarlo. Sin embargo, aunque la matrícula era mucho más asequible para mí que muchas de las otras universidades que se me ocurrieron, todavía necesitaba una beca. Como había estudiado en una universidad pública de Brasil, no quería darles a mis padres ningún gasto extra. Entonces, cuando Bora Dimitrov, un miembro del personal de la oficina de admisiones internacionales, me dijo que SFC tenía muchas oportunidades de becas y que, como estudiante internacional, era elegible para recibir una en el momento exacto de mi aceptación, me sentí muy aliviado y una vez de nuevo tuve esa sensación de "Está destinado a ser". Porque la verdad es que, cuando las cosas están destinadas a ser, simplemente lo sientes desde el primer momento.
Ser honrado con una beca de matrícula completa fue, para mí, la mayor bendición que he recibido en la vida. Todavía recordaba el momento exacto en que recibí el correo electrónico felicitándome por la Beca Presidencial. Fue uno de esos momentos en los que estás en tal nivel de felicidad que simplemente no puedes escuchar a las personas que te rodean y te viene a la mente una película corta. Hoy, siento que la beca me empoderó de una manera que nada más podría hacer. Siento que mi historia fue escuchada por tanta gente y que creyeron en mí de una manera que yo tampoco podría. Cuando miro hacia atrás ahora, sé que la beca fue el impulso que necesitaba para convertirme en mi mejor versión como estudiante y como persona.
Por eso te recomiendo, estudiante internacional, que trates de encontrar una universidad que sepas que puedes pagar, ya sea porque ya tiene una matrícula baja o porque te puede proporcionar becas. Ningún dinero en el mundo puede darle la sensación de tener el control de su vida financiera y académica. Debido a la oportunidad que se me dio, puedo concentrarme en mis prioridades en este momento, que es convertirme en un profesional exitoso en el futuro y en un excelente estudiante en el presente, sin tener que preocuparme de si puedo o no poder estudiar en el extranjero un semestre más. Si realmente quieres estudiar en el extranjero, ¡te mereces vivir la experiencia completa! Mereces ir a la escuela, estudiar y estresarte por los exámenes, pasar el rato con tus amigos, conocer el nuevo lugar al que vas a llamar hogar, pero nunca debes asustarte por tus gastos.
---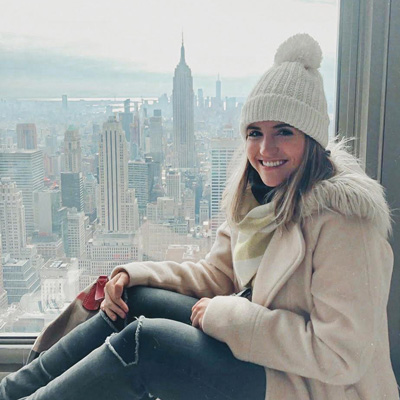 Maria Eduarda es una estudiante internacional de Brasil en St. Francis College . Actualmente, su especialidad está indecisa, pero se inclina hacia las ciencias políticas. También participa en el Capítulo de Amnistía Internacional USA en SFC.