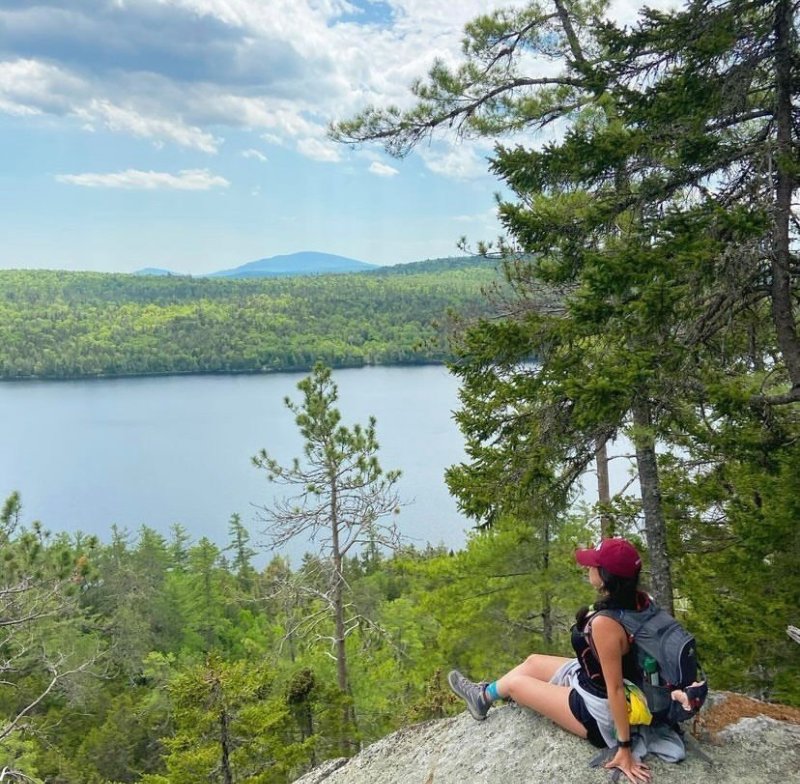 In our effort to bring good content to as many people as possible the text in this blog post has been machine translated so please excuse any mistakes. Thank you!
De Pietro Rossini com Maria Camila Luna
Viajar para o exterior, conhecer novas culturas e viver em um ambiente diferente é a vida de Camila.
Maria Camila Luna nasceu na Colômbia e foi criada lá pelos avós até os nove anos.
Nessa idade, ela se reuniu com sua mãe na Itália porque "a Itália para nós na Colômbia parece a lua", ela disse para esta entrevista no Zoom.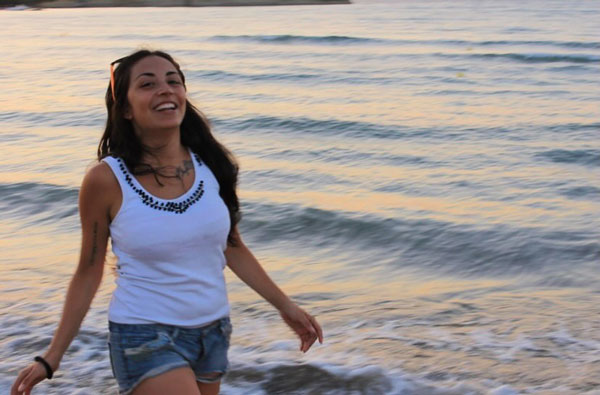 Camila durante um feriado na Grécia
Na Itália, Camila estudou o ensino fundamental e médio e também começou a universidade. Então, seu italiano é muito fluente. É muito difícil descobrir que ela não é falante nativa de italiano.
Quando Camila fez dezessete anos, sua mãe teve outro filho. Camila teve que criar sua nova irmã quase sozinha. "Tive que colocar um chapéu de mãe porque minha mãe teve que trabalhar duro para nós", disse Camila. "Eu trabalhava em três empregos, então perdi um ano de escola."
Mesmo sonhando em ser enfermeira, ela não conseguiu passar no vestibular de enfermagem da universidade. Portanto, ela optou pela química.
Camila estudou em uma escola de idiomas para o ensino médio. Então, ela é muito fluente em vários idiomas, mas nunca havia estudado biologia, física ou química antes.
Certa vez, ela disse à mãe: "Mãe, acho que química não é para mim!" e sua mãe respondeu: "Oh, finalmente, você conseguiu!"
Camila primeiro ficou surpresa com a reação de sua mãe, mas então ela percebeu que aquele era o momento certo para começar a seguir seus sonhos.
Esta oportunidade surgiu quando sua tia, que morava em Atlanta, Geórgia, contou a ela sobre a vida de uma au pair nos Estados Unidos
"Sempre fui atraído pela vida americana. Sempre amei o ideal de família deles ", disse Camila. "Não ousei contar minha decisão para minha mãe, então minha tia o fez."
Ela finalmente decidiu se mudar para os EUA em 2019, aos 24 anos. Mas antes de vir para cá, ela teve a chance de viver duas outras experiências importantes no exterior: a primeira em Paris para aprimorar seu francês e um intercâmbio intercultural e religioso na Turquia.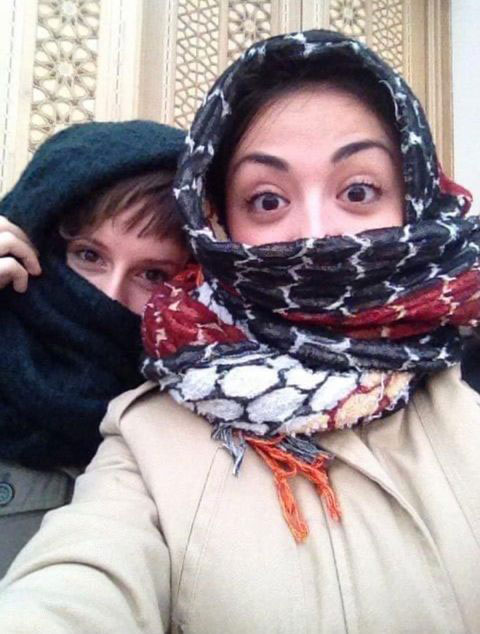 Camila na Turquia
"Embora tenham sido experiências muito curtas, aprendi muito sobre outras culturas, religiões e novas línguas", comentou Camila.
Quando ela veio para os EUA, seu plano era trabalhar como au pair e melhorar seu inglês por apenas um ano. No entanto, a pandemia atingiu em fevereiro de 2020, e sua agência de au pair estendeu seu mandato para ficar nos Estados Unidos por mais 6 meses.
"Meu primeiro impacto com a cultura americana foi um choque", disse Camila, "sou uma pessoa muito organizada e descobri que os americanos deixam muitas coisas por fazer".
Mas então ela comentou: "Eu finalmente entendi o porquê! Eles têm prioridades; por exemplo, se eles têm que chegar na hora certa para um compromisso, eles deixam a cozinha suja porque a pontualidade é mais importante para eles! "
Os planos de Camila começaram a mudar quando ela conheceu um cara americano. "Eu me apaixonei por ele", disse ela. Esse encontro a fez escolher estender seu mandato como au pair por mais um ano.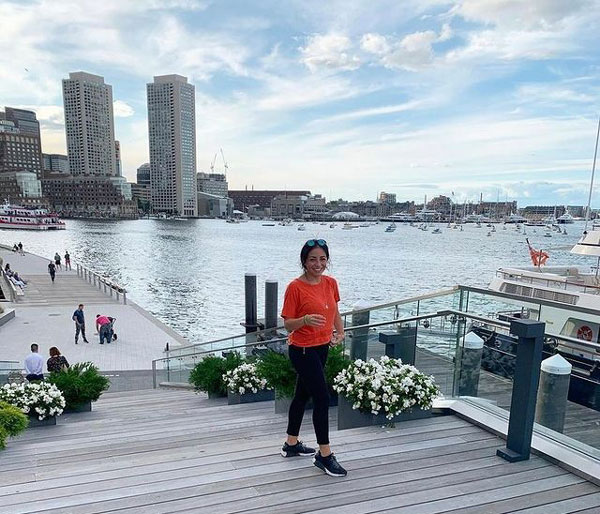 Camila em Boston
Mas Camila não havia planejado esse cenário: as leis mudaram em Massachusetts logo durante a pandemia.
Antes de dezembro de 2019, as au pair eram pagas com seu salário normal de cerca de US $ 200 por semana. Até o governo de Massachusetts, no verão, estabelecer que as au pair deveriam ser tratadas como trabalhadoras de salário mínimo.
Então, com essa nova lei, Camila teria ganhado muito mais do que antes. No entanto, sua antiga família anfitriã preferiu deixar o projeto de au pair. "Eu estava muito nervosa naquela hora", comentou Camila, "Eu tinha que encontrar outra família o mais rápido possível ou meu contrato de au pair teria expirado!"
Finalmente, graças à ajuda de seu novo namorado, Camila encontrou outra família anfitriã. "E essa foi a melhor partida da minha vida", disse ela.
"Não pretendo mais voltar para a Itália", ela ponderou, "Agora, estou estudando no Bunker Hill Community College e estou trabalhando como au pair ao mesmo tempo".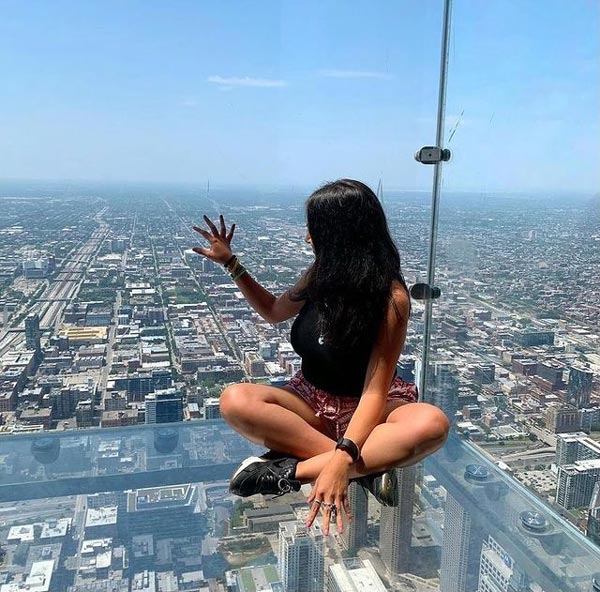 Camila sonha em ficar nos EUA
Mas em novembro próximo, Camila terá que deixar os Estados Unidos porque seu contrato vai expirar. "Então, vou voltar para a Itália e tentar solicitar um visto de estudante", disse ela. "Quero estudar e morar aqui e tentarei fazer o meu melhor para atingir meu objetivo."
Camila morou por longos períodos em três países diferentes até agora e fala quatro línguas. Ela sabe sobre choques culturais e como se adaptar a uma nova cultura.
Para outras pessoas que vão viver uma experiência no exterior, ela aconselha: "Não tenha expectativas anteriores. Esteja pronto para tudo, e quando você ficar chateado, pense na motivação que o trouxe até lá, porque nada é impossível! "
---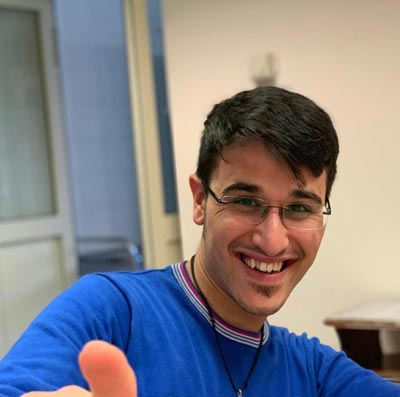 Pietro Rossini é um Missionário Xaveriano e estudante de ESL na Framingham State University . Ele veio para os Estados Unidos em janeiro de 2020 com o objetivo de estudar para um mestrado em jornalismo na Universidade de Boston. Seu sonho é coletar e compartilhar histórias da humanidade ao redor do globo, tornando o mundo uma única família.