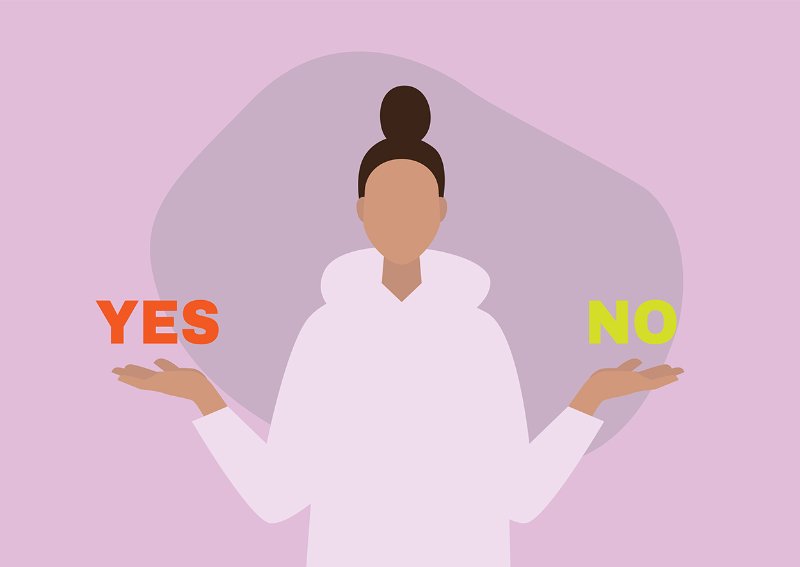 In our effort to bring good content to as many people as possible the text in this blog post has been machine translated so please excuse any mistakes. Thank you!
Por Esther Arnaut Amador
Você está no lugar que deseja estar? As escolhas que você está fazendo são realmente suas?
Ao longo da minha vida, tenho ouvido pessoas dizerem: "A vida é baseada nas decisões que tomamos." Mas eu me pergunto: estamos tomando decisões por nós mesmos ou estamos permitindo que outros as tomem por nós?
Quase três anos atrás, decidi vir para os Estados Unidos como au pair. Naquela época, eu trabalhava como professor do ensino fundamental no México e, honestamente, o processo de decidir largar meu emprego para vir para os Estados Unidos foi difícil. Acredito que parte do que tornava isso difícil era que eu estava acostumada a tomar decisões com base na opinião de outras pessoas. O que os outros pensariam sempre esteve na minha mente. E se eu errar no caminho que escolhi? E se eu não tivesse sucesso? O medo e as dúvidas estão o tempo todo, mas aprendi a deixá-los ir e seguir em frente com as decisões difíceis que sei ser verdadeiras comigo mesmo, mesmo quando os outros podem não entender o caminho que estou trilhando. Descobri que experimentar a vulnerabilidade ao tomar decisões difíceis por mim mesma tem sido uma parte importante do meu crescimento.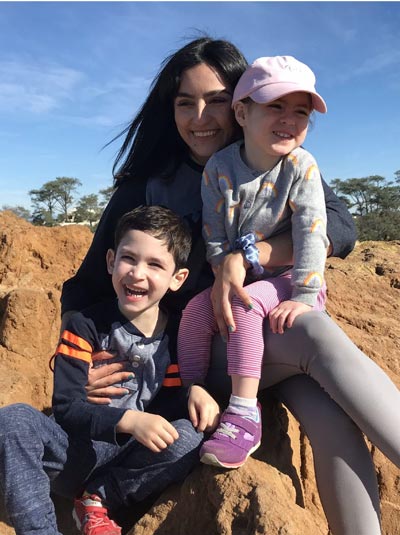 Esta é a família com a qual trabalho como au pair. Neles encontrei amor e apoio,
e eu os considero uma parte importante da minha família.
Por isso avancei com coragem e decidi pelo caminho que me faz feliz. Desde aquele momento, tem sido uma jornada maravilhosa desde a vida na praia ensolarada na Baja California Sur, no México, até a bela montanha-russa que é a ventosa cidade de Chicago. Nunca imaginei que poderia encontrar tanto amor, paz e alegria em um país estrangeiro. Devo dizer que talvez não seja só pelo lugar, mas pelas pessoas, que ajudam tudo a fazer sentido.
Morar nos Estados Unidos me ajudou a ficar mais confiante e aberto às pessoas. Fiz muitos amigos nos lugares mais inesperados. Uma vez eu estava tomando conta de um parque e vi outra garota tomando conta também. Comecei uma conversa, trocamos números, e desde então nos tornamos melhores amigos! Não consigo imaginar minha vida sem ela agora!
Essa decisão não só me levou a crescer como pessoa, mas também como profissional. Atualmente, estou me preparando para atingir minha meta de concluir um mestrado nos Estados Unidos. É por isso que estou estudando inglês na English Language Academy (ELA) da DePaul University . Descobri que é um lugar maravilhoso para aprender e fazer amigos de todo o mundo! Se eu não tivesse sido corajoso o suficiente, e se não tivesse escolhido seguir minhas próprias decisões, nunca poderia ter tido a experiência incrível e especial que estou vivendo!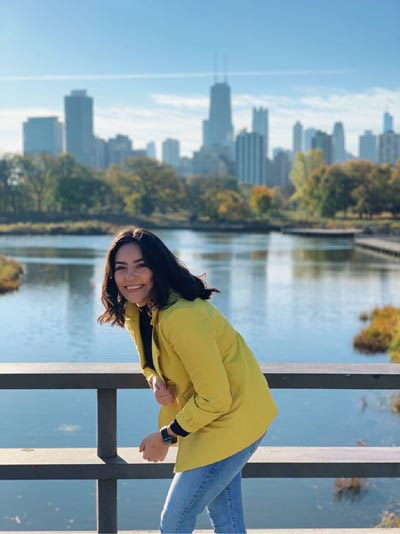 Este sou eu, morando na Cidade dos Ventos. :)
Aprender a abrir mão da opinião de todos sobre nossa vida pode não vir naturalmente, mas acredito que é algo que temos que aprender a fazer. Todos nós temos ideias diferentes sobre como alcançar a felicidade e o contentamento. Ao longo de minha própria jornada, descobri que você deve seguir seu próprio rumo, seguindo seu próprio coração, porque se você tomar decisões com base no que os outros desejam para sua vida, você vai acabar vivendo a vida de outra pessoa! Essas duas coisas me ajudaram a experimentar o que eu nunca imaginei antes.
Espero que você aprenda como tornar sua vida algo de que se orgulhe e veja a beleza do mundo ao seu redor.
Esther Arnaut Amador de La Paz, México, está estudando inglês na English Language Academy da DePaul University em Chicago, Illinois.