Where Have Your Decisions Taken You?
By Esther Arnaut Amador
Are you in the place you want to be? Are the choices you are making really your own?
Throughout my life, I have heard people say, "Life is based on the decisions we make." But I wonder, are we making decisions for ourselves or are we letting others make them for us?
Almost three years ago, I decided to come to the United States as an au pair. At that time, I was working as an elementary school teacher in Mexico, and honestly, the process of deciding to quit my job to come to the United States was hard. I believe that part of what made it hard was that I was used to making decisions based on other people's opinions. What others would think was always in the back of my mind. What if I made a mistake in the path I chose? What if I didn't succeed? Fear and doubts are there all the time, but I have learned to let them go and move forward with the difficult decisions that I know to be true to myself, even when others may not understand the path I'm taking. I've found that experiencing vulnerability through making hard decisions for myself has been a major part of my growth.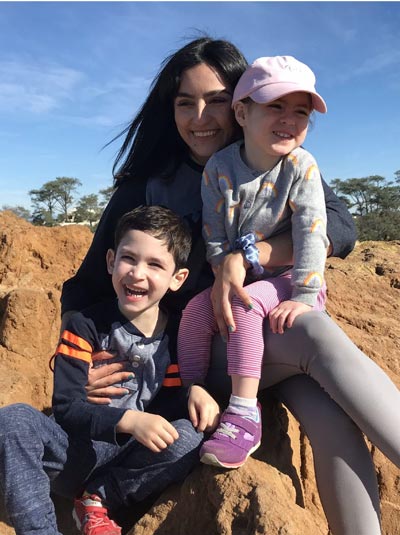 This is the family I work with as an au pair. In them, I found love and support,
and I consider them an important part of my family.
That's why I moved forward with courage and decided on the path that makes me happy. Since that moment, it has been a wonderful journey from the sunny beach life in Baja California Sur, Mexico, to the beautiful rollercoaster that is the windy city of Chicago. I never imagined that I could find so much love, peace, and joy in a foreign country. I must say that maybe it is not just about the place, but the people, which help everything make sense.
Living in the U.S. has helped me be more confident and open to people. I have made many friends in the most unexpected places. Once I was babysitting in a park, and I saw another girl babysitting as well. I started a conversation, we exchanged numbers, and since then we have become best friends! I can't imagine my life without her now!
This decision has not only led me to grow as a person but as a professional. Currently, I'm preparing to reach my goal of completing a master's degree in the U.S. This is why I'm studying English at the English Language Academy (ELA) at DePaul University. I've found it to be a wonderful place to learn and make friends from all around the world! If I had not been brave enough, and if I had not chosen to follow my own decisions, I could never have had the incredible and special experience that I am living!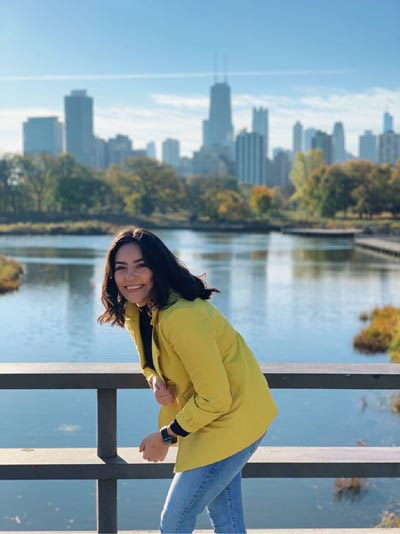 This is me, living in the Windy City. :)
Learning to let go of everyone's opinion of our life may not come naturally, but I believe it is something we have to learn to do. We all have different ideas on how to reach happiness and contentment. Throughout my own journey, I've found that you have to move in your own direction, following your very heart, because if you make decisions based on what others desire for your life you are going to end up living somebody else's life! Those two things have helped me experience what I never previously imagined.
I hope you learn how to make your life something you are proud of and see beauty in the world around you.
Esther Arnaut Amador from La Paz, Mexico, is studying English at the English Language Academy at DePaul University in Chicago, Illinois.
Written by
Esther Arnaut Amador (DePaul)
Get matched to the best program for you
Let us know what you're looking for so we can find the best school for you.
$15,000—$20,000 Semester
English Programs
Masters
Bachelor Degree
$15,000—$20,000 Semester
Masters
Online
Bachelor Degree
$10,000 — $15,000 Semester
Bachelor Degree
English Programs
Online
Start your U.S. adventure with Study in the USA
What's your dream? We can guide, advise, and connect you with your perfect U.S. school. We can also help you with the application process.
Partner Services
Learn About U.S. education financing, housing, and more
Choose an entire apartment, a studio, a shared room, or a private room, with 24x7 assistance from Personal Student Advisors. Book Now!
Most U.S. apartments come unfurnished. Make your move easy with a student furniture rental package from CORT. Flexible lease terms. Delivered before you arrive. Starting at $99 per month.* *with a 12-month lease
Get international student medical insurance for as low as $1.12 USD per day. Our plans are available to any student studying outside their home country and include coverage for Covid-19. Get your free quote and enroll today!
Testimonials
Study in the USA's Instagram introduced various colleges in the USA. They interviewed actual students on there, so it was helpful to know the real-life of an American college student.
Study in the USA gave me notices on what programs are available all throughout the country.
Study in the USA helped me to discover myself. I was able to realize my dream of being an excellent student and make my parents proud. I was also able to start a leadership club at my college.
Jireh Andre Bitangila Kabukapua Democratic Republic of the Congo
Resources
Learn about American culture and education direct from our experts at Study in the USA. Read more