In our effort to bring good content to as many people as possible the text in this blog post has been machine translated so please excuse any mistakes. Thank you!
Hamdiatu Yakuba tarafından
"Sınırlar '' tanıdık geliyor, değil mi? Bu kelimeyi en son ne zaman kullandın veya duydun? Genelde coğrafya ile ilişkilendirilmesinin üzerinden bir süre geçtiğinden eminim ve ne? Kara! Evet, bir nevi. Bu kelime kelimenin tam anlamıyla "bölme, bölme, sınırlama, ayırma" anlamına gelir. Yine de "kurallar, ilkeler, uzaklık ve alan" anlamına da gelebilir.

İnsanlar olarak bizler başkalarıyla ilişki kurmak veya ilişki kurmak zorundayız. Hayatımızın çeşitli yerleşim yerlerinde doğal olarak bu bağlarla ve bu bağlarla yaşıyoruz. Belki de koşullara ve mevsimlere bağlı olarak, insanların hayatımıza gönüllü olarak girip çıkmalarına izin veriyoruz. Kişiliklerimiz, başkalarına bizim ve onlar için kabul edilebilir şekillerde uyum sağlamamıza ve onlara davranmamıza izin verir, bu ya bir norm ya da ahlaksızlık haline gelir.

Şimdi, sınırlara geri dönelim, daha önce de belirtildiği gibi, bunlar iki taraf için belirlenen sınırlamalardır. Bu ülkeler, şehirler, bölgeler, topraklar, evler vb. Arasındaki normal sınırlar olabilir. Ama, hey! Kişisel, duygusal, sevgi, sosyal sınırlarımız ve diğerlerine sahibiz. Kendimiz için koyduğumuz kuralları, nasıl davranılmak istediğimizi, yaşam standartlarını vb. Oluştururlar.

Hepimizin kendimiz için ve kendimiz için ve bazen toplum, aile, din veya etnik köken tarafından belirlenmiş sınırları vardır. Bizi yapmak ya da bozmak için özetliyorlar. Bu sınırlara ne ölçüde uyduğumuz, kendimizle ve başkalarıyla olan ilişkilerimizi tanımlar.

Kendiniz için ayarladığınız bazı şeyler nelerdir? Hepimizin "ilkeler" dediğim kişisel kuralları var. Kendinizi başkaları için uygun bulmayı ve aynı zamanda başkalarını da tatmin etmeyi uygun gördüğünüzde onlara her zaman uyuyor musunuz veya istisnalarınız var mı? Kendimiz için belirlediğimiz sınırlar esnektir ve zaman zaman kendimize uyacak şekilde değiştirilebilir, ancak diğerleri için böyle değildir. Bazı şeylere ve insanlara göz yumduğumuz veya hayatımıza girmesine izin verdiğimiz bir sınır olmalıdır.

Eskiden yaptığınız gibi artık onlara uyum sağlamadığınızda insanların nasıl tepki verdiklerini hiç fark ettiniz veya fark ettiniz mi? Böylece, sosyal sınırlarınızı uyguladığınızda veya çizdiğinizde. Kimi arkadaş olarak kabul edip etmemeye karar verdiğinizde, bu bir sınırdır ve başkalarıyla olan ilişkinizi etkileyecektir. Bunun nedeni, buna alışkın olmadıkları veya sizden bunu beklemedikleri için, daha da iyisi, kabul etmek istemiyorlar. Şey, onların sorunu diyorum. Sınır gereksinimlerimiz açısından neyin, ne zaman veya kimin uygun olduğuna karar vermek bize kalmıştır.

Senin için uygun olan ne? Nasıl tedavi edilmek istersiniz? Başkalarının size nasıl yaklaşmasını istiyorsunuz? Bir ilişkide sizin için kabul edilebilir olan nedir? Bir arkadaşı kime çağırırsın? Sizin için hangi pozisyon rahat? Ne zaman yeterli olduğunu söylüyorsun? Bu egoist arkadaş / sevgiliye ne kadar süre uyum sağlarsınız? Size ahlaki açıdan doğru gelen nedir? Neye adapte olmayı istiyorsun ya da etmiyorsun? Neyi ödün vermek ve feda etmek istiyorsun? Nankör insanlarla nasıl başa çıkarsınız? Ne zaman SİZİN hakkında her şeyi yaparsınız ve başka hiç kimse? Bunlar sınırlardır.

İnsanların size bencil, bencil, egoist, kalpsiz, kaba ve aklına gelebilecek tüm olumsuz sözler demesinde sorun yok. Evet, sorun değil çünkü çizginin nerede ve ne zaman çizildiği burası. Sınırlar koyduğumuzda ve "Yeter ve benim tarafımdan sevilmeyi hak ediyorum" dediğimizde.

Bu sınırları belirlemeye ve hayatımızdaki zehirli durumlardan kurtulmaya başlayalım. Bu şekilde kendini sevme, özbakım ve kendini gerçekleştirme gerçekleşir. Şimdi gelecek bizi bekliyor. Hayatıma hoşgeldin!"

Gana, Batı Afrika'dan Hamdiatu Yakubu, şu anda Iowa, Cedar Rapids'deki Kirkwood Community College'da gazetecilik okuyor. Doğayı, yemek yapmayı, film izlemeyi, dilleri, yazmayı ve fotoğrafçılığı sever.
---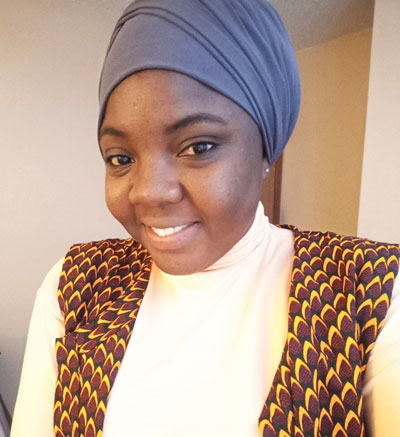 Ben Gana, Batı Afrika'dan Hamdiatu Yakubu. Şu anda Cedar Rapids, Iowa'daki Kirkwood Community College'da gazetecilik okuyorum. Doğayı, yemek yapmayı, film izlemeyi, dilleri, yazmayı ve fotoğrafçılığı seviyorum.