In our effort to bring good content to as many people as possible the text in this blog post has been machine translated so please excuse any mistakes. Thank you!
Por Hamdiatu Yakuba
"Limites" soa familiar, certo? Quando foi a última vez que você usou ou ouviu essa palavra. Tenho certeza de que já faz um tempo que geralmente é associado a geografia e o quê? Terra! Sim, mais ou menos. Esta palavra significa literalmente "partição, divisão, limitação, separação". No entanto, também pode significar "regras, princípios, distância e espaço".

Como humanos, somos obrigados a criar ou ter relacionamentos com outras pessoas. Nós naturalmente vivemos por, e com esses laços, em vários assentamentos de nossas vidas. Deixamos as pessoas entrarem e saírem de nossas vidas voluntariamente e, de certa forma, não, tudo dependendo das circunstâncias e das estações, talvez. Nossas personalidades nos permitem acomodar e tratar os outros de maneiras aceitáveis para nós e para eles, o que se torna uma norma ou um vício.

Agora, de volta aos limites, conforme mencionado anteriormente, eles são limitações definidas para duas partes. Essas podem ser as fronteiras normais entre países, cidades, regiões, terras, casas, etc. Mas, ei! Temos limites pessoais, emocionais, amorosos, sociais e outros. Eles constituem as regras que estabelecemos para nós mesmos, como queremos ser tratados, padrões de vida, etc.

Todos nós temos limites definidos para nós e por nós mesmos e, às vezes, também pela sociedade, família, religião ou etnia. Eles se resumem para nos fazer ou desfazer. A medida em que nos conformamos com esses limites define nossos relacionamentos conosco e com os outros.

Quais são algumas coisas que você definiu para si mesmo? Todos nós temos regras pessoais, que chamo de "princípios". Você as cumpre sempre ou tem exceções quando julga adequado apenas para se adequar aos outros e também para satisfazer os outros? Os limites que estabelecemos para nós mesmos são flexíveis e podem ser alterados de tempos em tempos para se adequar a nós mesmos, mas não para os outros. Deve haver um limite para o qual toleramos ou permitimos que certas coisas e pessoas entrem em nossas vidas.

Você já percebeu ou notou como as pessoas reagem quando você não as acomoda mais como antes? Assim, quando você exercita ou traça seus limites sociais. Quando você decide quem aceitar como amigo e quem não, isso é um limite e afetará seu relacionamento com os outros. Isso porque eles não estão acostumados ou não esperam isso de você, melhor ainda, eles não querem aceitar. Bem, é problema deles, eu digo. Cabe a nós decidir o que, quando ou quem está OK em relação aos nossos requisitos de limite.

O que é bom para você? Como você quer ser tratado? Como você quer que os outros se aproximem de você? O que é aceitável para você em um relacionamento? Quem você chama de amigo? Que posição é confortável para você? Quando você diz que é o suficiente? Por quanto tempo você acomodaria aquele amigo / amante egoísta? O que parece moralmente certo para você? A que você está disposto a se adaptar ou não? O que você está disposto a comprometer e sacrificar? Como você lida com pessoas ingratas? Quando você faz tudo sobre VOCÊ e mais ninguém? Esses são limites.

É normal que as pessoas chamem você de egoísta, egocêntrico, egoísta, sem coração, mesquinho e todas as palavras negativas em que possam pensar. Sim, está tudo bem porque é onde e quando a linha foi traçada. Quando estabelecemos limites e dizemos: "É o suficiente e eu mereço ser amado por mim".

Vamos começar estabelecendo esses limites e nos livrando de situações tóxicas em nossas vidas. Assim acontece o amor-próprio, o autocuidado e a autorrealização. Agora o futuro nos espera. Bem-vindo a minha vida!"

Hamdiatu Yakubu de Gana, África Ocidental, está atualmente estudando jornalismo no Kirkwood Community College em Cedar Rapids, Iowa. Ela ama a natureza, cozinhar, assistir filmes, idiomas, escrever e fotografia.
---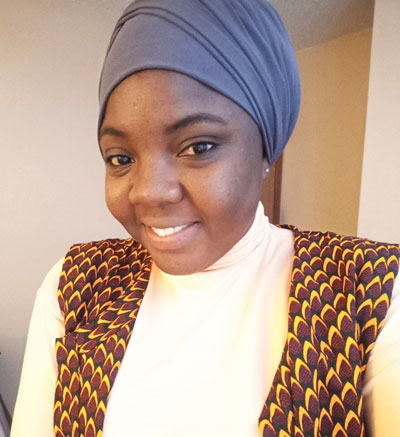 Eu sou Hamdiatu Yakubu, de Gana, na África Ocidental. Atualmente, estou estudando jornalismo no Kirkwood Community College em Cedar Rapids, Iowa. Eu amo a natureza, cozinhar, assistir filmes, idiomas, escrever e fotografia.