In our effort to bring good content to as many people as possible the text in this blog post has been machine translated so please excuse any mistakes. Thank you!
Oleh Hamdiatu Yakuba
"Boundaries '' terdengar familiar, bukan? Kapan terakhir kali Anda menggunakan atau mendengar kata ini. Saya yakin sudah lama karena biasanya dikaitkan dengan geografi dan apa? Tanah! Ya, semacam itu. Kata ini secara harfiah berarti "partisi, pembagian, batasan, pemisahan." Namun, itu juga bisa berarti "aturan, prinsip, jarak, dan ruang".

Sebagai manusia kita terikat untuk membuat atau memiliki hubungan dengan orang lain. Kita secara alami hidup di, oleh, dan dengan ikatan ini, di berbagai permukiman hidup kita. Kami membiarkan orang masuk dan keluar dari kehidupan kami secara sukarela dan agak tidak, semua tergantung pada keadaan dan musim, mungkin. Kepribadian kita memungkinkan kita untuk mengakomodasi dan memperlakukan orang lain dengan cara yang dapat diterima oleh kita dan mereka, yang menjadi norma atau keburukan.

Sekarang, kembali ke batasan, seperti yang disebutkan sebelumnya, itu adalah batasan yang ditetapkan untuk dua pihak. Ini bisa jadi batas normal antara negara, kota, wilayah, tanah, rumah, dll. Tapi, hei! Kami memang memiliki pribadi, emosional, cinta, batasan sosial, dan lain-lain. Itu merupakan aturan yang kita tetapkan untuk diri kita sendiri, bagaimana kita ingin diperlakukan, standar hidup, dll.

Kita semua memiliki batasan yang ditetapkan untuk dan oleh diri kita sendiri dan terkadang juga oleh masyarakat, keluarga, agama, atau etnis. Mereka menyimpulkan untuk membuat atau melepas kami. Sejauh mana kita menyesuaikan diri dengan batasan-batasan ini menentukan hubungan kita dengan diri kita sendiri dan orang lain.

Apa sajakah hal yang telah Anda tetapkan untuk diri Anda sendiri? Kita semua memiliki aturan pribadi, yang saya sebut "prinsip". Apakah Anda selalu mematuhinya atau memiliki pengecualian jika Anda anggap cocok hanya untuk diri Anda sendiri untuk orang lain dan juga, untuk memuaskan orang lain? Batasan yang kita tetapkan untuk diri kita sendiri fleksibel dan dapat diubah dari waktu ke waktu agar sesuai dengan diri kita sendiri, tetapi tidak untuk orang lain. Harus ada batasan di mana kita memaafkan atau mengizinkan hal-hal dan orang-orang tertentu masuk ke dalam hidup kita.

Pernahkah Anda menyadari atau memerhatikan bagaimana reaksi orang ketika Anda tidak lagi mengakomodasi mereka seperti yang Anda lakukan sebelumnya? Jadi, saat Anda berolahraga atau menggambar batasan sosial Anda. Ketika Anda memutuskan siapa yang akan diterima sebagai teman dan siapa yang tidak, itu adalah batasan, dan itu akan memengaruhi hubungan Anda dengan orang lain. Ini karena mereka belum terbiasa atau tidak mengharapkan dari Anda, lebih baik lagi mereka tidak mau menerimanya. Yah, itu masalah mereka, kataku. Terserah kita untuk memutuskan apa, kapan, atau siapa yang boleh berkenaan dengan persyaratan batas kita.

Apa yang baik untukmu? Bagaimana Anda ingin diperlakukan? Bagaimana Anda ingin orang lain mendekati Anda? Apa yang bisa Anda terima dalam suatu hubungan? Siapa yang Anda panggil teman? Posisi apa yang nyaman bagi Anda? Kapan Anda mengatakan itu cukup? Berapa lama Anda akan mengakomodasi teman / kekasih egois itu? Apa yang terdengar benar secara moral bagi Anda? Apa yang ingin Anda adaptasi atau tidak? Apa yang ingin Anda kompromi dan korbankan? Bagaimana Anda menghadapi orang yang tidak tahu berterima kasih? Kapan Anda membuat semuanya tentang ANDA dan bukan orang lain? Itu adalah batasan.

Tidak apa-apa jika orang menyebut Anda egois, egois, egois, tidak berperasaan, kejam, dan semua kata negatif yang dapat mereka pikirkan. Ya, tidak apa-apa karena di situlah dan kapan garis telah dibuat. Saat kita menetapkan batasan dan berkata, "Sudah cukup dan aku pantas untuk dicintai olehku."

Mari kita mulai menetapkan batasan itu dan menyingkirkan situasi beracun dalam hidup kita. Dengan begitu, cinta diri, perawatan diri, dan realisasi diri terjadi. Sekarang masa depan menanti kita. Selamat Datang di hidupku!"

Hamdiatu Yakubu dari Ghana, Afrika Barat, saat ini sedang belajar jurnalisme di Kirkwood Community College di Cedar Rapids, Iowa. Dia menyukai alam, memasak, menonton film, bahasa, menulis, dan fotografi.
---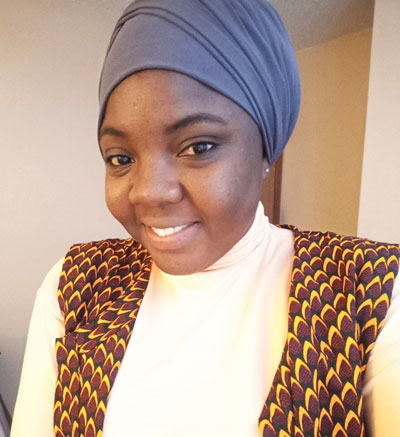 Saya Hamdiatu Yakubu dari Ghana, Afrika Barat. Saat ini saya belajar jurnalisme di Kirkwood Community College di Cedar Rapids, Iowa. Saya suka alam, memasak, menonton film, bahasa, menulis, dan fotografi.