In our effort to bring good content to as many people as possible the text in this blog post has been machine translated so please excuse any mistakes. Thank you!
Por Hamdiatu Yakuba
"Límites" suena familiar, ¿verdad? ¿Cuándo fue la última vez que usó o escuchó esta palabra? Estoy seguro de que ha pasado un tiempo desde que generalmente se asocia con la geografía y ¿qué? ¡Tierra! Sí, algo así. Esta palabra significa literalmente "partición, división, limitación, separación". Sin embargo, también puede significar "reglas, principios, distancia y espacio".

Como seres humanos, estamos obligados a establecer o tener relaciones con otros. Vivimos naturalmente en, por y con estos vínculos, en varios asentamientos de nuestras vidas. Dejamos que la gente entre y salga de nuestras vidas voluntariamente y de alguna manera no, todo dependiendo de las circunstancias y estaciones, tal vez. Nuestras personalidades nos permiten acomodarnos y tratar a los demás de formas aceptables para nosotros y para ellos, lo que se convierte en una norma o en un vicio.

Ahora, volviendo a los límites, como se mencionó anteriormente, son limitaciones establecidas para dos partes. Estos podrían ser los límites normales entre países, ciudades, regiones, tierras, casas, etc. Pero, ¡oye! Tenemos límites personales, emocionales, amorosos, sociales y otros. Constituyen las reglas que nos fijamos, cómo queremos ser tratados, nivel de vida, etc.

Todos tenemos límites establecidos para nosotros y por nosotros mismos y, a veces, también por la sociedad, la familia, la religión o la etnia. Se resumen para hacernos o deshacernos. La medida en que nos ajustamos a estos límites define nuestras relaciones con nosotros mismos y con los demás.

¿Cuáles son algunas de las cosas que te has fijado? Todos tenemos reglas personales, que yo llamo "principios". ¿Los respeta siempre o tiene excepciones cuando lo considera oportuno solo para adaptarse a los demás y también para satisfacer a los demás? Los límites que nos fijamos son flexibles y pueden cambiarse de vez en cuando para adaptarnos a nosotros, pero no a los demás. Debe haber un límite al cual toleramos o permitimos que ciertas cosas y personas entren en nuestras vidas.

¿Alguna vez te has dado cuenta o has notado cómo reacciona la gente cuando ya no te acomodas como solías hacer? Por lo tanto, cuando ejercita o dibuja sus límites sociales. Cuando decides a quién aceptar como amigo y a quién no, eso es un límite y afectará tu relación con los demás. Esto se debe a que no están acostumbrados o no esperan eso de ti, mejor aún, no quieren aceptarlo. Bueno, es su problema, digo. Depende de nosotros decidir qué, cuándo o quién está bien con respecto a nuestros requisitos de límites.

¿Qué te parece bien? ¿Cómo quieres que te traten? ¿Cómo quieres que otros se acerquen a ti? ¿Qué es aceptable para ti en una relación? ¿A quién llamas amigo? ¿Qué posición te resulta cómoda? ¿Cuándo dices que es suficiente? ¿Cuánto tiempo le darías cabida a ese amigo / amante egoísta? ¿Qué te suena moralmente correcto? ¿A qué estás dispuesto a adaptarte o no? ¿Qué estás dispuesto a comprometer y sacrificar? ¿Cómo tratas a las personas ingratas? ¿Cuándo lo haces todo sobre TI y nadie más? Esos son límites.

Está bien que la gente te llame egoísta, egocéntrico, egoísta, desalmado, mezquino y todas las palabras negativas que se le ocurran. Sí, está bien porque ahí es donde y cuando se trazó la línea. Cuando establecemos límites y decimos: "Es suficiente y merezco ser amado por mí".

Comencemos a establecer esos límites y deshacernos de situaciones tóxicas en nuestras vidas. De esa manera, suceden el amor propio, el cuidado personal y la autorrealización. Ahora el futuro nos espera. ¡Bienvenido a mi vida!"

Hamdiatu Yakubu de Ghana, África Occidental, actualmente estudia periodismo en Kirkwood Community College en Cedar Rapids, Iowa. Le encanta la naturaleza, cocinar, ver películas, los idiomas, la escritura y la fotografía.
---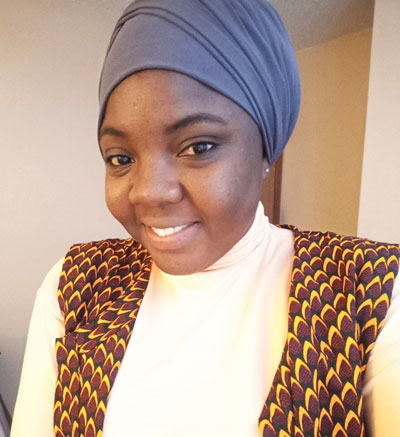 Soy Hamdiatu Yakubu de Ghana, África Occidental. Actualmente estudio periodismo en Kirkwood Community College en Cedar Rapids, Iowa. Amo la naturaleza, cocinar, mirar películas, idiomas, escribir y fotografiar.