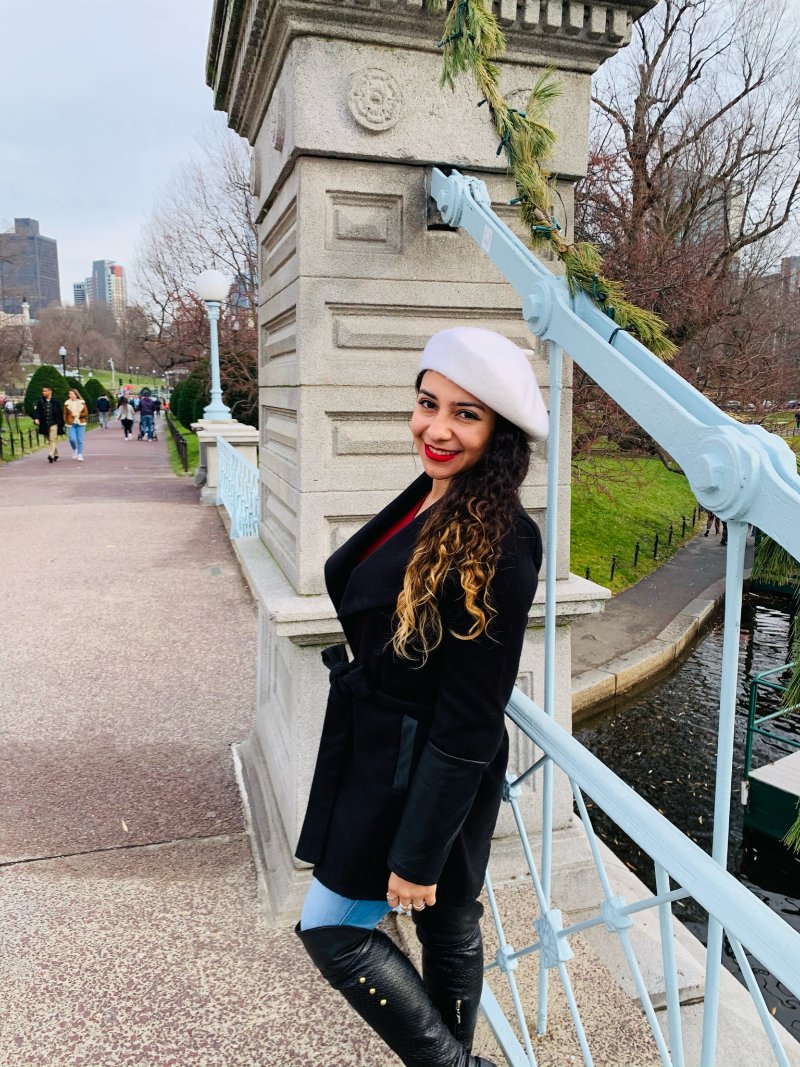 In our effort to bring good content to as many people as possible the text in this blog post has been machine translated so please excuse any mistakes. Thank you!
Pietro Rossini, Jeimmy Johana Masmela Fandiño ile birlikte
ABD'ye gelmeden önce çok heyecanlandım "dedi Jeimmy Masmela, 2018'de ABD'ye au pair olarak gelme seçimini tartışırken.
İlk defa, projem buraya öğrenci olarak sadece İngilizce öğrenmek için gelmekti "dedi Jeimmy. Bununla birlikte, Kolombiyalı bazı arkadaşlar ona au pair hayatından bahsetti.
Bir au pair olarak aynı anda hem ders çalışabilir hem de çalışabilirsiniz, "diye devam etti Jeimmy.
Birçok ajans, Jeimmy gibi uluslararası gençleri ABD'deki ailelerle buluşturuyor. Bu kurumlar, dünyanın her yerinden gençleri, çocuklarına bakacak birine ihtiyaç duyan ailelerle eşleştiriyor.
Au pair olmanın bir avantajı, Amerikan bir ailede yaşayacak olmanızdır "dedi Jeimmy," Kültürü daha iyi tanıyacaksınız çünkü her gün Amerikalılarla yaşıyorsunuz, "diye devam etti Jeimmy.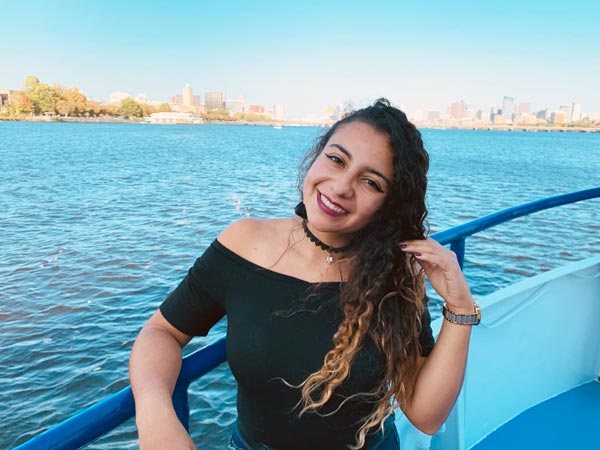 Jeimmy Boston'da
Buraya geldiğimde çok heyecanlandım. Ancak ülkemden pek çok farklılık buldum "yorumunu yaptı. Örneğin, Jeimmy eskiden Kolombiya'da olduğu gibi her Pazar günü ailesiyle öğle yemeği yemeyi özlüyordu.
Jeimmy, "İlk ev sahibi ailem dışarı çıkmayı sevmedi," diye şikayet etti Jeimmy, "Ben de arkadaşlarla takılmayı, yeni insanlarla tanışmayı ve dünyayı keşfetmeyi seven biriyim," diye devam etti.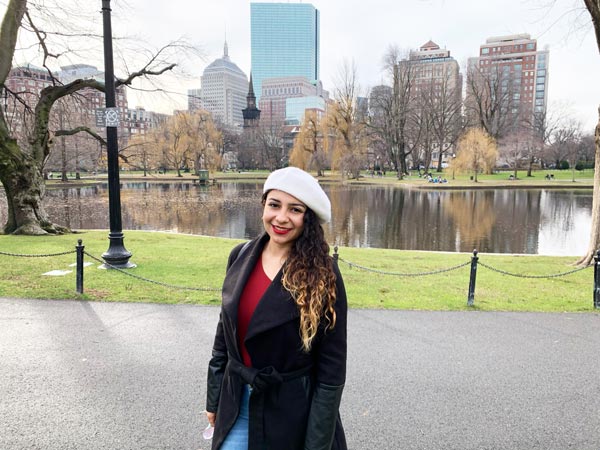 Boston Common'da Jeimmy
Jeimmy, ailesinde yurtdışında deneyim sahibi olan ilk kişidir. "Ailem bu seçimi yaptığım için mutlu, beni her zaman destekliyorlar" dedi.
Jeimmy ABD'de harika bir deneyim yaşamasına rağmen ülkesini, Kolombiya yemeklerini, ailesini ve "ve çoğunlukla Kolombiya'da kutlama şeklimizi" özlüyor.
Jeimmy, babasına bir ithalat / ihracat şirketi konusunda yardım etmek için Kolombiya'ya geri dönmeyi planlıyor. "Artık İngilizce konuştuğuma göre, babama işinde yardımcı olabilirim" dedi. Daha fazla müşteriye ve müşteriye ulaşabiliriz. "
"Babam hayatımda önemli bir kişi" dedi, "beni her zaman cesaretlendiriyor. Her zaman 'Yapabilirsin!' Diyor. O benim motivasyonum! "
Ancak Jeimmy hayatı boyunca Kolombiya'da yaşamak istemiyor. İspanya'ya gitmeyi hayal ediyor, "Bence İspanya bir tür Kolombiya ama daha organize," dedi gülerek, "Orada pazarlama ve lojistik alanında yüksek lisans derecesi almak isterim."
Mayıs ayında, Jeimmy ABD'den ayrılmak zorunda kaldı çünkü au pair olarak görev süresi sona erecek, "ama burada aşkı buldum ve Amerikalı olan yeni erkek arkadaşımla ne yapacağımı bilmiyorum!
Belki ileride görüşürüz, belki başka bir ülkede, hatta burada, kim bilir? " Jeimmy sesinde hüzünlü bir notla yorum yaptı.
Yurtdışında aşkı bulanların ayrıldıktan sonra iletişimde kalması kolay değil. Kolay bir çözüm yok. Hayatta belgeler, seyahat güçlüğü ve farklı projeler, insanlardan hayatlarında zor seçimler yapmalarını ister.
Jeimmy, "Gelecekte evlilik hakkında düşünebiliriz ve ben de Amerikan vatandaşlığı alabilirim," dedi, "ama evlilik bizim için ciddi bir şey, sadece belgeleri almanın bir yolu değil."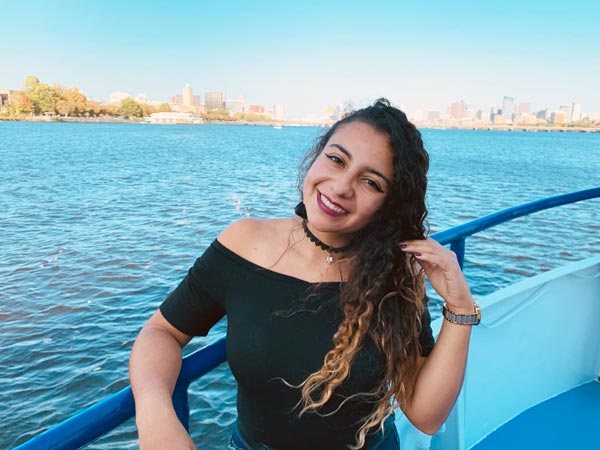 Alaska'da Jeimmy
Jeimmy, ABD'ye gelecek herkese "Buraya herhangi bir klişe olmadan gelin" diyor Jeimmy, "Buraya gelirseniz harika bir karar vereceksiniz" dedi.
"Burada yeni bir dünya, çok farklı. Açık fikirli olun ve nasıl güçlü bir insan olunacağını öğreneceksiniz! "
---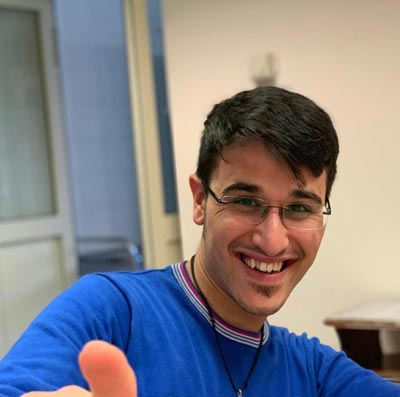 Pietro Rossini, Framingham Eyalet Üniversitesi'nde bir Xaverian Misyoner ve ESL öğrencisidir. Boston Üniversitesi'nde gazetecilik alanında yüksek lisans eğitimi almak amacıyla Ocak 2020'de ABD'ye geldi. Hayali, dünya çapında insanlık hikayelerini toplamak ve paylaşmak, dünyayı tek bir aile yapmak.