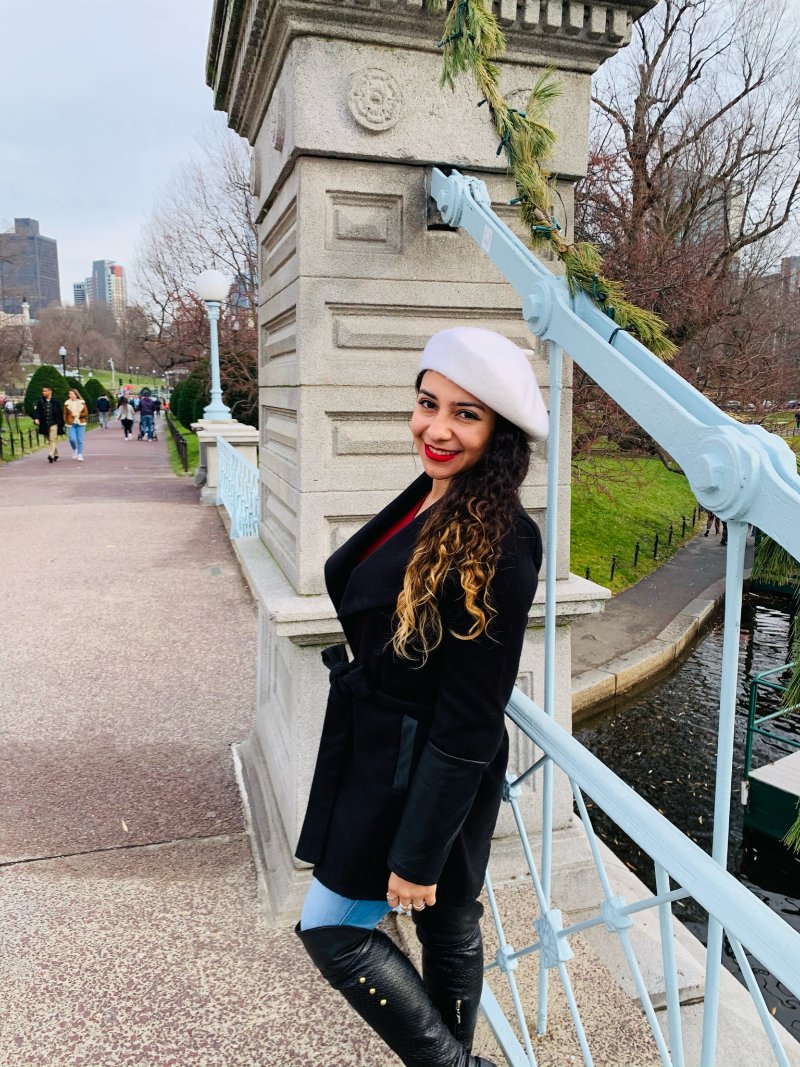 In our effort to bring good content to as many people as possible the text in this blog post has been machine translated so please excuse any mistakes. Thank you!
Por Pietro Rossini com Jeimmy Johana Masmela Fandiño
Eu estava muito animado antes de vir para os EUA ", disse Jeimmy Masmela, discutindo a escolha de vir para os EUA em 2018 como au pair.
Na primeira vez, meu projeto era vir aqui como estudante apenas para aprender inglês ", disse Jeimmy. No entanto, alguns amigos da Colômbia contaram a ela sobre a vida de au pair.
Como au pair, você pode estudar e trabalhar ao mesmo tempo ", continuou Jeimmy.
Muitas agências conectam jovens internacionais como Jeimmy com famílias nos Estados Unidos. Essas agências combinam jovens de todo o mundo com famílias que precisam de alguém para cuidar de seus filhos.
Uma vantagem de ser au pair é que você viverá em uma família americana ", disse Jeimmy," Você conhecerá melhor a cultura porque todos os dias está morando com americanos ", continuou Jeimmy.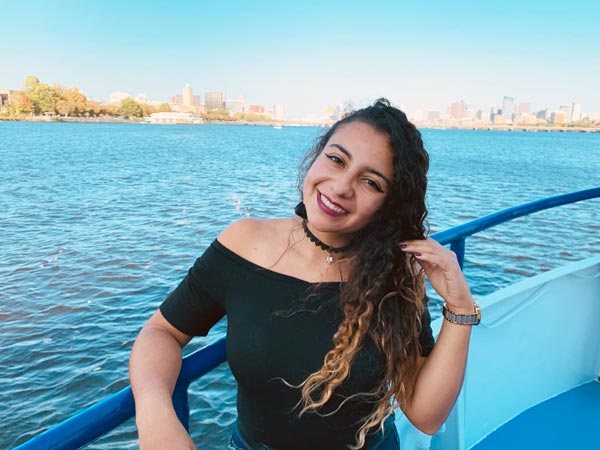 Jeimmy em Boston
"Quando vim para cá, fiquei muito entusiasmado. No entanto, encontrei muitas diferenças em relação ao meu país ", comentou. Por exemplo, Jeimmy sentia falta de almoçar com a família todos os domingos, como costumava fazer na Colômbia.
"Minha primeira família anfitriã não gostava de sair", queixou-se Jeimmy. "E sou o tipo de pessoa que adora sair com os amigos, conhecer novas pessoas e explorar o mundo", continuou Jeimmy.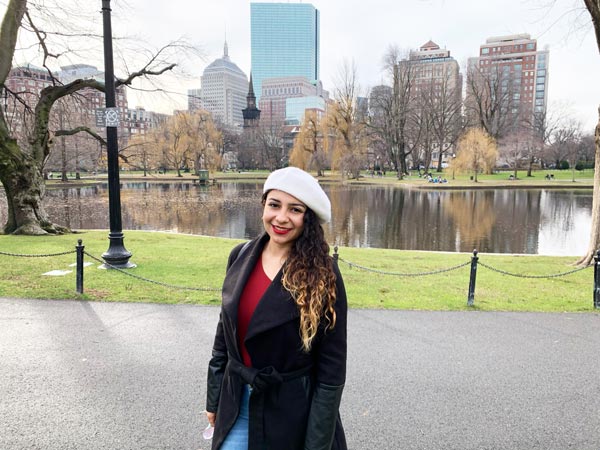 Jeimmy no Boston Common
Jeimmy é a primeira da família a ter uma experiência no exterior. "Minha família está feliz por eu ter feito essa escolha, eles sempre me apoiaram", disse ela.
Embora Jeimmy tenha tido uma ótima experiência nos Estados Unidos, ela sente falta de seu país, da comida colombiana, de sua família "e principalmente da forma como comemoramos na Colômbia", disse ela.
Jeimmy planeja voltar para a Colômbia para ajudar seu pai com uma empresa de importação / exportação. "Agora que falo inglês", disse ela, "posso ajudar meu pai no trabalho. Podemos alcançar mais clientes e clientes. "
"Meu pai é uma pessoa importante em minha vida", disse ela, "ele sempre me incentiva. Ele sempre diz: 'Você consegue!' Ele é minha motivação! "
No entanto, Jeimmy não quer morar na Colômbia por toda a vida. Ela sonha em ir para a Espanha, "Eu acho que a Espanha é uma espécie de Colômbia, mas mais organizada", ela disse rindo, "Eu adoraria fazer um mestrado em marketing e logística lá".
Em maio, Jeimmy tem que deixar os EUA porque seu período como au pair vai expirar, "mas eu encontrei o amor aqui e não sei o que fazer com meu novo namorado que é americano!
Talvez a gente se veja no futuro, em outro país talvez, ou mesmo aqui, quem sabe? " Jeimmy comentou com uma nota triste em sua voz.
Não é fácil para as pessoas que encontram o amor no exterior manter contato depois de partir. Não há uma solução fácil. Documentos, dificuldades para viajar e diferentes projetos de vida exigem que as pessoas façam escolhas difíceis em suas vidas.
"No futuro, podemos pensar em casamento e eu também poderia obter a cidadania americana", disse Jeimmy, "mas casamento é algo sério para nós, não apenas uma maneira de obter os documentos".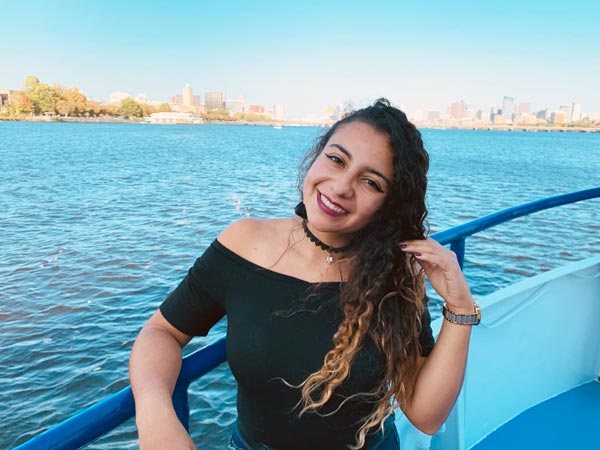 Jeimmy no Alasca
"Venha aqui sem nenhum estereótipo", Jeimmy sugere a todos que irão para os Estados Unidos. "Você tomará uma grande decisão se vier para cá", disse Jeimmy.
"Aqui é um mundo novo, muito diferente. Tenha a mente aberta e você aprenderá a ser uma pessoa forte! "
---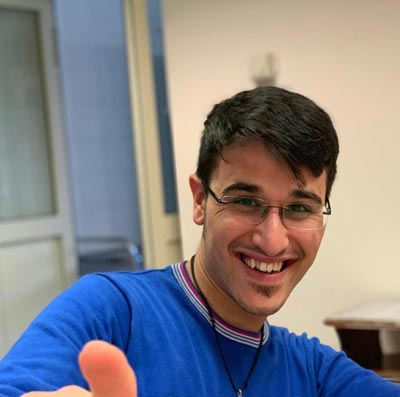 Pietro Rossini é um Missionário Xaveriano e estudante de ESL na Framingham State University . Ele veio para os Estados Unidos em janeiro de 2020 com o objetivo de estudar para um mestrado em jornalismo na Universidade de Boston. Seu sonho é coletar e compartilhar histórias da humanidade ao redor do globo, tornando o mundo uma única família.