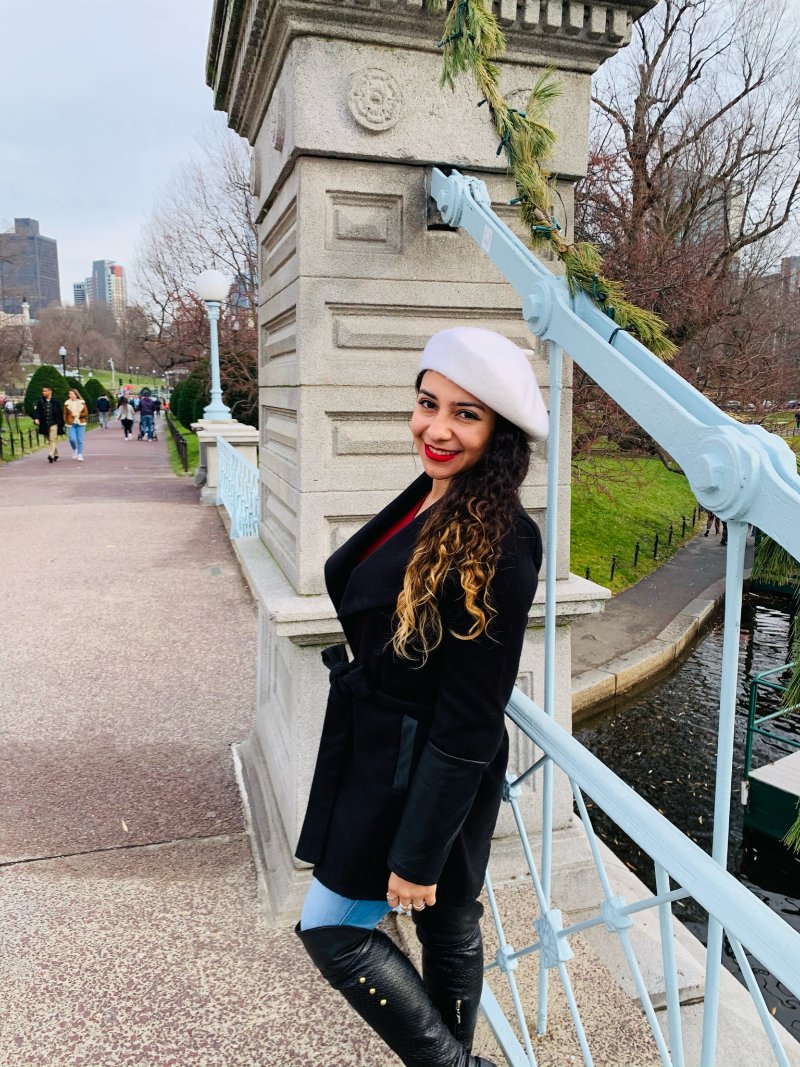 In our effort to bring good content to as many people as possible the text in this blog post has been machine translated so please excuse any mistakes. Thank you!
Oleh Pietro Rossini dengan Jeimmy Johana Masmela Fandiño
Saya sangat bersemangat sebelum datang ke AS, "kata Jeimmy Masmela membahas pilihan datang ke AS pada 2018 sebagai au pair.
Awalnya, proyek saya datang ke sini sebagai pelajar hanya untuk belajar bahasa Inggris, "kata Jeimmy. Namun, beberapa teman dari Kolombia bercerita tentang kehidupan au pair.
Sebagai au pair kamu bisa belajar dan bekerja pada saat yang sama, "lanjut Jeimmy.
Banyak lembaga menghubungkan anak muda internasional seperti Jeimmy dengan keluarga di AS. Badan-badan ini mencocokkan pemuda dari seluruh dunia dengan keluarga yang membutuhkan seseorang untuk merawat anak-anak mereka.
Keuntungan menjadi au pair adalah Anda akan hidup dalam keluarga Amerika, "Jeimmy berkata," Anda akan mengetahui budayanya lebih baik karena setiap hari Anda tinggal dengan orang Amerika, "lanjut Jeimmy.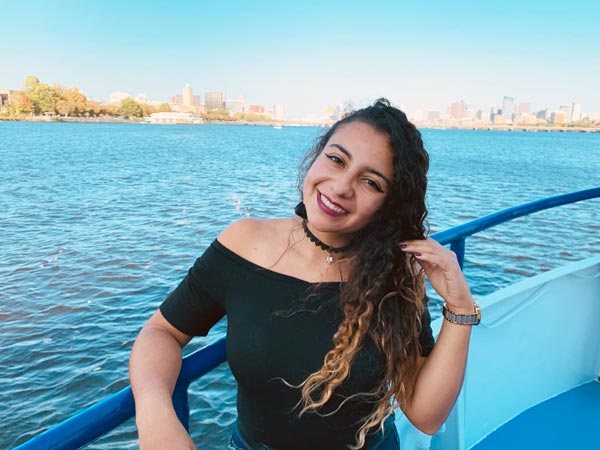 Jeimmy di Boston
"Saat saya datang ke sini, saya sangat senang. Namun, saya menemukan banyak perbedaan dengan negara saya, "komentarnya. Misalnya, Jeimmy melewatkan makan siang bersama keluarganya setiap hari Minggu, seperti yang biasa dia lakukan di Kolombia.
"Keluarga angkat pertamaku tidak suka pergi keluar," keluh Jeimmy, "Dan aku tipe orang yang suka bergaul dengan teman, bertemu orang baru, dan menjelajahi dunia," lanjut Jeimmy.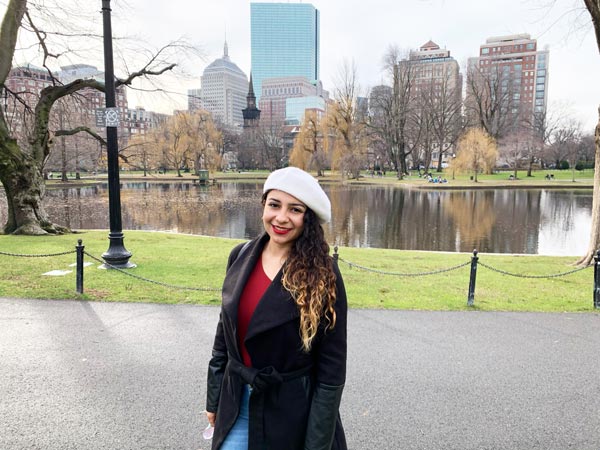 Jeimmy di Boston Common
Jeimmy adalah orang pertama di keluarganya yang memiliki pengalaman di luar negeri. "Keluarga saya senang saya membuat pilihan ini, mereka selalu mendukung saya," katanya.
Meskipun Jeimmy memiliki pengalaman yang luar biasa di AS, dia merindukan negaranya, makanan Kolombia, keluarganya, "dan kebanyakan cara kami merayakannya di Kolombia," katanya.
Jeimmy berencana kembali ke Kolombia untuk membantu ayahnya dengan perusahaan impor / ekspor. "Sekarang saya berbicara bahasa Inggris," katanya, "Saya dapat membantu ayah saya dengan pekerjaannya. Kami mungkin menjangkau lebih banyak pelanggan dan klien. "
"Ayah saya adalah orang penting dalam hidup saya," katanya, "dia selalu menyemangati saya. Dia selalu berkata, 'Kamu bisa melakukannya!' Dia adalah motivasiku! "
Namun, Jeimmy tidak ingin tinggal di Kolombia seumur hidupnya. Dia bermimpi pergi ke Spanyol, "Saya pikir Spanyol adalah semacam Kolombia tetapi lebih teratur," katanya sambil tertawa, "Saya ingin mendapatkan gelar master dalam pemasaran dan logistik di sana."
Pada bulan Mei, Jeimmy harus meninggalkan AS karena masa jabatannya sebagai au pair akan berakhir, "tetapi saya menemukan cinta di sini, dan saya tidak tahu harus berbuat apa dengan pacar baru saya yang berkewarganegaraan Amerika!
Mungkin kita akan bertemu di masa depan, mungkin di negara lain, atau bahkan di sini, siapa tahu? " Jeimmy berkomentar dengan nada sedih dalam suaranya.
Tidak mudah bagi orang yang menemukan cinta di luar negeri untuk tetap berhubungan setelah pergi. Tidak ada solusi yang mudah. Dokumen, kesulitan untuk bepergian, dan berbagai proyek dalam hidup meminta orang untuk membuat pilihan sulit dalam hidup mereka.
"Di masa depan, kita mungkin berpikir tentang pernikahan, dan saya juga bisa mendapatkan kewarganegaraan Amerika," kata Jeimmy, "tetapi pernikahan adalah sesuatu yang serius bagi kami, bukan hanya cara untuk mendapatkan dokumen."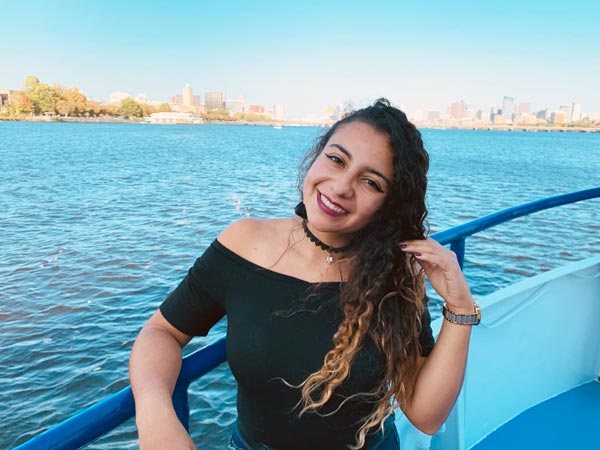 Jeimmy di Alaska
"Datanglah ke sini tanpa stereotip," Jeimmy menyarankan kepada semua orang yang akan datang ke AS. "Anda akan membuat keputusan yang bagus jika Anda akan datang ke sini," kata Jeimmy.
"Ini dunia baru, sangat berbeda. Bersikaplah terbuka, dan Anda akan belajar bagaimana menjadi orang yang kuat! "
---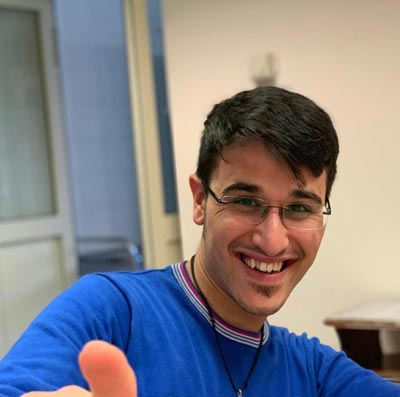 Pietro Rossini adalah seorang misionaris Xaverian dan mahasiswa ESL di Framingham State University . Ia datang ke AS pada Januari 2020 dengan tujuan belajar untuk master seni di bidang jurnalisme di Universitas Boston. Mimpinya adalah mengumpulkan dan berbagi cerita tentang kemanusiaan di seluruh dunia, menjadikan dunia sebagai satu keluarga.