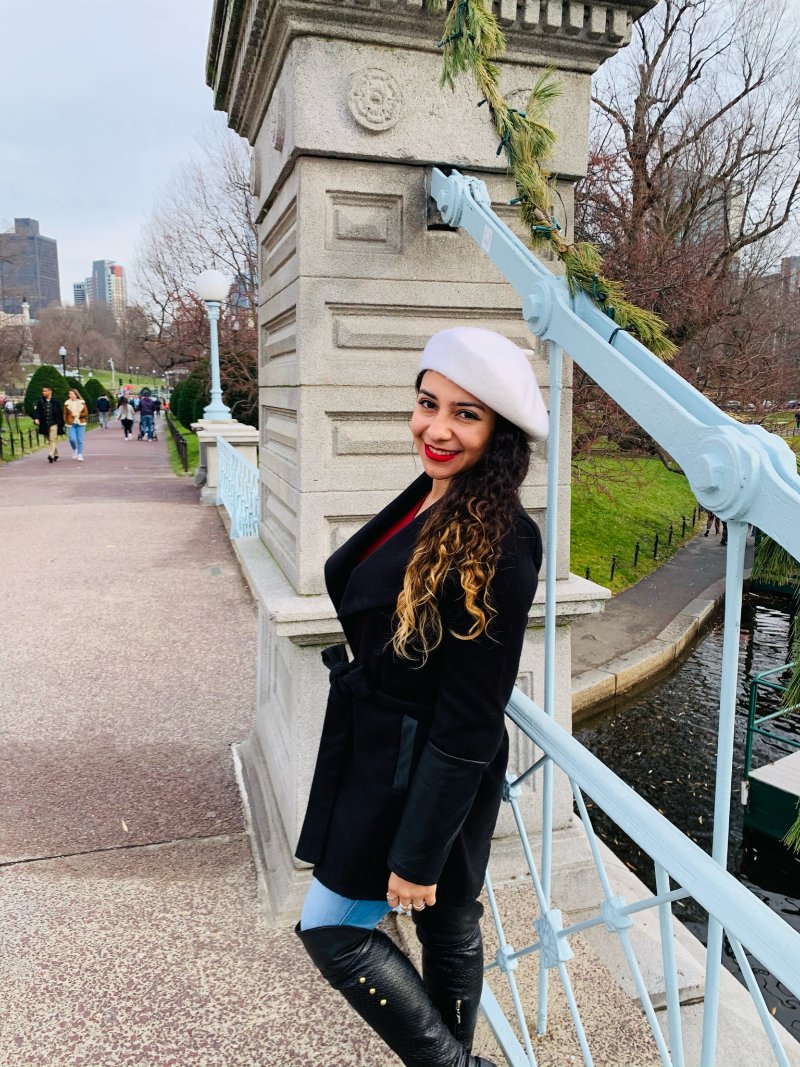 In our effort to bring good content to as many people as possible the text in this blog post has been machine translated so please excuse any mistakes. Thank you!
Por Pietro Rossini con Jeimmy Johana Masmela Fandiño
Estaba tan emocionado antes de venir a los EE. UU. ", Dijo Jeimmy Masmela, hablando de la elección de venir a EE. UU. En 2018 como au pair.
Al principio, mi proyecto era venir aquí como estudiante solo para aprender inglés ", dijo Jeimmy. Sin embargo, algunos amigos de Colombia le contaron sobre la vida de au pair.
Como au pair puedes estudiar y trabajar al mismo tiempo ", continuó Jeimmy.
Muchas agencias conectan a jóvenes internacionales como Jeimmy con familias en los Estados Unidos. Estas agencias ponen en contacto a jóvenes de todo el mundo con familias que necesitan a alguien que cuide de sus hijos.
Una ventaja de ser au pair es que vivirás en una familia estadounidense ", dijo Jeimmy." Conocerás mejor la cultura porque todos los días vives con estadounidenses ", continuó Jeimmy.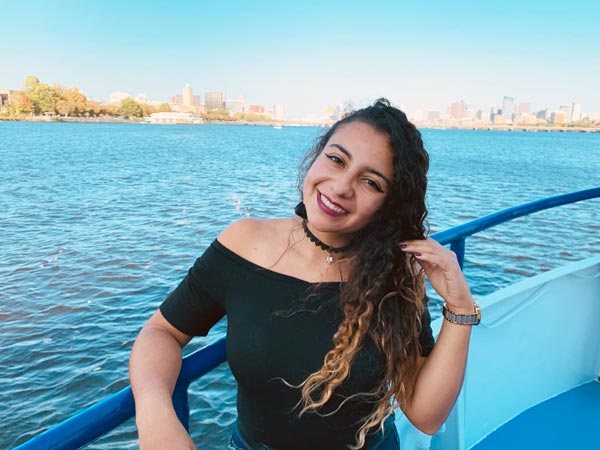 Jeimmy en Boston
"Cuando vine aquí, estaba muy emocionado. Sin embargo, encontré muchas diferencias con mi país ", comentó. Por ejemplo, Jeimmy extrañaba almorzar con su familia todos los domingos, como solía hacer en Colombia.
"A mi primera familia anfitriona no le gustaba salir", se quejó Jeimmy, "y yo soy el tipo de persona a la que le encanta pasar el rato con amigos, conocer gente nueva y explorar el mundo", continuó Jeimmy.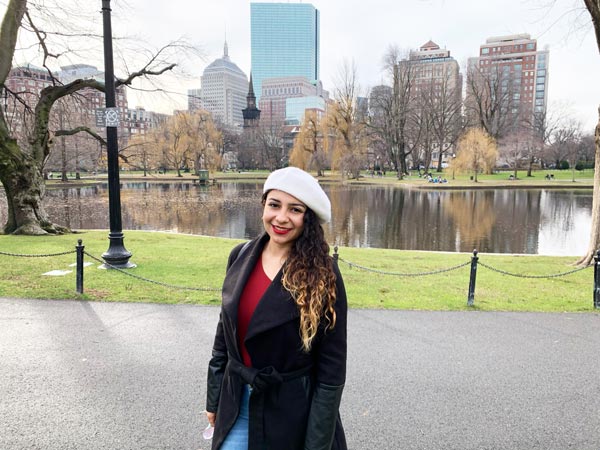 Jeimmy en el Boston Common
Jeimmy es el primero de su familia en tener una experiencia en el extranjero. "Mi familia está feliz de que hice esta elección, siempre me han apoyado", dijo.
Aunque Jeimmy tuvo una gran experiencia en Estados Unidos, extraña su país, la comida colombiana, su familia, "y sobre todo la forma en que celebramos en Colombia", dijo.
Jeimmy planea regresar a Colombia para ayudar a su padre con una empresa de importación / exportación. "Ahora que hablo inglés", dijo, "puedo ayudar a mi padre con su trabajo. Podríamos llegar a más clientes y clientes ".
"Mi papá es una persona importante en mi vida", dijo, "él siempre me anima. Él siempre dice: '¡Puedes hacerlo!' ¡Él es mi motivación! "
Sin embargo, Jeimmy no quiere vivir en Colombia toda su vida. Sueña con ir a España, "creo que España es una especie de Colombia pero más organizada", dijo riendo, "me encantaría hacer una maestría en marketing y logística allí".
En mayo, Jeimmy tiene que irse de los EE. UU. Porque su período como au pair expirará, "pero encontré el amor aquí, ¡y no sé qué hacer con mi nuevo novio que es estadounidense!
Quizás nos veamos en el futuro, quizás en otro país, o incluso aquí, ¿quién sabe? Jeimmy comentó con una nota triste en su voz.
No es fácil para las personas que encuentran el amor en el extranjero mantenerse en contacto después de irse. No hay una solución fácil. Los documentos, la dificultad para viajar y diferentes proyectos en la vida le piden a las personas que tomen decisiones difíciles en sus vidas.
"En el futuro, podríamos pensar en el matrimonio, y yo también podría obtener la ciudadanía estadounidense", dijo Jeimmy, "pero el matrimonio es algo serio para nosotros, no solo una forma de obtener los documentos".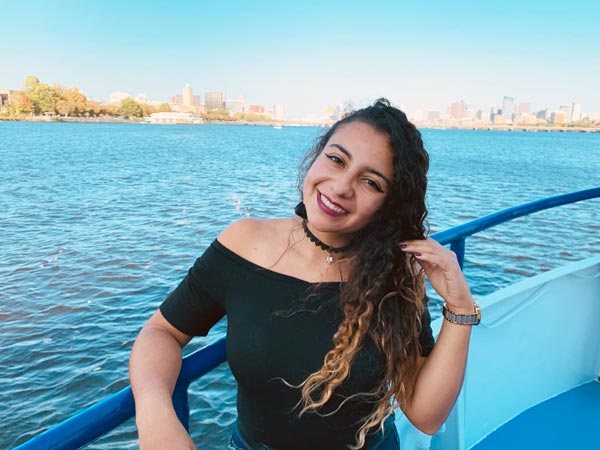 Jeimmy en Alaska
"Ven aquí sin ningún estereotipo", sugiere Jeimmy a todos los que van a venir a Estados Unidos. "Tomarás una gran decisión si vienes aquí", dijo Jeimmy.
"Aquí es un mundo nuevo, muy diferente. ¡Tenga la mente abierta y aprenderá a ser una persona fuerte! "
---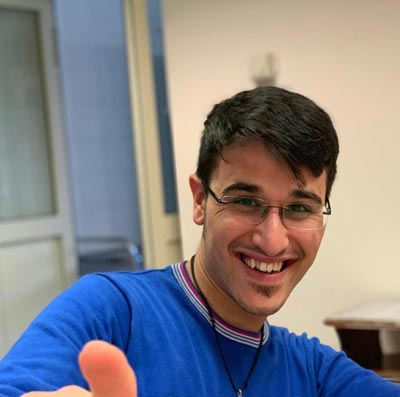 Pietro Rossini es un misionero javeriano y estudiante de ESL en la Universidad Estatal de Framingham . Llegó a los Estados Unidos en enero de 2020 con el propósito de estudiar una maestría en periodismo en la Universidad de Boston. Su sueño es recopilar y compartir historias de la humanidad en todo el mundo, haciendo del mundo una sola familia.