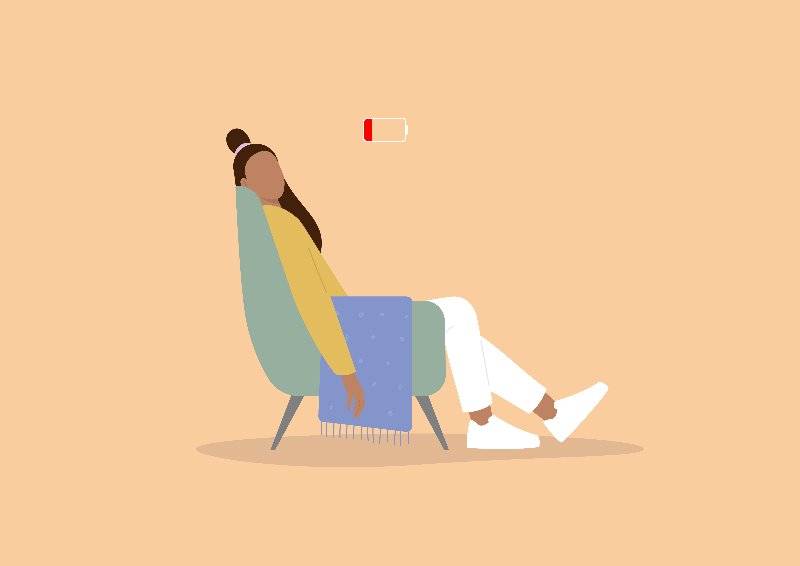 In our effort to bring good content to as many people as possible the text in this blog post has been machine translated so please excuse any mistakes. Thank you!
Par Alejandra Salas
Sans aucun doute, la vie universitaire peut certainement sembler accablante en raison des horaires chargés et du stress qui accompagne les cours, les examens, les devoirs et l'adaptation culturelle; et en tant qu'étudiant international, je savais que cela faisait partie de l'expérience universitaire. Pourtant, lorsque le début de la pandémie a commencé, j'ai senti que je devais me réajuster à la situation actuelle. Cela n'a pas été facile au début puisque le monde entier essayait de s'adapter à un environnement virtuel tout en restant à la maison, en quarantaine, et pour nous étudiants, en suivant les études.
( Unsplash )
Depuis que le COVID-19 est arrivé, j'avais du mal à faire face à l'école tout en étant loin de mon pays d'origine et de ma famille. En tant qu'humains, nous avons tendance à prendre soin de nous-mêmes, mais ressentons également le besoin de protéger nos proches. Je dis cela parce que pendant la quarantaine, j'étais stable et en sécurité au lac Tahoe, mais ma famille était dans ma ville natale de Lima, au Pérou, où toute ma ville était surexposée au virus. Pendant ce temps, je suivais des cours en ligne, m'adaptant à l'idée de rester à la maison et à l'isolement social, mais je ne pouvais pas m'empêcher de me soucier du bien-être et de la sécurité de ma famille. Cela a ajouté plus de stress à ma vie étudiante car je devais faire face à la peur, à l'anxiété et en même temps réussir mes cours, ce que je trouvais assez fastidieux mais pas impossible à équilibrer.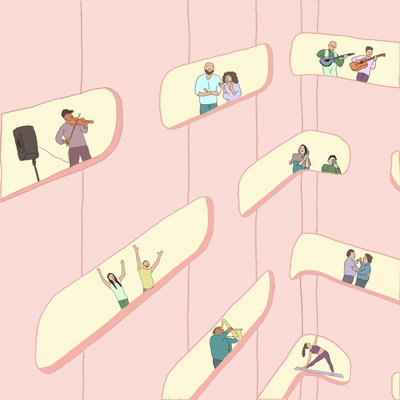 Je sais que la plupart des étudiants internationaux ont dû faire face à des stages, à des emplois en alternance, à la vie sociale, à des problèmes familiaux et à des difficultés financières, ainsi qu'à une pandémie mondiale qui a fait en sorte que beaucoup se sentent stressés de manière différente mais inattendue. Vivre dans un nouveau pays et s'adapter à l'environnement actuel du campus peut être difficile et peut certainement affecter votre santé mentale. Par conséquent, voici quelques stratégies d'adaptation basées sur mon expérience personnelle de la façon d'aborder ces moments difficiles.
Tu n'es pas seul
Tout d'abord, acceptez le fait que vous n'êtes pas le seul à faire face à l'anxiété; cela peut devenir une force une fois que nous réalisons que nous ne sommes pas seuls dans cette situation. L'inconnu peut être épuisant et accablant, surtout lorsque certains de vos proches ont été exposés au virus COVID-19. J'ai trouvé la foi et la résilience pendant cette période en parlant à mes amis les plus proches de mes inquiétudes et de mes attentes. Exprimer vos inquiétudes aidera à équilibrer vos pensées et à libérer la détresse afin de ne pas tomber dans une réflexion excessive et de sauter à des conclusions superficielles qui ne font qu'empirer les choses. Si vous vous inquiétez de l'apprentissage en ligne et de la sécurité de votre famille, je vous suggérerai de garder une communication constante avec vos professeurs et de leur faire part de votre situation. Les tenir informés de vos progrès académiques les aidera également à appliquer une approche différente. N'oubliez pas: tout peut être résolu en maintenant une bonne communication.
Profitez des ressources disponibles
Deuxièmement, utilisez les ressources étudiantes gratuites sur le campus. Par exemple, le centre de conseil du Truckee Meadows Community College dispose d'une équipe incroyable de conseillers compétents pour vous aider à prendre des décisions personnelles et éducatives tout au long du semestre. Dans de nombreuses cultures et familles, on nous apprend à «endurer» et à réprimer certains sentiments puisqu'il s'agit d'un mécanisme de bouclier. Voir un thérapeute ou un conseiller en santé mentale est utile lorsque nous sommes soumis à un stress ingérable et que nous ne pouvons pas parler de certains problèmes avec nos amis. Parler à un conseiller peut nous aider à redéfinir nos objectifs et à voir plus clairement les moments difficiles.
Dans l'ensemble, si vous êtes étudiant et que vous pensez avoir des problèmes de santé mentale qui affectent votre développement académique, n'hésitez pas à contacter votre conseiller de campus, vos pairs mentors et vos conseillers académiques, qui vous aideront de quelque manière que ce soit. possible.
Surtout pendant ces périodes, je vous encourage à rester en contact avec vos proches, à faire de l'exercice régulièrement et à trouver un horaire de sommeil adéquat pour garder la raison. Embrassez la situation et profitez-en! Nous sommes en apprentissage constant et cette situation actuelle nous aidera à gérer les événements futurs. N'oubliez pas non plus de consulter l'image ci-dessous pour quelques conseils sur la façon d'éviter le blues en ces temps difficiles!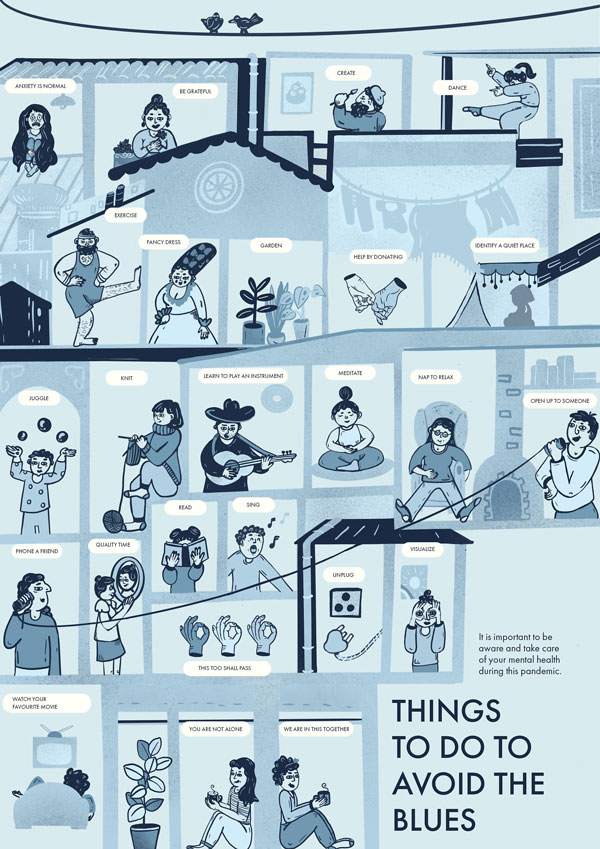 ( Unsplash )
---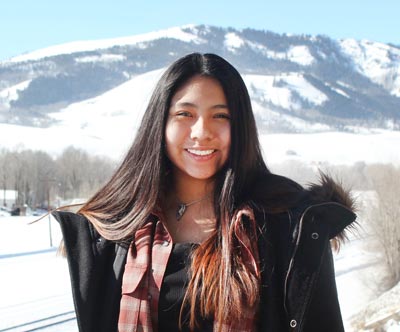 Alejandra Salas de Lima, Pérou, est étudiante en architecture et nouvelle mentor par les pairs international au Truckee Meadows Community College .