Coping Strategies for International Students During COVID-19
By Alejandra Salas
Without a doubt, college life can certainly feel overwhelming due to busy schedules and the stress that comes with classes, exams, assignments, and cultural adjustment; and as an international student, I have been aware that this is part of the college experience. Yet, when the beginning of the pandemic started, I felt that I had to re-adjust to the current situation. This was not easy at first since the whole world was trying to adapt to a virtual environment while staying at home, quarantining, and for us students, keeping up with studies.
(Unsplash)
Since COVID-19 happened, I had difficulty coping with school while being away from my home country and my family. We, as humans, tend to care for ourselves but also feel the need to protect our loved ones. I say this because during quarantine I was stable and safe at Lake Tahoe, but my family was in my hometown of Lima, Peru, where my entire city was overexposed to the virus. During that time, I was taking online classes, adapting to the idea of staying at home and social isolation, yet I couldn't help myself with the concern of my family's well-being and safety. This added more stress on my student life because I had to cope with fear, anxiety, and at the same time succeed in my classes, which I found quite tedious but not impossible to balance.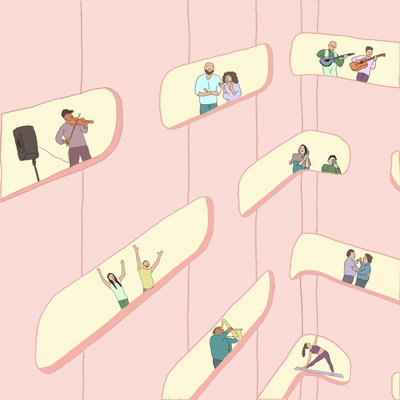 I know most international students had to deal with internships, work-study jobs, social life, family concerns, and financial difficulties, plus now with a worldwide pandemic which has made many feel stressed in different yet unexpected ways. Living in a new country and adapting to the current campus environment can be challenging and surely can affect your mental health. Therefore, here are some coping strategies based on my personal experience of how to address these difficult times.
You're not alone
First, embrace the fact that you are not the only one faced with anxiety; this can turn into strength once we realize we are not alone in this situation. The unknown can be exhausting and overwhelming, especially when some of your relatives got exposed to the COVID-19 virus. I found faith and resilience during this time by talking to my closest friends about my worries and expectations. Expressing your concerns will help balance your thoughts and release distress so you don't fall into overthinking and jumping to shallow conclusions that only make it worse. If you find yourself worrying about online learning and your family's safety, I will suggest keeping constant communication with your professors and letting them know about your situation. Keeping them updated regarding your academic progress will also help them apply a different approach. Remember: everything can be solved by maintaining good communication.
Take advantage of available resources
Second, use the free student resources on campus. For example, Truckee Meadows Community College's Counseling Center has an amazing staff of knowledgeable counselors to help you navigate personal and educational decisions throughout the semester. In many cultures and families, we are taught to "tough it out" and repress some feelings since it is a shield mechanism. Seeing a therapist or mental health counselor comes in handy when we are under unmanageable stress and can't talk about certain problems with our friends. Talking to a counselor can help us redefine our goals and see more clearly through challenging times.
Overall, if you are a student and you think you might be experiencing mental health issues that are affecting your academic development, don't hesitate to reach out to your campus counselor, peer mentors, and academic advisors, who will help you in any way possible.
Especially during these times, I encourage you to stay connected with your loved ones, keep consistent exercise and find an adequate sleep schedule to keep your sanity. Embrace the situation and make the most of it! We are in constant learning, and this current situation will help us manage future events. Also, don't forget to check the picture below for some bits of advice on how to avoid the blues during these challenging times!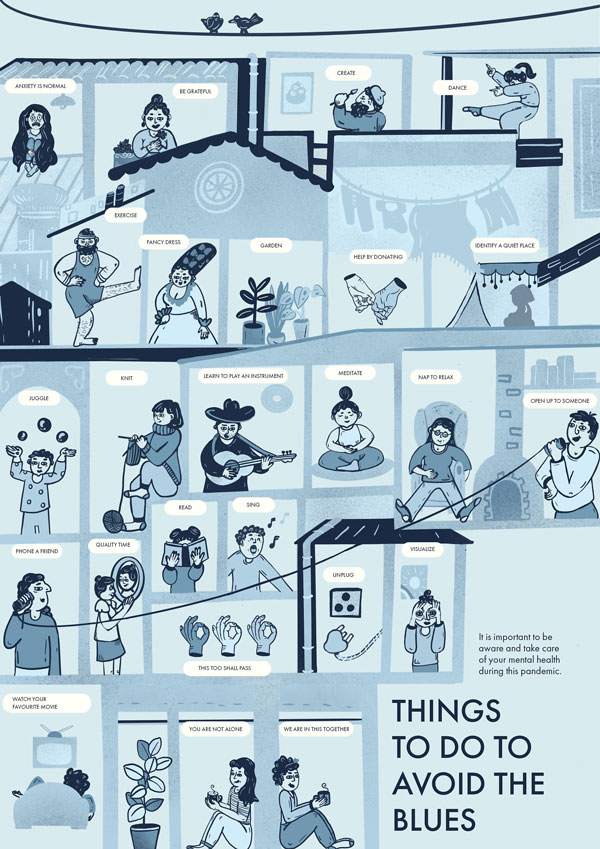 (Unsplash)
---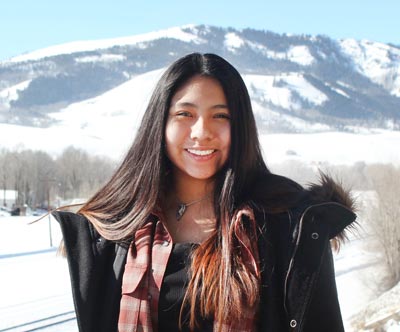 Alejandra Salas from Lima, Peru, is an architecture student and new International Peer Mentor at Truckee Meadows Community College.
Written by
Alejandra Salas
Get matched to the best program for you
Let us know what you're looking for so we can find the best school for you.
$5,000—$10,000 Semester
2yr/Community College - 2+2 Programs
Certificate/Short Term
Undergraduate
$10,000 — $15,000 Year
Certificate/Short Term
2yr/Community College - 2+2 Programs
Bachelor Degree
$5,000—$10,000 Year
English Programs
Certificate/Short Term
2yr/Community College - 2+2 Programs
Start your U.S. adventure with Study in the USA
What's your dream? We can guide, advise, and connect you with your perfect U.S. school. We can also help you with the application process.
Partner Services
Learn About U.S. education financing, housing, and more
Study in the USA's advisors can work with you to navigate the requirements to study abroad in the USA, UK, Canada, and Australia. We help you find the right school and apply.
campusSIMS helps international students get connected with mobile phone service in the US. Through campusSIMS' exclusive partner Mint Mobile, students can sign up and get their US phone number while in their home country, and have mobile phone servic...
SURE offers hassle-free renters insurance that'll protect your clothes, furniture, and even yourself from unexpected damages and injuries. The SURE team will get you set up with a free quote and the correct coverage that you need!
Resources
Learn about American culture and education direct from our experts at Study in the USA. Read more