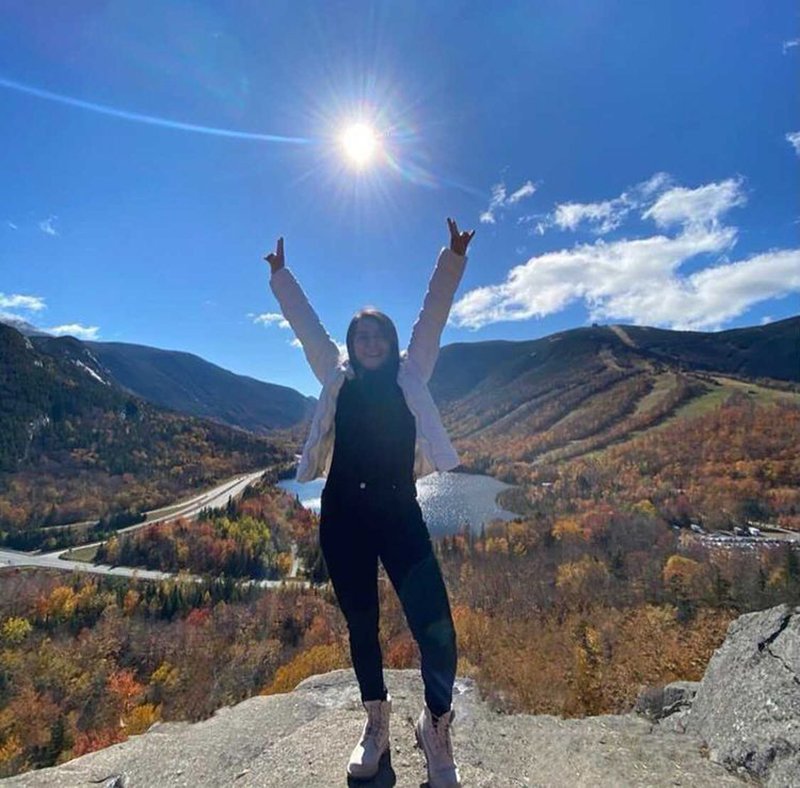 In our effort to bring good content to as many people as possible the text in this blog post has been machine translated so please excuse any mistakes. Thank you!
Pietro Rossini, Maira Alejandra Peña Coca ile birlikte
"Özgür bir ruh", Maira Peña'nın kendini nasıl tanımladığıdır.
Maira, ABD'ye 2018'de bir au pair olarak geldi. İki farklı ev sahibi aileyle geçirdiği iki yılın ardından Kolombiya'ya geri dönmesi gerekiyordu. Ancak pandemi vurduğunda sınırlar kapandı.
"Ajansım, sözleşmemi diğer altı ay için yenilemek isteyip istemediğimi sordu ve ben de" Neden olmasın !? "
Yani, Maira ABD'de altı ay daha geçirdi ve şimdi bu ülkede neredeyse 3 yıl yaşadı.
Au pair olarak son döneminin sona ermesinden sonra, Maira hala burada.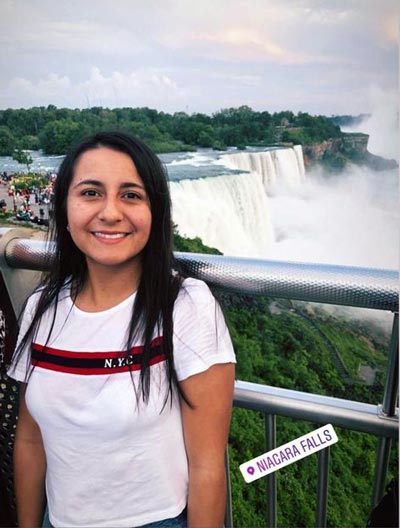 Niagara Şelaleleri'nde Maira
Çalışmalar için göçmenlik statüsünü değiştirmeyi seçti. Bu, her au çiftinin sözleşme sonunda yapabileceği bir seçimdir. Bu F-1 vizesinden farklı.
"F-1 vizesi ile ABD'den ülkenize gidip gelebilirsiniz," dedi Maira, "Ancak statünüzün değişmesiyle, çalışmaların sonuna kadar burada kalmanız gerekiyor. Geri dönemezsin, "diye devam etti.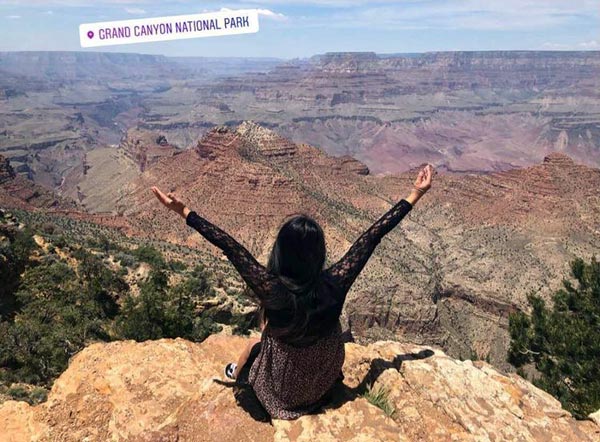 Büyük Kanyon Ulusal Parkı'nda Maira
Maira, Kolombiya'da bir avukat ve gazeteci olmayı çok ister. Ancak, burada bu programı sunan uygun bir üniversite bulamadı.
Maira, "ABD'de eğitim çok pahalı, hayallerimi gerçekleştirmek için bir sponsora ve işe ihtiyacım var" dedi.
Bu nedenle, Maira bir toplum kolejinde okumayı düşünüyor, "Bu daha uygun bir seçenek," dedi.
Ne yazık ki, Maira'nın bulduğu toplum koleji gazetecilik dersi vermiyor. Bu yüzden, hukuk danışmanlığı çalışmalarını veya ceza adaletini seçiyor.
"Kolombiya'yı seviyorum ama burada daha fazla fırsat var ve orada aileme yardım etmek istiyorum," dedi Maira.
Maira gibi birçok insan, hayallerini gerçekleştirmek ve ailelerine yardım etmek için ABD'ye geliyor.
"Ama bazen ailemden çok fazla baskı geliyor," diye yorum yaptı Maira. "Yurt dışında yaşayan bizden büyük beklentileri var ve bazen onlarla yüzleşmek kolay olmuyor," diye devam etti Maira.
"Ailem benimle çok gurur duyuyor ve bunu birçok şekilde ifade ediyorlar," dedi Maira. Bununla birlikte, aileden bu kadar fazla baskıya dayanmak kolay değildir ve yolda pek çok şey değişebilir.
Örneğin ülkemi terk ettiğim bir yıl altı ay sonra annemle Meksika'da tanıştım. Kumsalda tanıştık. Sırtı açık bir mayo giyiyordum. Annem bana sarıldığında bunu fark etti ve 'Vay canına, gerçekten değişmişsin, Maira!' Dedi. "Maira paylaştı.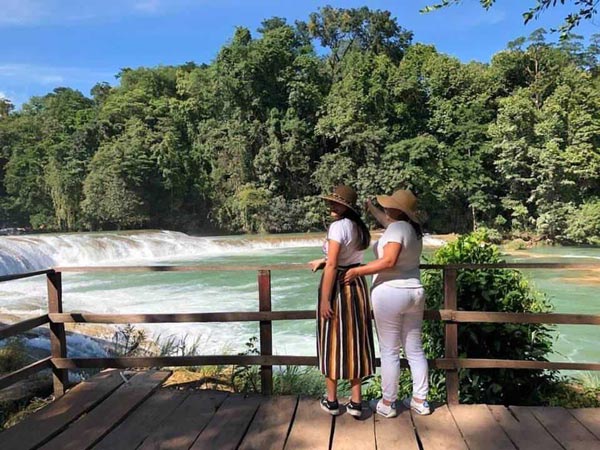 Meksika'da annesiyle Maira
"Kolombiya'yı 3 yıl önce terk eden kişi ben değilim. Bunun bile Maira olduğunu bilmiyordum, "dedi Maira.
İçimde farkında olmadığım güçlü şeyler var, diye devam etti Maira.
Maira hayatında büyük değişiklikler geçirdi. Yurtdışında, ailesinden uzakta ve daha fazla sorumlulukla yaşadığı bu deneyim, daha önce bilmediği yanlarını bulmasını sağladı.
Bu, uluslararası öğrenciler için çok yaygın bir deneyimdir.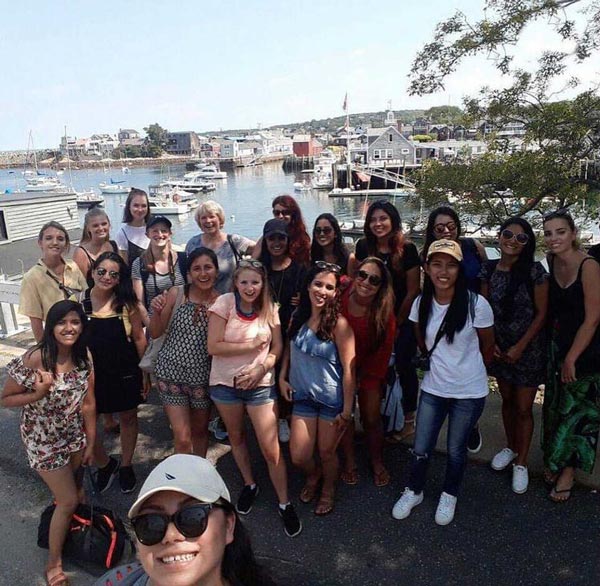 Maira ve arkadaşlar
ABD'ye gelecek birine "Açık fikirli olun," diyor Maira, "Biri size hoş olmayan bir şey söylediğinde, kişisel olarak alma," dedi Maira.
"Kendinize ve başkalarına karşı nazik olmaya çalışın çünkü hayat bir aynadır ve size istediğinizi değil, kim olduğunuzu geri verir!"
---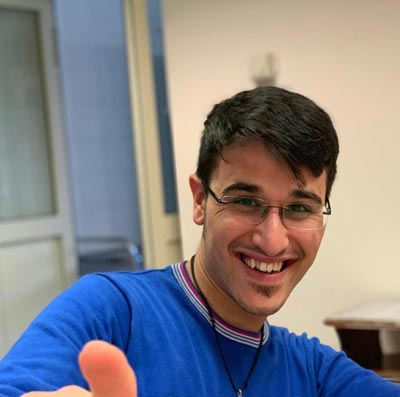 Pietro Rossini, Framingham Eyalet Üniversitesi'nde bir Xaverian Misyoner ve ESL öğrencisidir. Boston Üniversitesi'nde gazetecilik alanında yüksek lisans eğitimi almak amacıyla Ocak 2020'de ABD'ye geldi. Hayali, dünya çapında insanlık hikayelerini toplamak ve paylaşmak, dünyayı tek bir aile yapmak.