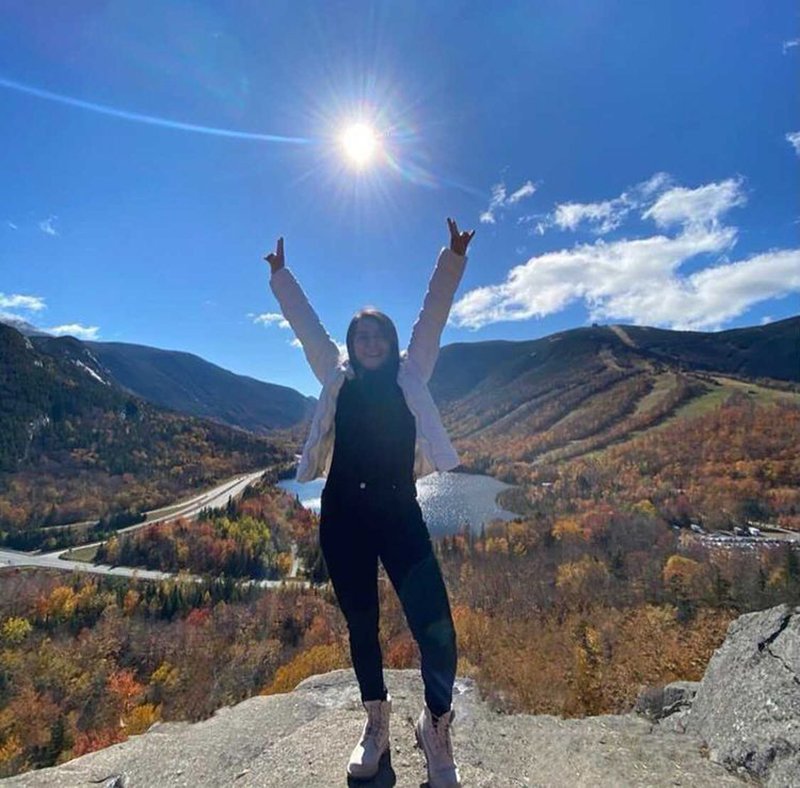 In our effort to bring good content to as many people as possible the text in this blog post has been machine translated so please excuse any mistakes. Thank you!
Por Pietro Rossini com Maira Alejandra Peña Coca
"Uma alma livre" é como Maira Peña se define.
Maira veio para os Estados Unidos como au pair em 2018. Ela deveria voltar para a Colômbia depois de passar dois anos com duas famílias anfitriãs diferentes. No entanto, quando a pandemia atingiu, as fronteiras foram fechadas.
"Minha agência me perguntou se eu gostaria de renovar meu contrato por mais seis meses, e eu pensei: 'Por que não !?'"
Então, Maira passou mais seis meses nos Estados Unidos, e já faz quase 3 anos que ela mora neste país.
Depois que seu último período como au pair expirou, Maira ainda está aqui.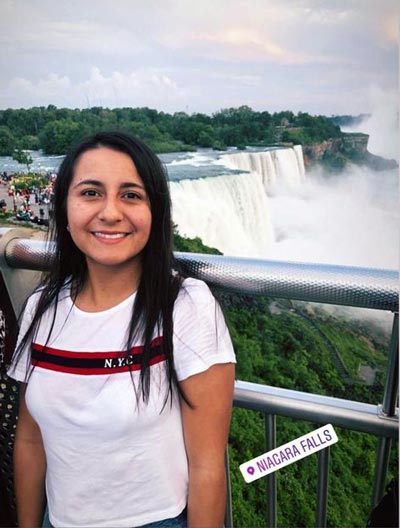 Maira nas Cataratas do Niágara
Ela optou por mudar seu status de imigração para estudos. Esta é uma escolha que toda au pair pode fazer no final do contrato. Isso é diferente do visto F-1.
"Com um visto F-1 você pode ir e voltar dos Estados Unidos para o seu país", disse Maira, "mas com uma mudança de status, você tem que ficar aqui até o final dos estudos. Você não pode voltar, "ela continuou.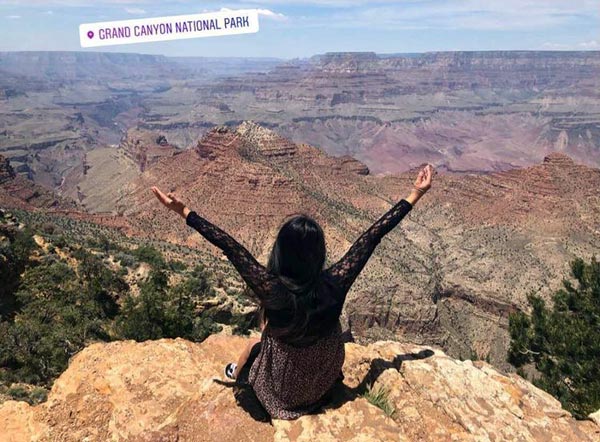 Maira no Parque Nacional do Grand Canyon
Maira é advogada na Colômbia e adoraria ser jornalista. No entanto, ela não conseguiu encontrar uma universidade acessível que oferecesse esse programa aqui.
"A educação é muito cara nos EUA, preciso de um patrocinador e de um emprego para realizar meus sonhos", disse Maira.
Portanto, Maira está pensando em estudar em uma faculdade comunitária, "Essa é uma opção mais acessível", disse ela.
Infelizmente, a faculdade comunitária que Maira encontrou não oferece curso de jornalismo. Então, ela está optando por estudos paralegais ou justiça criminal.
"Eu amo a Colômbia, mas aqui há mais oportunidades e quero ajudar minha família lá", disse Maira.
Muitas pessoas como Maira vêm para os Estados Unidos para realizar seus sonhos e ajudar suas famílias.
"Mas às vezes há muita pressão da minha família", comentou Maira. "Eles têm grandes expectativas sobre nós que vivemos no exterior e às vezes não é fácil enfrentá-los", continuou Maira.
"Minha família tem muito orgulho de mim e eles expressam isso de várias maneiras", disse Maira. No entanto, não é fácil suportar tanta pressão da família e muitas coisas podem mudar no caminho.
"Por exemplo, conheci minha mãe no México depois de um ano e seis meses que havia deixado meu país. Nós nos conhecemos em uma praia. Eu estava vestindo um maiô com as costas descobertas. Quando minha mãe me abraçou, ela percebeu isso e disse: 'Uau, você realmente mudou, Maira!' "Maira compartilhou.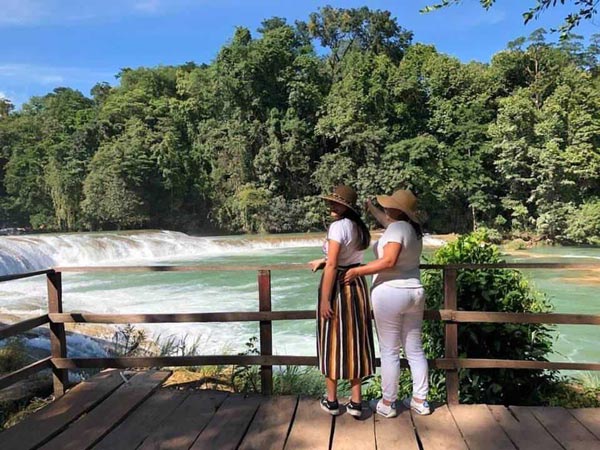 Maira no México com sua mãe
"Não sou a mesma pessoa que saiu da Colômbia há três anos. Eu não sabia que mesmo esta é Maira ", disse Maira.
"Há coisas fortes dentro de mim que eu não sabia", continuou Maira.
Maira passou por grandes mudanças em sua vida. Essa experiência de morar no exterior, longe da família e com mais responsabilidades, fez com que ela pudesse encontrar partes de si mesma que antes nem conhecia.
Essa é uma experiência muito comum para estudantes internacionais.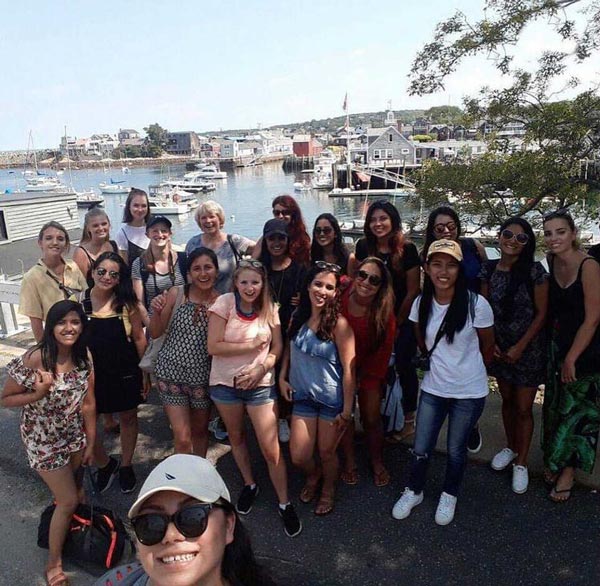 Maira e amigos
"Tenha a mente aberta", Maira sugere a alguém que está vindo para os Estados Unidos. "Quando alguém disser algo que não seja legal para você, não leve para o lado pessoal", disse Maira.
"Tente ser gentil consigo mesmo e com os outros porque a vida é um espelho e devolve não o que você quer, mas quem você é!"
---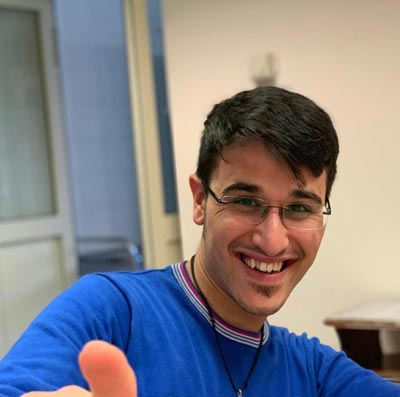 Pietro Rossini é um Missionário Xaveriano e estudante de ESL na Framingham State University . Ele veio para os Estados Unidos em janeiro de 2020 com o objetivo de estudar para um mestrado em jornalismo na Universidade de Boston. Seu sonho é coletar e compartilhar histórias da humanidade ao redor do globo, tornando o mundo uma única família.