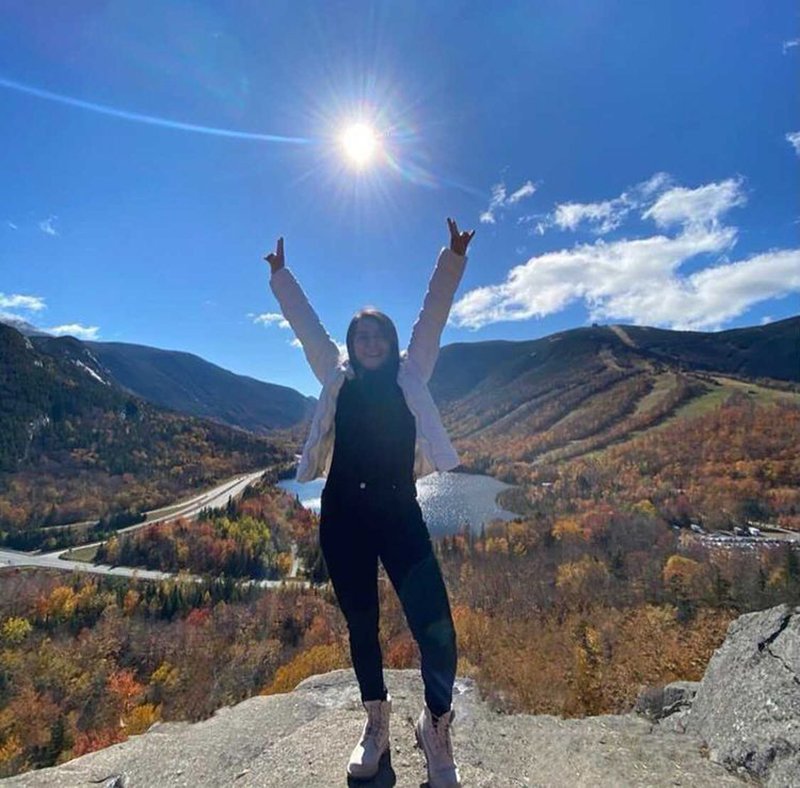 In our effort to bring good content to as many people as possible the text in this blog post has been machine translated so please excuse any mistakes. Thank you!
Oleh Pietro Rossini dengan Maira Alejandra Peña Coca
"Jiwa yang bebas" adalah bagaimana Maira Peña mendefinisikan dirinya sendiri.
Maira datang ke AS sebagai au pair pada tahun 2018. Dia seharusnya kembali ke Kolombia setelah dua tahun menghabiskan waktu dengan dua keluarga angkat yang berbeda. Namun, ketika pandemi melanda, perbatasan ditutup.
"Agensi saya bertanya apakah saya ingin memperbarui kontrak saya untuk enam bulan lagi, dan saya berpikir, 'Mengapa tidak !?'"
Jadi, Maira menghabiskan enam bulan lagi di AS, dan sekarang sudah hampir 3 tahun dia tinggal di negara ini.
Setelah masa jabatan terakhirnya sebagai au pair berakhir, Maira masih di sini.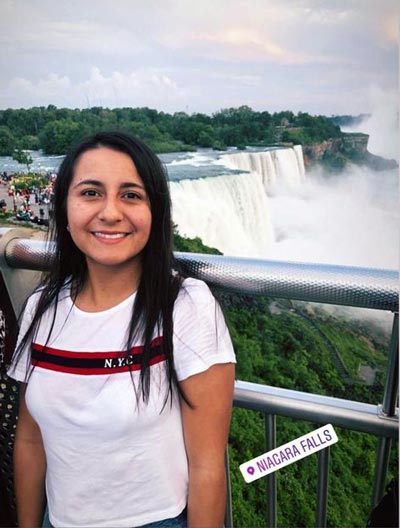 Maira di Air Terjun Niagara
Dia memilih untuk mengubah status imigrasinya untuk studi. Ini adalah pilihan yang bisa dibuat oleh setiap au pair di akhir kontrak. Itu berbeda dengan visa F-1.
"Dengan visa F-1 kamu bisa bolak-balik dari AS ke negaramu," kata Maira, "Tapi dengan perubahan status, kamu harus tinggal di sini sampai akhir studi. Anda tidak bisa kembali, "lanjutnya.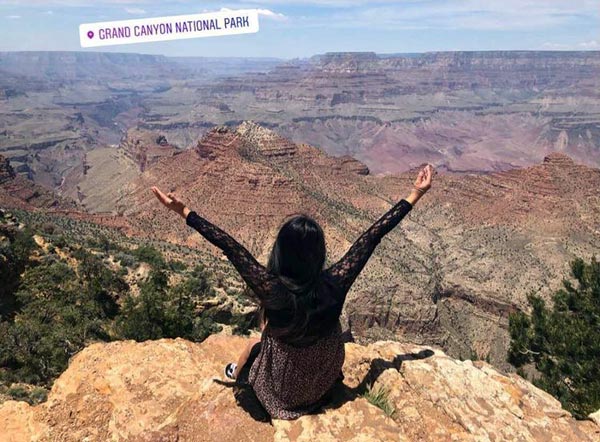 Maira di Taman Nasional Grand Canyon
Maira adalah seorang pengacara di Kolombia, dan dia ingin sekali menjadi jurnalis. Namun, dia tidak dapat menemukan universitas terjangkau yang menawarkan program itu di sini.
"Pendidikan sangat mahal di AS. Saya membutuhkan sponsor dan pekerjaan untuk mencapai impian saya," kata Maira.
Oleh karena itu, Maira sedang mempertimbangkan untuk belajar di community college, "Itu adalah pilihan yang lebih terjangkau," katanya.
Sayangnya, community college yang ditemukan Maira tidak menawarkan kursus jurnalisme. Jadi, dia memilih studi paralegal atau peradilan pidana.
"Saya suka Kolombia, tapi di sini ada lebih banyak kesempatan, dan saya ingin membantu keluarga saya di sana," kata Maira.
Banyak orang seperti Maira datang ke AS untuk mencapai impian mereka dan membantu keluarga mereka.
"Tapi terkadang ada begitu banyak tekanan dari keluargaku," komentar Maira. "Mereka memiliki harapan besar pada kami yang tinggal di luar negeri, dan terkadang tidak mudah untuk menghadapi mereka," lanjut Maira.
"Keluarga saya sangat bangga dengan saya, dan mereka mengungkapkannya dengan banyak cara," kata Maira. Namun, tidak mudah untuk menanggung begitu banyak tekanan dari keluarga, dan banyak hal dapat berubah dalam perjalanan.
"Misalnya, saya bertemu ibu saya di Meksiko setelah satu tahun enam bulan saya meninggalkan negara saya. Kami bertemu di pantai. Saya mengenakan baju renang dengan bagian belakang tidak tertutup. Saat ibuku memelukku, dia menyadarinya dan berkata, 'Wow kamu benar-benar berubah, Maira!' "Maira berbagi.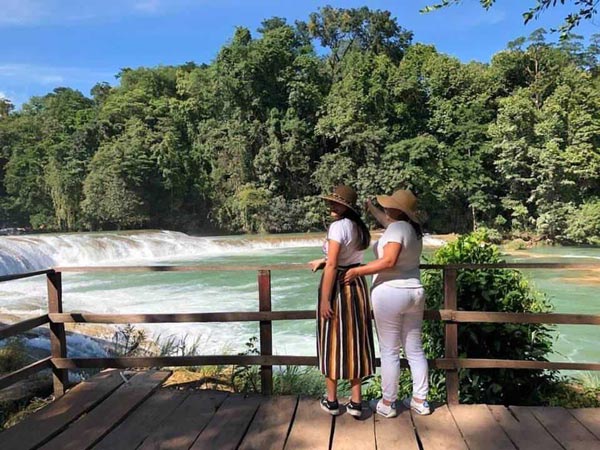 Maira di Meksiko bersama ibunya
"Saya bukan orang yang sama yang meninggalkan Kolombia 3 tahun lalu. Aku bahkan tidak tahu kalau ini Maira, "kata Maira.
"Ada hal-hal kuat dalam diriku yang tidak kusadari," lanjut Maira.
Maira mengalami perubahan besar dalam hidupnya. Pengalaman tinggal di luar negeri, jauh dari keluarganya, dan dengan tanggung jawab yang lebih besar membuatnya dapat menemukan bagian dari dirinya yang bahkan tidak dia ketahui sebelumnya.
Ini adalah pengalaman yang sangat umum bagi siswa internasional.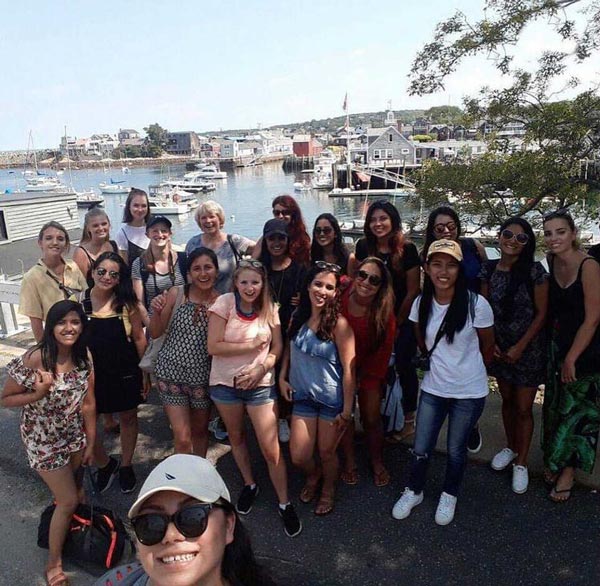 Maira & teman-teman
"Bersikaplah terbuka," saran Maira kepada seseorang yang akan datang ke AS. "Ketika seseorang mengatakan sesuatu yang tidak baik padamu, jangan tersinggung," kata Maira.
"Berusahalah untuk berbaik hati terhadap diri sendiri dan orang lain karena hidup adalah cermin dan bukan mengembalikan apa yang Anda inginkan tetapi siapa Anda!"
---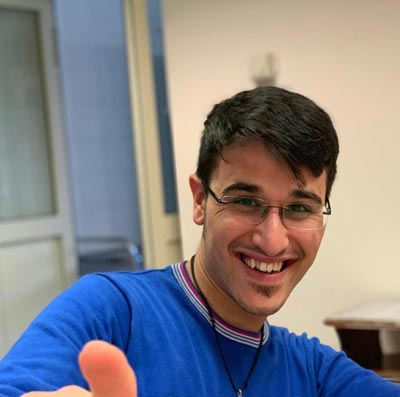 Pietro Rossini adalah seorang misionaris Xaverian dan mahasiswa ESL di Framingham State University . Ia datang ke AS pada Januari 2020 dengan tujuan belajar untuk master seni di bidang jurnalisme di Universitas Boston. Mimpinya adalah mengumpulkan dan berbagi cerita tentang kemanusiaan di seluruh dunia, menjadikan dunia sebagai satu keluarga.