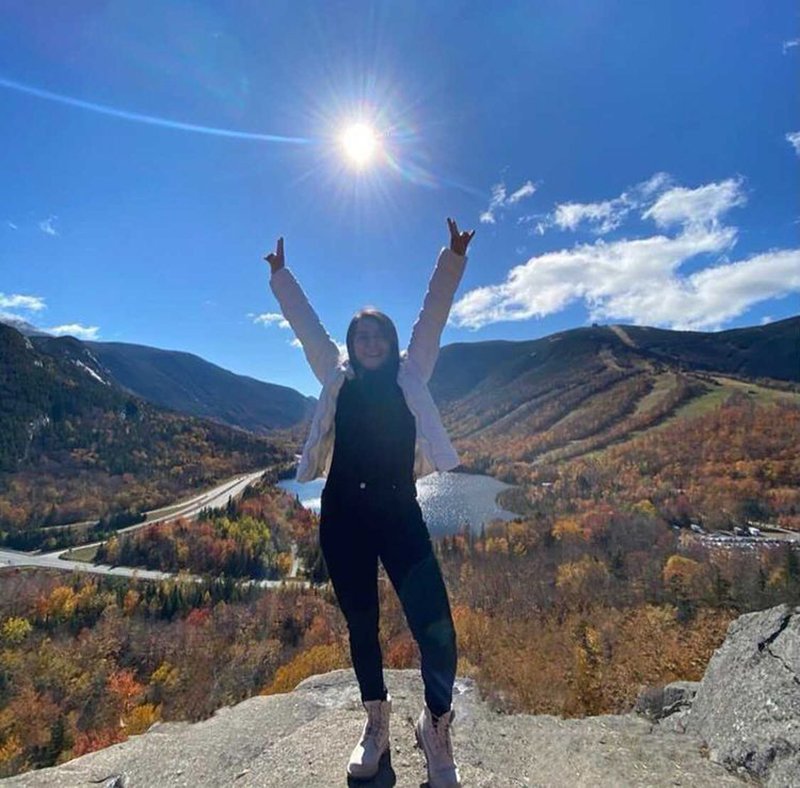 In our effort to bring good content to as many people as possible the text in this blog post has been machine translated so please excuse any mistakes. Thank you!
Par Pietro Rossini avec Maira Alejandra Peña Coca
«Une âme libre», c'est ainsi que se définit Maira Peña.
Maira est arrivée aux États-Unis en tant que fille au pair en 2018. Elle était censée retourner en Colombie après deux ans passés avec deux familles d'accueil différentes. Cependant, lorsque la pandémie a frappé, les frontières ont été fermées.
«Mon agence m'a demandé si je souhaitais renouveler mon contrat pour six autres mois, et je me suis dit:« Pourquoi pas!? »»
Donc, Maira a passé encore six mois aux États-Unis, et maintenant cela fait presque 3 ans qu'elle vit dans ce pays.
Après l'expiration de son dernier mandat de fille au pair, Maira est toujours là.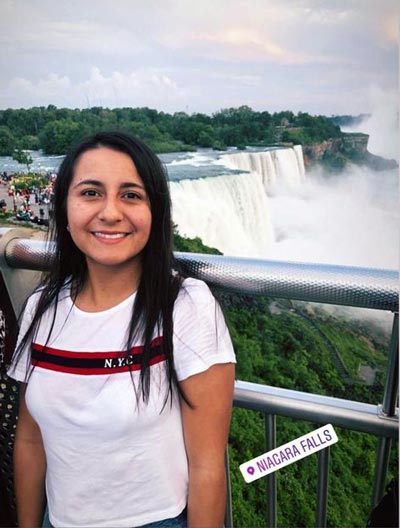 Maira à Niagara Falls
Elle a choisi de changer son statut d'immigrant pour les études. C'est un choix que chaque jeune au pair peut faire à la fin du contrat. C'est différent du visa F-1.
«Avec un visa F-1, vous pouvez faire des allers-retours entre les États-Unis et votre pays», a déclaré Maira. «Mais avec un changement de statut, vous devez rester ici jusqu'à la fin des études. Vous ne pouvez pas rentrer », a-t-elle poursuivi.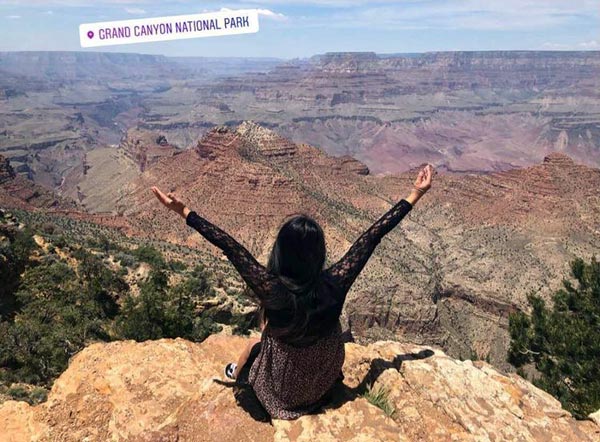 Maira au parc national du Grand Canyon
Maira est avocate en Colombie et elle adorerait devenir journaliste. Cependant, elle n'a pas pu trouver une université abordable offrant ce programme ici.
«L'éducation coûte très cher aux États-Unis. J'ai besoin d'un sponsor et d'un emploi pour réaliser mes rêves», a déclaré Maira.
Par conséquent, Maira envisage d'étudier dans un collège communautaire: «C'est une option plus abordable», a-t-elle déclaré.
Malheureusement, le collège communautaire que Maira a trouvé n'offre pas de cours de journalisme. Alors, elle opte pour des études parajuridiques ou la justice pénale.
«J'adore la Colombie, mais ici il y a plus d'opportunités, et je veux aider ma famille là-bas», a déclaré Maira.
De nombreuses personnes comme Maira viennent aux États-Unis pour réaliser leurs rêves et aider leur famille.
«Mais parfois, il y a tellement de pression de ma famille», a commenté Maira. «Ils ont de grandes attentes envers nous qui vivons à l'étranger, et parfois il n'est pas facile de les affronter», a poursuivi Maira.
«Ma famille est si fière de moi et elle l'exprime de bien des façons», a déclaré Maira. Cependant, il n'est pas facile de supporter autant de pression de la part de la famille, et beaucoup de choses peuvent changer en cours de route.
«Par exemple, j'ai rencontré ma mère au Mexique après un an et six mois que j'avais quitté mon pays. Nous nous sommes rencontrés sur une plage. Je portais un maillot de bain avec le dos découvert. Quand ma mère m'a serré dans ses bras, elle s'est rendu compte de cela et a dit: «Wow, tu as vraiment changé, Maira!» »A partagé Maira.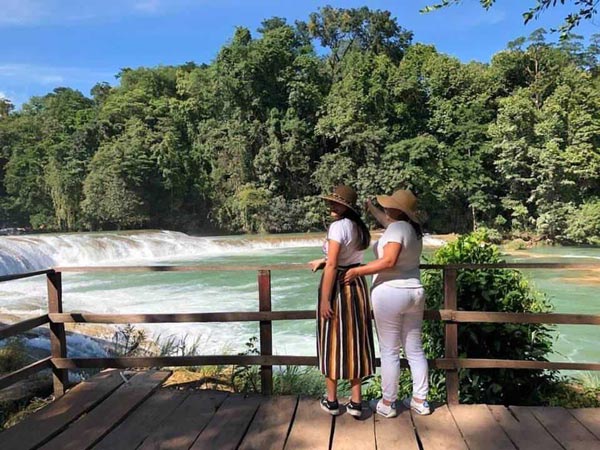 Maira au Mexique avec sa mère
«Je ne suis pas la même personne qui a quitté la Colombie il y a 3 ans. Je ne savais pas que même celui-ci était Maira », a déclaré Maira.
«Il y a des choses fortes en moi dont je n'étais pas au courant», a poursuivi Maira.
Maira a subi de grands changements dans sa vie. Cette expérience de vie à l'étranger, loin de sa famille et avec plus de responsabilités lui a permis de retrouver des parties d'elle-même qu'elle ne connaissait même pas auparavant.
C'est une expérience très courante pour les étudiants internationaux.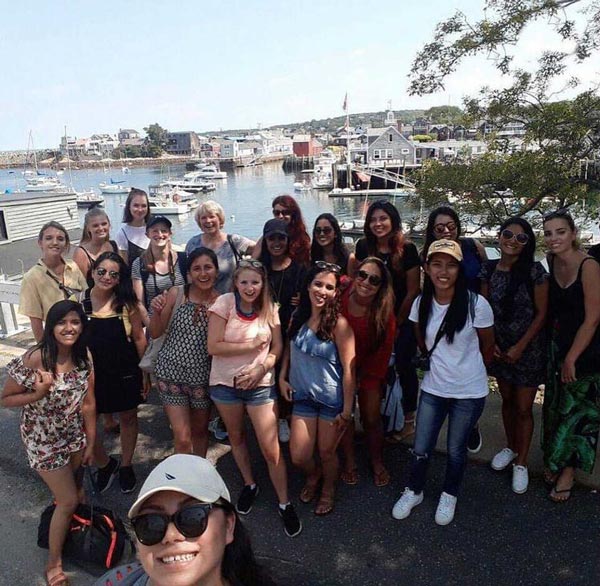 Maira et ses amis
«Soyez ouvert d'esprit», suggère Maira à quelqu'un qui va venir aux États-Unis. «Quand quelqu'un vous dit quelque chose qui n'est pas gentil avec vous, ne le prenez pas personnellement», a déclaré Maira.
«Essayez d'être gentil avec vous-même et les autres parce que la vie est un miroir et vous rend non pas ce que vous voulez mais qui vous êtes!»
---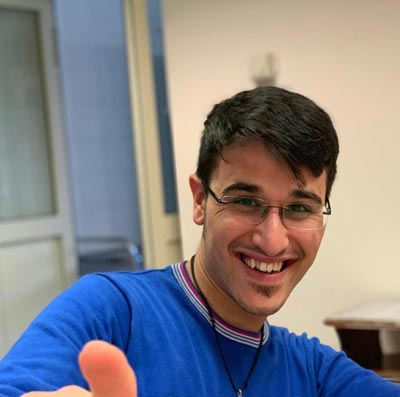 Pietro Rossini est un missionnaire xavérien et étudiant ESL à l'Université d'État de Framingham . Il est arrivé aux États-Unis en janvier 2020 dans le but d'étudier pour une maîtrise ès arts en journalisme à l'Université de Boston. Son rêve est de collecter et de partager des histoires d'humanité à travers le monde, faisant du monde une seule famille.