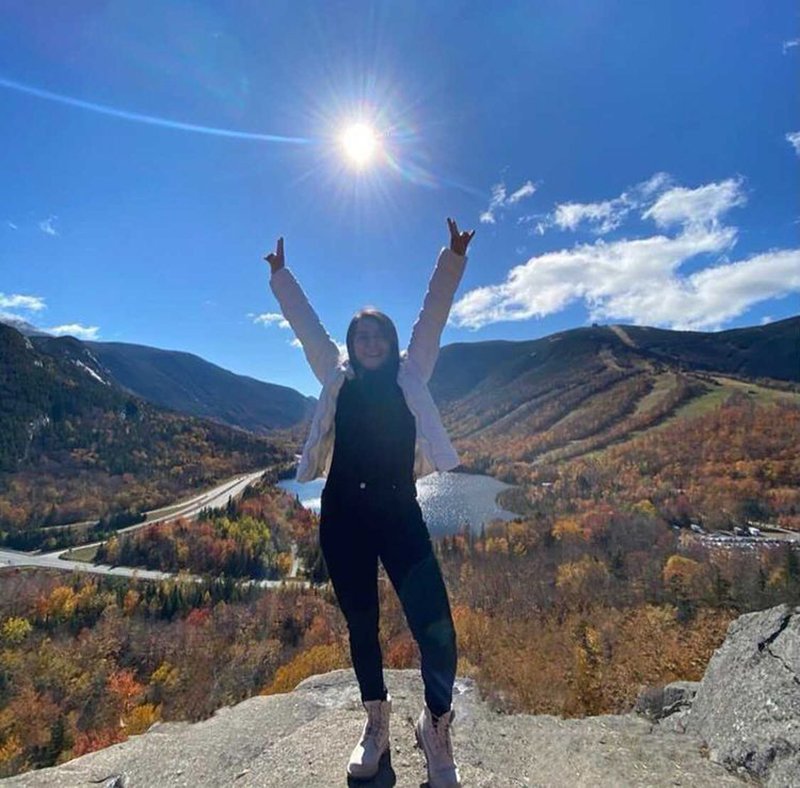 In our effort to bring good content to as many people as possible the text in this blog post has been machine translated so please excuse any mistakes. Thank you!
Por Pietro Rossini con Maira Alejandra Peña Coca
"Un alma libre" es como se define Maira Peña.
Maira llegó a los Estados Unidos como au pair en 2018. Se suponía que debía regresar a Colombia después de dos años con dos familias anfitrionas diferentes. Sin embargo, cuando golpeó la pandemia, se cerraron las fronteras.
"Mi agencia me preguntó si me gustaría renovar mi contrato por otros seis meses, y pensé, '¿¡Por qué no !?'"
Entonces, Maira pasó otros seis meses en los EE. UU. Y ahora han pasado casi 3 años que ha vivido en este país.
Después de que expiró su último período como au pair, Maira todavía está aquí.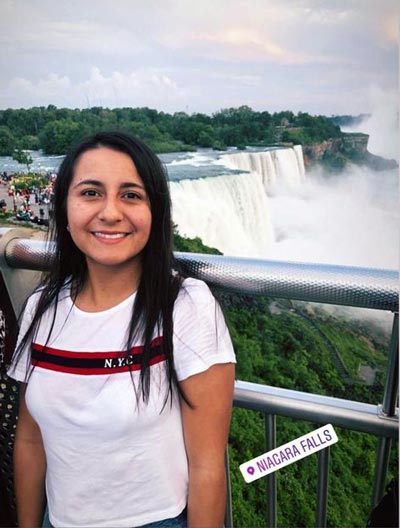 Maira en las Cataratas del Niágara
Ella eligió cambiar su estatus migratorio por estudios. Esta es una elección que toda au pair puede hacer al finalizar el contrato. Eso es diferente a la visa F-1.
"Con una visa F-1 puedes ir y venir de Estados Unidos a tu país", dijo Maira, "pero con un cambio de estatus, tienes que quedarte aquí hasta el final de los estudios. No puedes volver ", continuó.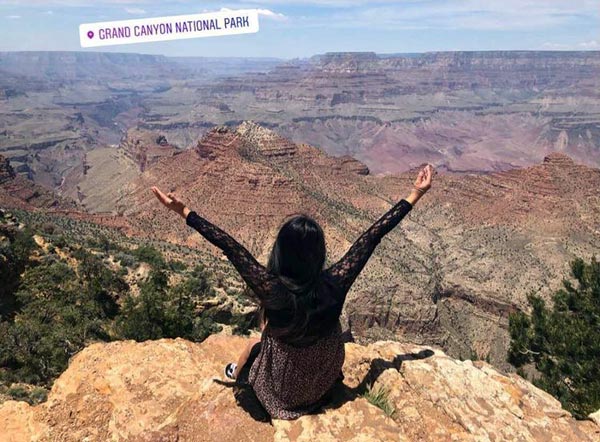 Maira en el Parque Nacional del Gran Cañón
Maira es abogada en Colombia y le encantaría ser periodista. Sin embargo, no pudo encontrar una universidad asequible que ofreciera ese programa aquí.
"La educación es muy cara en los Estados Unidos. Necesito un patrocinador y un trabajo para lograr mis sueños", dijo Maira.
Por lo tanto, Maira está considerando estudiar en un colegio comunitario, "Esa es una opción más asequible", dijo.
Desafortunadamente, el colegio comunitario que encontró Maira no ofrece un curso de periodismo. Entonces, ella está optando por estudios paralegales o justicia penal.
"Amo a Colombia, pero aquí hay más oportunidades y quiero ayudar a mi familia allá", dijo Maira.
Muchas personas como Maira vienen a los Estados Unidos para lograr sus sueños y ayudar a sus familias.
"Pero a veces hay mucha presión de mi familia", comentó Maira. "Tienen grandes expectativas en nosotros que vivimos en el exterior, y a veces no es fácil enfrentarlas", continuó Maira.
"Mi familia está muy orgullosa de mí y lo expresan de muchas maneras", dijo Maira. Sin embargo, no es fácil soportar tanta presión de la familia y muchas cosas pueden cambiar en el camino.
"Por ejemplo, conocí a mi madre en México después de un año y seis meses que había dejado mi país. Nos conocimos en una playa. Llevaba un traje de baño con la espalda descubierta. Cuando mi madre me abrazó, se dio cuenta de eso y dijo: '¡Vaya, realmente cambiaste, Maira!' ", Compartió Maira.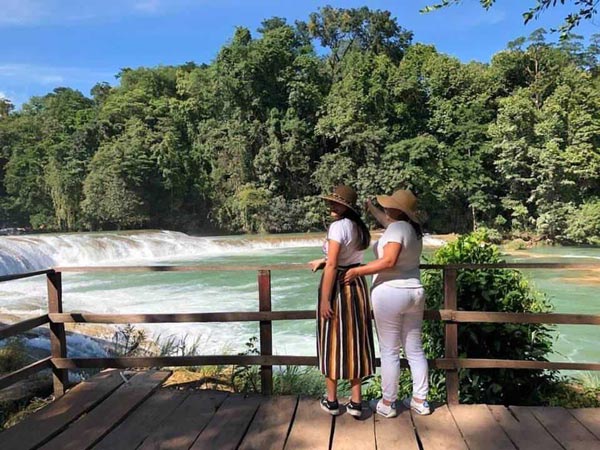 Maira en México con su madre
"No soy la misma persona que salió de Colombia hace 3 años. No sabía que incluso esta es Maira ", dijo Maira.
"Hay cosas fuertes dentro de mí de las que no era consciente", continuó Maira.
Maira sufrió grandes cambios en su vida. Esta experiencia de vivir en el extranjero, lejos de su familia y con más responsabilidades, le permitió encontrar partes de sí misma que antes ni siquiera conocía.
Esta es una experiencia muy común para los estudiantes internacionales.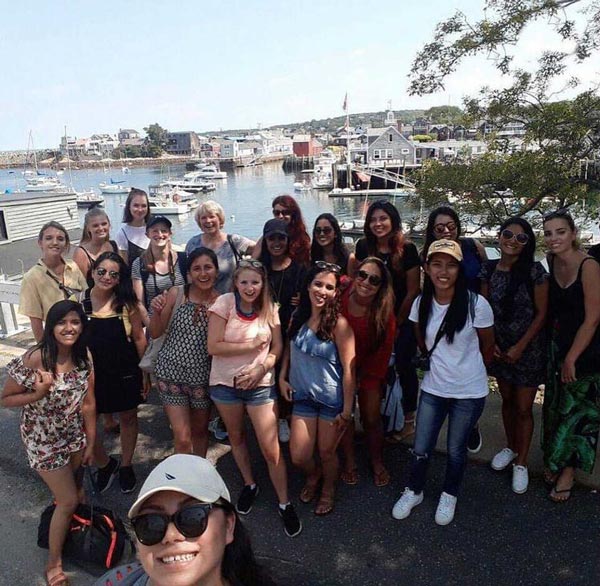 Maira y amigos
"Tenga la mente abierta", sugiere Maira a alguien que va a venir a los Estados Unidos. "Cuando alguien le diga algo que no sea agradable, no lo tome como algo personal", dijo Maira.
"¡Intenta ser amable contigo mismo y con los demás porque la vida es un espejo y te devuelve no lo que quieres sino quién eres!"
---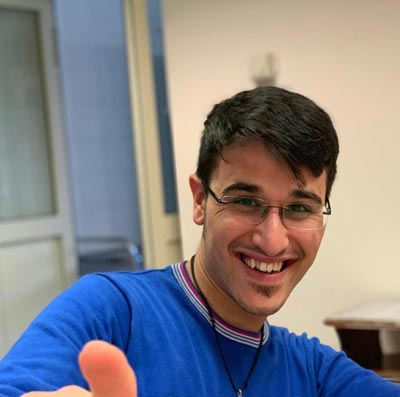 Pietro Rossini es un misionero javeriano y estudiante de ESL en la Universidad Estatal de Framingham . Llegó a los Estados Unidos en enero de 2020 con el propósito de estudiar una maestría en periodismo en la Universidad de Boston. Su sueño es recopilar y compartir historias de la humanidad en todo el mundo, haciendo del mundo una sola familia.