Coming to the U.S: Discovering a New Me
By Hamdiatu Yakubu
In January 2021, I found myself in a new world with a completely different atmosphere and reception. It was winter, and as a citizen from a tropical-savannah country I knew nothing about extreme cold weathers. Winter was not and may never be my favorite. I think apart from the fact that I am not familiar with it, also it does not reflect my personality, well not completely, just a little.
Days evaporated into weeks, weeks merged into months, all contributing to a collection of moments, discovery, and surprises. Every moment spent here is a whole new experience for me, presenting me with opportunities of self-improvement and accomplishment. I can boldly say I have become a much better version of myself, like a system upgrade with super cool features.
A new me, things about myself that surprise myself have been revealed ever since I arrived, ranging from various aspects and things. Basically, everything I engage in or take on reveals something not-so-obvious to me or takes me a step further. It feels like the old me has taken a sort of vacation, while the upgraded version starts operating.
From not a sociable person to a fun person is one new thing that fascinates me. I would usually prefer to always or mostly be alone in my little corner than hangout with others. Yes, things have taken a miraculous turn, I now love to hangout when invited and even think about where I would love to go instead of being indoors. Telling my host family that I am an indoor person who likes to be alone was like the most unimaginable lie ever. "You are one of the most fun-loving and sociable international students we've ever had," they confessed. Well, that was a revelation and a shocker to me. The switch from one thing to another amazes me, and I just have to accept the fact that I am more than I think I am.
I am a journalism major student as mentioned in my bio, meaning I do a lot of writing, reading, and possibly speaking. The classes I take also have had their own turns of revolution on my personality. I tend to think so wide and far more often — note that I have always been, am, and will continue to be an open-minded person — yet I am even more open-minded now.
Your chances of excelling in each course depends on your ability to think and analyze topics or issues differently from others. Mass Communication requires you to be versatile and analytical in your view of the world and issues of society. News Reporting basically makes you good at writing and expressing views about topics of interest. (It's the main reason why I joined this blogging opportunity.) Fundamental of Oral Communication is a combination of public speaking and basics of communication — it's my favorite course. This particular course makes me feel like I am almost where I want to be.
The world is a beautiful place full of amazing things and stories to be told and shared. According to research, people tend to remember things they see (visual) more easily, which relates to my love for photography. I must admit, I did like it before travelling, but it increased to a stage where I can say I want to be a female photojournalist. I think it is super cool to be able to perceive or see the world through my own lens and imagination. This discovery about myself is the most intriguing to me, it makes me feel completely new.
The not-so-good yet helpful part of me I met is the not organized self. Well, I don't always write out my plans, activities, etc, I just live and move with the flow. I was never bothered before, but now, I am worried. How many deadlines can I afford to miss? I ask myself — none, so then get your stuff together girl, I murmur. Doing something you are not used to is very hard, just like never missing breakfast, now that is way far harder unless I am fasting. Good news for me, I am working on being more alert about my schedules, who knows I may become committed with the few months I have left. Now that is a huge challenge to myself.
It has been a short but long journey of self-discovery and upgrading, and I must acknowledge that I am proud of myself. We are a whole package that consists a lot, we know somethings about ourselves that no one knows and vice versa. But do you know that we do not know ourselves entirely? Yes, and we will live our lives discovering ourselves and others all the time. Well, congrats to me, I have set out to my self-discovery, and so far so good.
Now you reading, have you noticed anything new about yourself, when did that happen and where, how did you realize, and how did you feel? If you have, yaay congrats!!! If not, then all the best!!!
---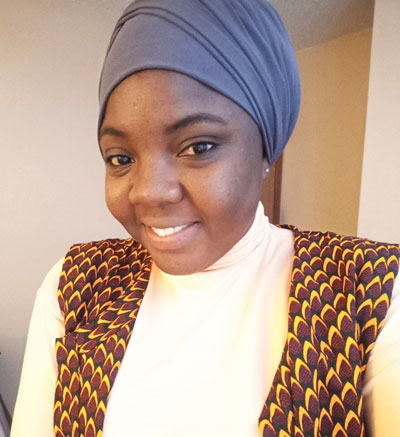 I am Hamdiatu Yakubu from Ghana, West Africa. I am currently studying journalism at Kirkwood Community College in Cedar Rapids, Iowa. I love nature, cooking, watching movies, languages, writing, and photography.
Written by
Hamdiatu Yakubu
Get matched to the best program for you
Let us know what you're looking for so we can find the best school for you.
$10,000 — $15,000 Year
Bachelor Degree
2yr/Community College - 2+2 Programs
Certificate/Short Term
$5,000—$10,000 Semester
Undergraduate
2yr/Community College - 2+2 Programs
Certificate/Short Term
$15,000—$20,000 Year
English Programs
2yr/Community College - 2+2 Programs
Undergraduate
Start your U.S. adventure with Study in the USA
What's your dream? We can guide, advise, and connect you with your perfect U.S. school. We can also help you with the application process.
Partner Services
Learn About U.S. education financing, housing, and more
MPOWER Financing is the top-rated lender offering international student loans without cosigners, collateral, or credit history for global citizens, PLUS international student scholarships & career coaching! Fully online application, 96% customer...
TestDEN's Online TOEFL Test Prep is just what you need to quickly and effectively prepare for the TOEFL test. Since 1998, TestDEN has helped tens of thousands of students raise their TOEFL scores.
Study in the USA's advisors can work with you to navigate the requirements to study abroad in the USA, UK, Canada, and Australia. We help you find the right school and apply.
Resources
Learn about American culture and education direct from our experts at Study in the USA. Read more