In our effort to bring good content to as many people as possible the text in this blog post has been machine translated so please excuse any mistakes. Thank you!
Geçen yıl, St. Francis Koleji (SFC) , burs için rekabet edebilmem için aşağıdaki soruyu yanıtlayan bir makale yazmamı istedi: "Haber kuruluşlarının manşetleri yüksek öğrenimin değerini sorguladı. Birisi 'üniversiteye gitmenin bir anlamı olmadığını' iddia etse, nasıl cevap verirdiniz? St. Francis Koleji'ne katılmak, üniversite eğitiminizden en yüksek değeri elde etmenize nasıl yardımcı olur? " Bunu yanıtlamak, Brezilya'daki bir kolejdeki önceki deneyimime rağmen, zor bir görevdi çünkü orada okurken, üniversiteye gitmenin amacını göremiyordum. Ancak, St. Francis Koleji'nin kendim için değişim yaratmak için gerekli bir araç olmasını nasıl beklediğimi yazdım. Bundan bir yıl sonra, SFC'de ikinci dönemimdeyim ve doğru seçimi yaptığımdan fazlasıyla eminim.
New York'taki kolejler hakkında daha önce araştırma yaptıysanız, uygun fiyatlı iyi bir okul bulmanın ne kadar zor olduğunu ve insanların gerçekten kim olduğunuzu gerçekten söyleyebilecekleri bir okul bulmanın daha da zor olduğunu muhtemelen biliyorsunuzdur. Önceki tüm okullarım, öğretmenlerden kapıcılara kadar herkesin birbirini tanıdığı küçük okullar olduğundan, buna çok benzer, bir topluluğa ait olduğumu ve sadece başka bir öğrenci olmadığımı hissedebileceğim bir kolej istedim. Ancak, bir araya getirilen bu iki faktör - satın alınabilirlik ve ağ - New York'taki herhangi bir yüksek öğrenimde bulmak çok zordur. Bu nedenle, St. Francis Koleji'ni ilk duyduğumda, oraya hiç şahsen gitmemiş olsam da, hemen aşık oldum.
Brezilya'dan uluslararası bir öğrenci olarak üniversiteden beklentilerim çok yüksekti. Sadece farklı bir kültür, ülke ve dille uğraşmak zorunda kalacağım için değil, aynı zamanda eğitim sisteminin kendi ülkemde bildiğimden çok farklı olması ve nihayet hayallerimdeki şehre yakın yaşayacağım için. Ancak hayat her zaman bu kadar basit değildir - COVID-19 geldi ve Amerika'ya taşınmak için tüm planlarımı mahvetti. Tüm bu uzaktan eğitim deneyimi birçok öğrenci için zor oldu, biliyorum ve benim için de zordu, ama inanıyorum ki St. Francis Koleji'ni seçmeseydim çok daha kötü olurdu. Bunun nedeni, okuldan uzakta bir okyanus olsam bile, bir topluluğun parçası olabilmem, insanlar bana değer verdiği için kucaklanmış hissettim. Okul personeli beni tanıyordu ve bu süre zarfında çok şey öğrenebildim.
Üniversiteye gitmenin amacını anlamamı sağlamak için SFC'de iki dönem zaten yeterli. Okul sayesinde küresel vatandaş olduğumuzu, ilişkiler kurduğumuzu, kendimizi keşfedeceğimizi, hatalar yaptığımızı ve her biriyle öğreneceğimizi, ağlar yarattığımızı, sorumluluk aldığımızı ve bilgi edindiğimizi anlayabildim. Okulumdan fiziksel olarak bu kadar uzaktayken bu kadar kısa sürede değişmeyi hiç beklemiyordum, ama öyleydim.
Sanırım St.Francis College , beş benzersiz özelliği sayesinde, benimle ve evlilerden kendi ülkelerinde olanlara ve fiziksel olarak hiç okula gitmemiş olanlara kadar pek çok öğrenciyle bunu yapabildi: konum, satın alınabilirlik , kişiselleştirilmiş eğitim, dönüştürücü fakülte ve bir ömür boyu ağ oluşturma. Önümüzdeki birkaç hafta içinde her birini gözden geçirmeyi düşünüyorum, böylece keşfetmek üzere olduğunuz inanılmaz okulun gerçekten farkında olabilirsiniz.
---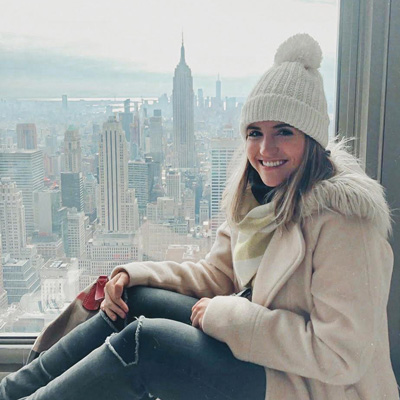 Ben Maria Eduarda, Brezilya'dan St. Francis Koleji'nde uluslararası bir öğrenciyim. Kararsız bir branşım ama siyaset bilimine eğilimliyim. Ayrıca SFC'de Uluslararası Af Örgütü ABD Şubesinin bir parçasıyım. Ben çok iletişimsel bir insanım ve gerçekten farklı insanları tanımayı seviyorum, bu yüzden bu blog bunu yapmak için harika bir fırsat sanırım!