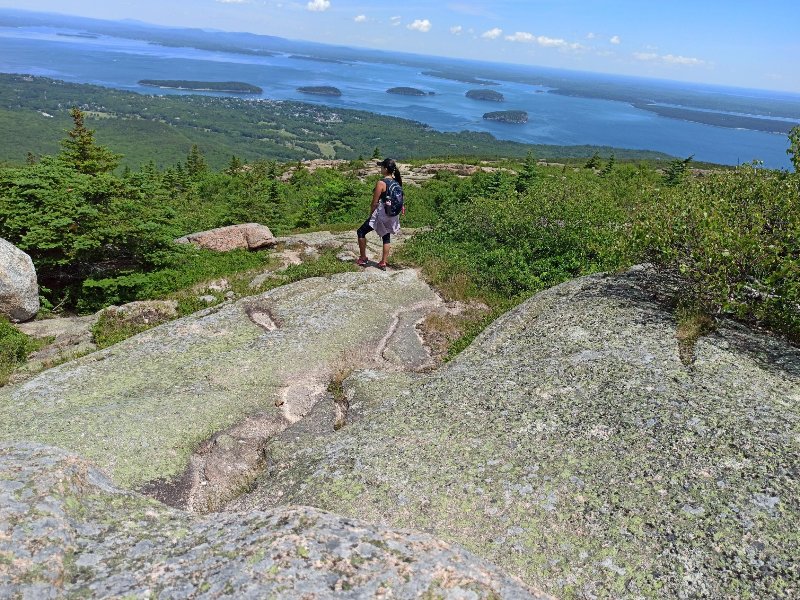 In our effort to bring good content to as many people as possible the text in this blog post has been machine translated so please excuse any mistakes. Thank you!
Oleh Pietro Rossini dengan Yesica Paola Sanchez Gómez
Yesica Sanchez tidak membayangkan kabin pegunungan di Maine sebelum datang ke AS. Namun, itu menjadi rumah barunya.
Yesica meninggalkan Kolombia setelah menyelesaikan studinya di bidang pemasaran dan datang ke AS sebagai au pair. Dia tinggal bersama keluarga angkat, mengasuh anak-anak mereka, dan memiliki kesempatan untuk menguasai bahasa Inggrisnya juga.
Pada awalnya, tidak mudah bagi Yesica. "Itu adalah kenyataan baru, dunia baru bagi saya, dan saya tidak tahu harus berbuat apa," katanya. "Di keluarga pertama tempat saya tinggal, mereka adalah orang Amerika, tetapi mereka tidak benar-benar mengajari saya sesuatu tentang budaya mereka," lanjutnya.
"Tapi keluarga kedua, yang tinggal dengan saya sekarang, berasal dari Amerika Selatan, dan mereka memberi tahu saya sesuatu yang baru tentang budaya Amerika setiap hari," kata Yesica.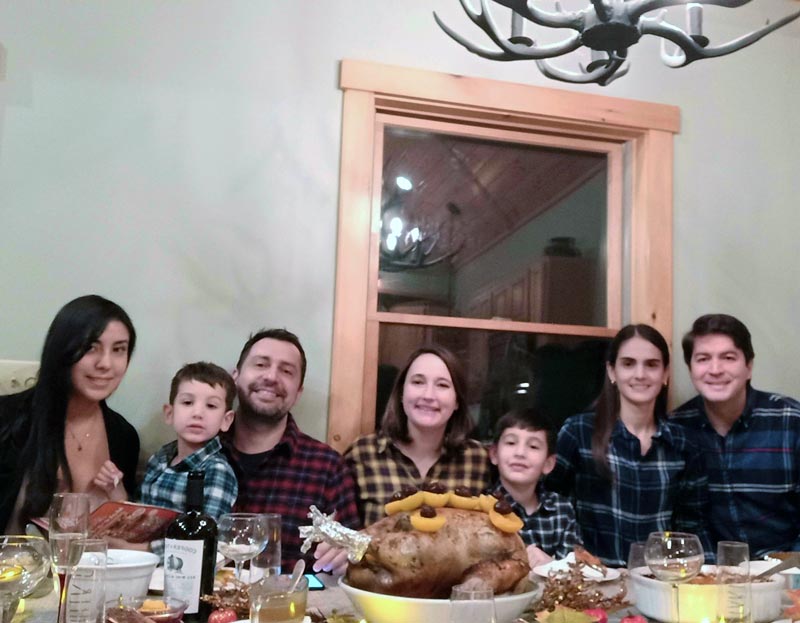 Yesica bersama keluarga angkatnya pada Hari Thanksgiving
Mungkin ini karena keluarga angkat baru telah melalui kesulitan yang sama seperti Yesica.
Padahal, salah satu tantangan yang dihadapi setiap orang yang tinggal di luar negeri adalah "culture shock". Meskipun siswa yang datang ke AS bersemangat untuk menjalani pengalaman baru, mereka tidak selalu mempertimbangkan tantangan yang akan mereka jalani.
"Ada kalanya kamu merasa sangat kesepian," Yesica berbagi, "Ini adalah pengalaman pertama saya di luar negeri, dan pertama kali hidup tanpa orang tua saya," tambahnya.
"Saya harus melakukan semuanya sendiri, tetapi saya juga belajar banyak hal," Yesica, memang, mulai menghasilkan uang sendiri, dan dia mengirimkan sebagian ke keluarganya di Kolombia untuk membantu mereka.
"Keluarga adalah segalanya bagiku! Karena keluargaku, aku di sini. Mereka adalah dukungan dan motivasi saya, "katanya. Keluarga inilah yang menggerakkan Yesica untuk mengambil keputusan untuk tinggal di luar negeri dan menantang dirinya sendiri. Mereka adalah alasan mengapa saya tidak pernah menyerah, tambahnya.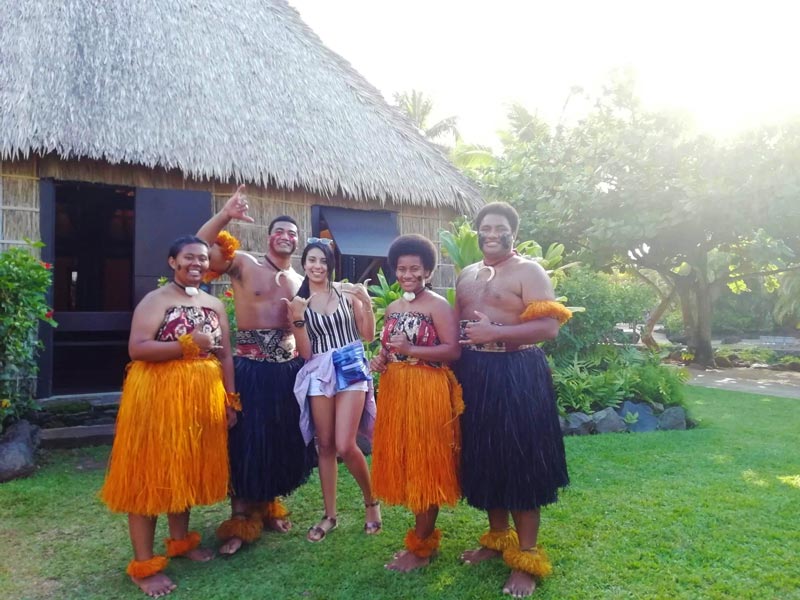 Yesica di Hawaii
"Impian saya adalah belajar di sini di AS, tetapi saya ingin kembali ke negara saya pada akhirnya," Yesica juga memiliki impian untuk membangun perusahaan yang dapat membantu perempuan korban kekerasan di negaranya.
Dia sudah bekerja dengan organisasi lain yang melakukan pekerjaan ini. "Tapi mereka hanya menempatkan wanita ini di tempat kecil, mereka tidak mengizinkan mereka untuk mencari pekerjaan dan memulai hidup baru," katanya.
"Saya bermimpi bahwa para wanita ini dapat belajar dari saya dan tim saya bahwa kehidupan yang lebih baik itu mungkin!" Meskipun Yesica tidak mengalami kekerasan semacam ini dalam hidupnya, dia bermimpi bisa memberikan kesempatan kepada para wanita ini untuk berharap masa depan yang lebih baik.
"Saya harus datang ke sini untuk membuka pikiran saya," Yesica menjelaskan mengapa dia memilih untuk belajar di sini dan bukan di negaranya. "Di sini Anda punya banyak pilihan. Di sini Anda bisa bermimpi, "tambahnya.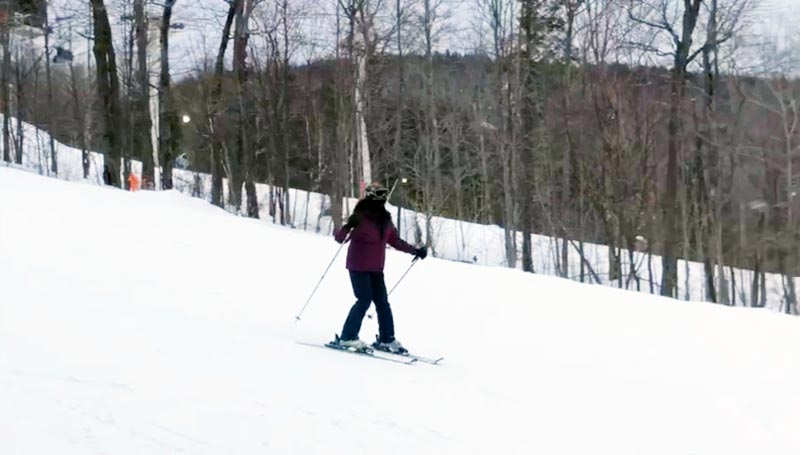 Di AS, Yesica belajar cara bermain ski!
"Jadilah kuat dan ulet," Yesica menyarankan kepada siapa pun yang akan datang ke AS "Ketika Anda akan merasa sedih atau lelah, jangan lupa mengapa Anda datang ke sini, jadi datanglah ke AS dengan motivasi yang kuat," lanjutnya .
Yesica tidak sendiri. Menurut Majalah Politico , ada lebih dari 17.500 au pair di AS. Setiap orang datang ke Amerika karena alasan yang berbeda.
Dalam kasus Yesica, dia meninggalkan Kolombia untuk meningkatkan bahasa Inggrisnya, memperoleh gelar master dalam pemasaran, dan kemudian kembali ke Kolombia untuk membangun perusahaan sosial untuk membela hak-hak perempuan, memberi mereka masa depan yang lebih baik.
AS memberikan banyak kesempatan bagi siswa, tetapi seperti yang disarankan Yesica, "datanglah ke sini dengan motivasi yang kuat dan pantang menyerah!"
---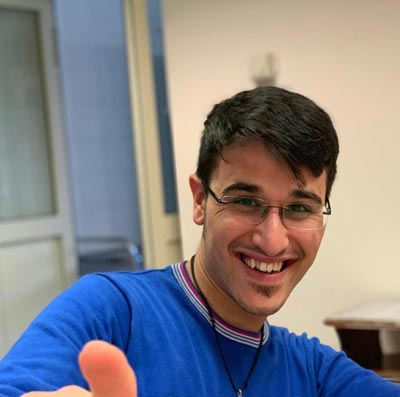 Pietro Rossini adalah seorang misionaris Xaverian dan mahasiswa ESL di Framingham State University . Ia datang ke AS pada Januari 2020 dengan tujuan belajar untuk master seni di bidang jurnalisme di Universitas Boston. Mimpinya adalah mengumpulkan dan berbagi cerita tentang kemanusiaan di seluruh dunia, menjadikan dunia sebagai satu keluarga.