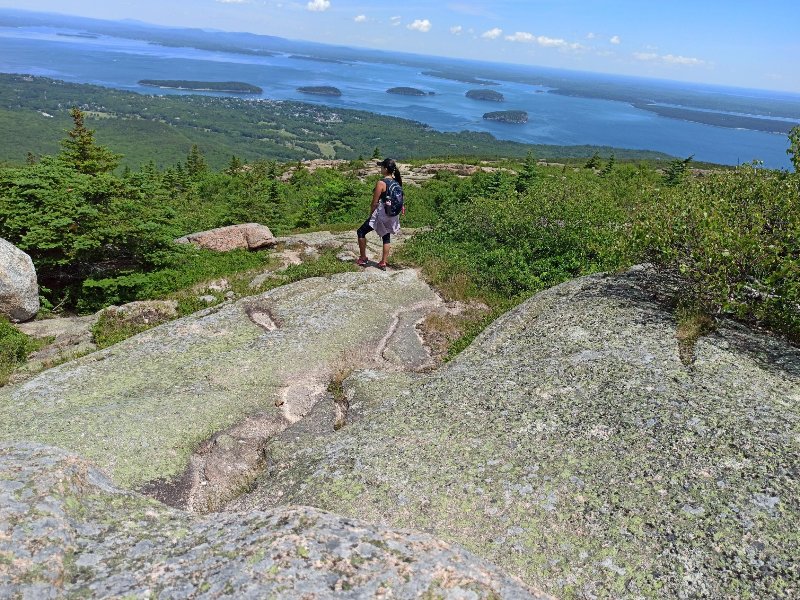 In our effort to bring good content to as many people as possible the text in this blog post has been machine translated so please excuse any mistakes. Thank you!
Por Pietro Rossini con Yesica Paola Sanchez Gómez
Yesica Sánchez no imaginó una cabaña de montaña en Maine antes de venir a los Estados Unidos. Sin embargo, ese se convirtió en su nuevo hogar.
Yesica se fue de Colombia después de completar sus estudios en marketing y vino a los Estados Unidos como au pair. Vive con una familia anfitriona, cuida a sus hijos y también tiene la oportunidad de dominar su inglés.
Al principio, no fue tan fácil para Yesica. "Era una nueva realidad, un mundo nuevo para mí y no sabía qué hacer", dijo. "En la primera familia con la que viví, eran estadounidenses, pero en realidad no me enseñaron nada sobre su cultura", continuó.
"Pero la segunda familia, con la que vivo ahora, es de América del Sur, y todos los días me cuentan algo nuevo sobre la cultura estadounidense", dijo Yesica.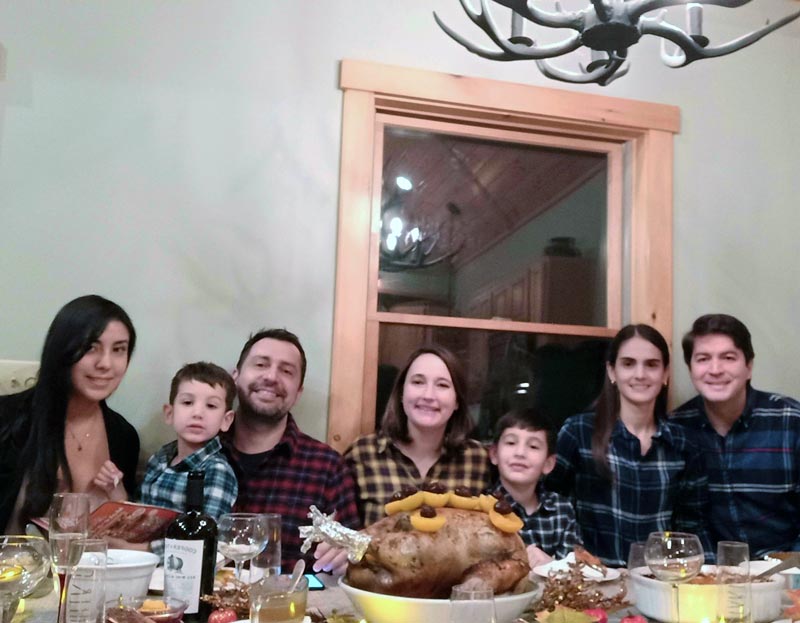 Yesica con su familia anfitriona el Día de Acción de Gracias
Quizás esto se deba a que la nueva familia anfitriona ha pasado por las mismas dificultades que Yesica.
De hecho, uno de los desafíos que enfrenta toda persona que vive en el extranjero es el "choque cultural". A pesar de que los estudiantes llegan a Estados Unidos emocionados por vivir una nueva experiencia, no siempre consideran los desafíos que enfrentarán.
"Hay momentos en los que te sientes muy solo", compartió Yesica. "Es mi primera experiencia en el extranjero y la primera vez que vivo sin mis padres", agregó.
"Tuve que hacer todo yo sola, pero también aprendí muchas cosas", Yesica, efectivamente, empezó a ganar dinero por sí misma, y envía algo a su familia en Colombia para ayudarlos.
"¡La familia lo es todo para mí! Es por mi familia que estoy aquí. Son mi apoyo y mi motivación ", dijo. La familia es lo que movió a Yesica a tomar la decisión de vivir en el extranjero y desafiarse a sí misma. "Ellos son la razón por la que nunca me rindo", agregó.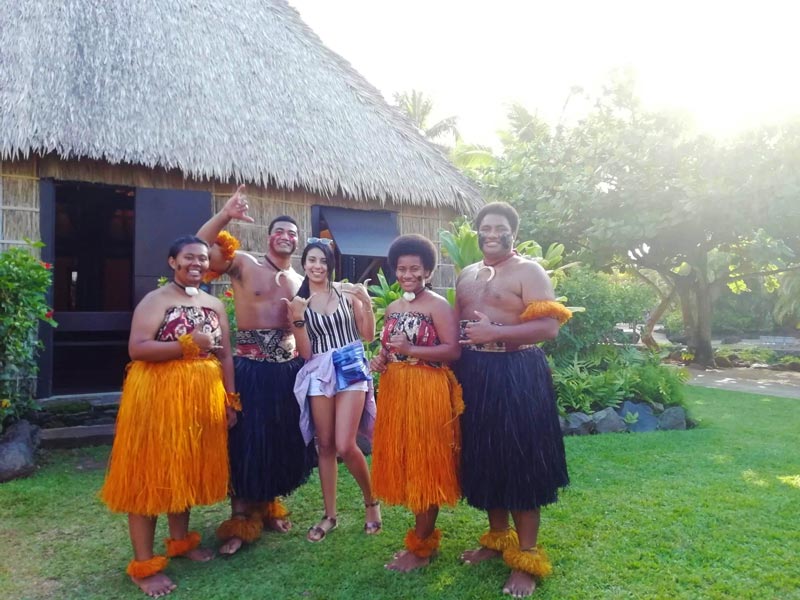 Yesica en Hawaii
"Mi sueño es estudiar aquí en los Estados Unidos, pero quiero volver a mi país eventualmente", Yesica también tiene el sueño de construir una empresa que pueda ayudar a las mujeres que son víctimas de violencia en su país.
Ella ya trabajó con otras organizaciones que hacen este trabajo. "Pero simplemente ponen a estas mujeres en un lugar pequeño, no les permiten encontrar un trabajo y comenzar una nueva vida", dijo.
"¡Sueño que estas mujeres puedan aprender de mí y de mi equipo que una vida mejor es posible!" Si bien Yesica no experimentó este tipo de violencia en su vida, sueña con poder darles a estas mujeres la oportunidad de esperar un futuro mejor.
"Tuve que venir aquí para abrir mi mente", explicó Yesica por qué eligió estudiar aquí y no en su país. "Aquí tienes muchas opciones. Aquí puedes soñar ", agregó.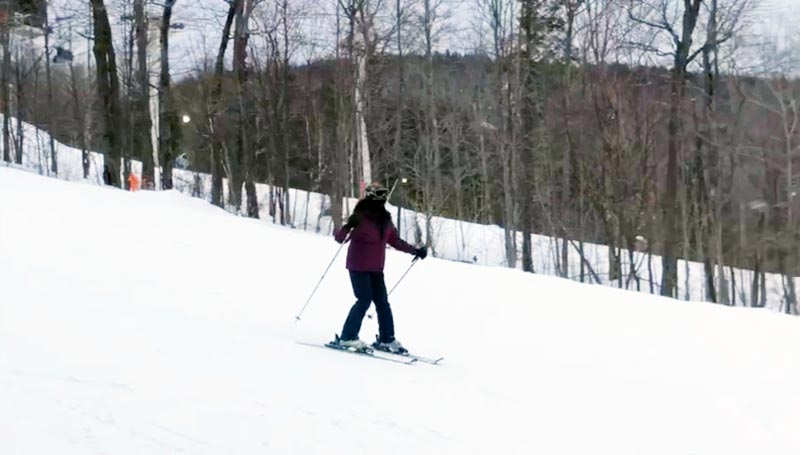 ¡En los EE. UU., Yesica aprendió a esquiar!
"Sé fuerte y resistente", sugiere Yesica a cualquiera que vaya a venir a los EE. UU. "Cuando te sientas triste o cansado, no olvides por qué viniste aquí, así que ven a los EE. UU. Con una fuerte motivación", continuó. .
Yesica no está sola. Según Politico Magazine , hay más de 17,500 au pairs en los Estados Unidos. Cada uno de ellos vino a los Estados Unidos por una razón diferente.
En el caso de Yesica, se fue de Colombia para mejorar su inglés, obtener una maestría en marketing y luego regresar a Colombia para construir una empresa social para defender los derechos de las mujeres, dándoles un futuro mejor.
Estados Unidos ofrece muchas oportunidades para los estudiantes, pero como sugiere Yesica, "¡ven aquí con una fuerte motivación y nunca te rindas!"
---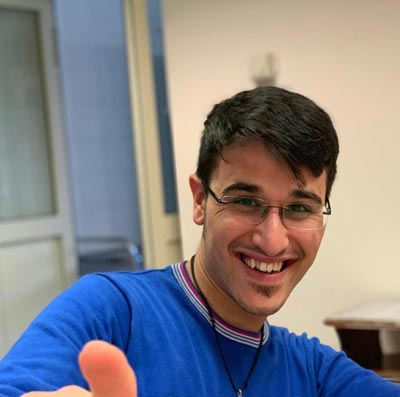 Pietro Rossini es un misionero javeriano y estudiante de ESL en la Universidad Estatal de Framingham . Llegó a los Estados Unidos en enero de 2020 con el propósito de estudiar una maestría en periodismo en la Universidad de Boston. Su sueño es recopilar y compartir historias de la humanidad en todo el mundo, haciendo del mundo una sola familia.