By Pietro Rossini with Yesica Paola Sanchez Gómez
Yesica Sanchez didn't picture a mountain cabin in Maine before coming to the U.S. However, that became her new home.
Yesica left Colombia after completing her studies in marketing and came to the U.S. as an au pair. She lives with a host family, takes care of their kids, and has the opportunity to master her English as well.
In the beginning, it wasn't so easy for Yesica. "It was a new reality, a new world for me, and I didn't know what to do," she said. "In the first family with whom I lived, they were Americans, but they didn't really teach me something about their culture," she continued.
"But the second family, the one with whom I'm living now, is from South America, and they tell me something new about American culture every day," Yesica said.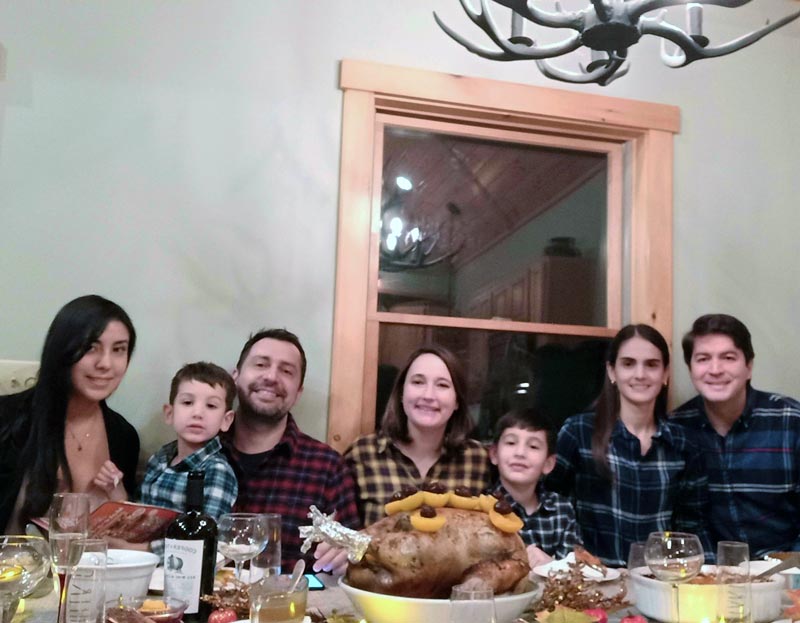 Yesica with her host family on Thanksgiving Day
Maybe this is because the new host family has been through the same difficulties as Yesica.
In fact, one of the challenges that every person who lives abroad faces is "culture shock." Even though students come to the U.S. excited about living a new experience, they do not always consider the challenges that they will undergo.
"There are times when you feel very lonely," Yesica shared, "It is my first experience abroad ever, and the first time living without my parents," she added.
"I had to do everything by myself, but I also learned many things," Yesica, indeed, started earning money by herself, and she sends some to her family in Colombia to help them.
"Family is everything for me! It's because of my family that I'm here. They are my support and my motivation," she said. Family is what moved Yesica to make the decision to live abroad and challenge herself. "They are the reason why I never give up," she added.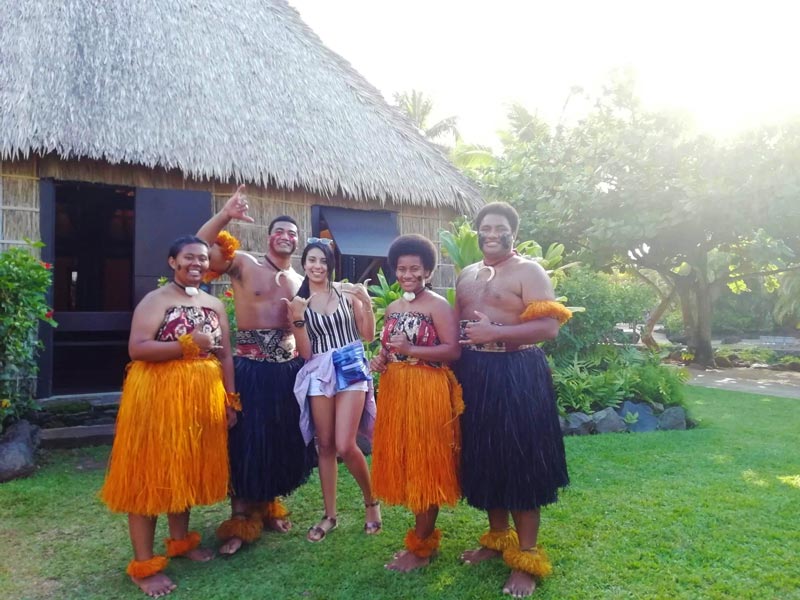 Yesica in Hawaii
"My dream is to study here in the U.S., but I want to come back to my country eventually," Yesica also has the dream of building a company that may help women who are victims of violence in her country.
She already worked with other organizations that do this job. "But they just put these women in a small place, they don't allow them to find a job and start a new life," she said.
"I dream that these women may learn from me and my team that a better life is possible!" Although Yesica didn't experience this kind of violence in her life, she dreams of being able to give an opportunity to these ladies to hope for a better future.
"I had to come here to open my mind," Yesica explained why she chose to study here and not in her country. "Here you have many options. Here you can dream," she added.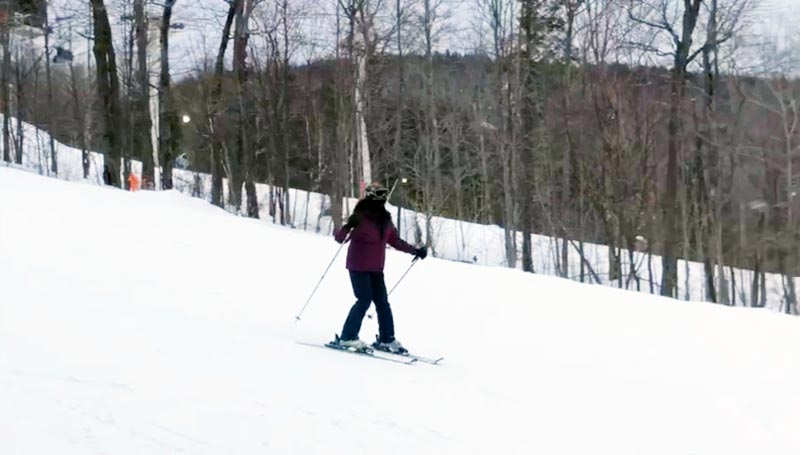 In the U.S., Yesica learned how to ski!
"Be strong and resilient," Yesica suggests to anybody who is going to come to the U.S. "When you will feel sad or tired, don't forget why you came here, so come to the U.S. with a strong motivation," she continued.
Yesica is not alone. According to Politico Magazine, there are more than 17,500 au pairs in the U.S. Every one of them came to the States for a different reason.
In Yesica's case, she left Colombia to improve her English, earn a master's degree in marketing, and then go back to Colombia to build a social company to defend women's rights, giving them a better future.
The U.S. gives many opportunities for students, but as Yesica suggests, "come here with a strong motivation and never give up!"
---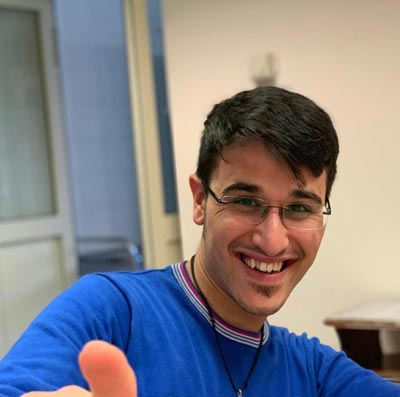 Pietro Rossini is a Xaverian Missionary and ESL student at Framingham State University. He came to the U.S. in January 2020 with the purpose of studying for a master of arts in journalism at Boston University. His dream is to collect and share stories of humanity around the globe, making the world a single family.
Written by
Pietro Rossini
Get matched to the best program for you
Let us know what you're looking for so we can find the best school for you.
$5,000—$10,000 Session
Summer
English Programs
Certificate/Short Term
$1,000—$5,000 Quarter
Masters
Bachelor Degree
English Programs
$10,000 — $15,000 Semester
Certificate/Short Term
Bachelor Degree
English Programs
Start your U.S. adventure with Study in the USA
What's your dream? We can guide, advise, and connect you with your perfect U.S. school. We can also help you with the application process.
Partner Services
Learn About U.S. education financing, housing, and more
Studying abroad is an invaluable step in your professional and personal growth. Prodigy Finance have helped fund over 20,000 master's students to pursue their dreams at the best schools of the world.
Summer plans suspended because of COVID-19? The deadline's approaching for TheInternGroup's virtual/remote global internship program. Gain professional experience, grow your network and make your resume shine from wherever you are this summer.
The JOB+ Career Accelerator gives you the work experience, career coaching and professional network you need to get a great graduate job.
Testimonials
Study in the USA helped me apply to the University of Wyoming and in my journey towards studying in the USA. They guided me in writing essays, preparing for my SAT exams, interview tips, getting my visa...
Study in the USA helped me by providing information regarding fees and courses of the various universities I was interested in.
Sai Madhav Raju Goriparthi India
I used Study in the USA to narrow down which colleges to apply to.
Resources
Learn about American culture and education direct from our experts at Study in the USA. Read more