In our effort to bring good content to as many people as possible the text in this blog post has been machine translated so please excuse any mistakes. Thank you!
Alejandra Salas tarafından
Şüphesiz dünya, salgın nedeniyle şiddetli bir değişimle karşı karşıya kaldı, her şey birdenbire kapandı ve kesinlikle hepimizi şaşırttı. Şu anda yaşadığım Kaliforniya'da evde kalma emri gerçekleştiğinde, Mart 2020'ydi ve o zamandan beri zaman yavaş ilerledi ve hayat aynı olmadı. Şahsen, hepimizin kendimize bakmak, yaşam tarzımızı yeniden düzenlemek ve özellikle hayatı yaşamak ve gözümüzün önünden geçtiğini görmemek için fazladan zaman ayırmak için fazladan zamana ihtiyacımız olduğuna inanıyorum. Bu zor zamanlar, gelecek hakkında düşünmeye gelince, bize nasıl dirençli ve iyimser olabileceğimizi de gösterdi.
Karantina sırasında, evdeki zamanlar sonsuza kadar gibiydi ve izlenecek yeni şovlar kalmamıştı. Neyse ki, çevrimiçi dersler akıl sağlığımı korudu ve sınıf arkadaşlarımla, günün en üretken ve en sevdiğim kısmı olan Zoom aracılığıyla etkileşime girebildim. Başarılı ancak zorlu bir dönemin ardından, yaz geldi ve evde kalma düzeni henüz kaldırılmamıştı. Bu nedenle, yaratıcılığım en üst düzeyde kullanıldı ve gün içinde beni aktif tutmak için farklı aktiviteler planlamaya başladım ve en çok yapmaktan hoşlandığım şeylerden, yani tasarımdan ve doğadan zevk almaya başladım.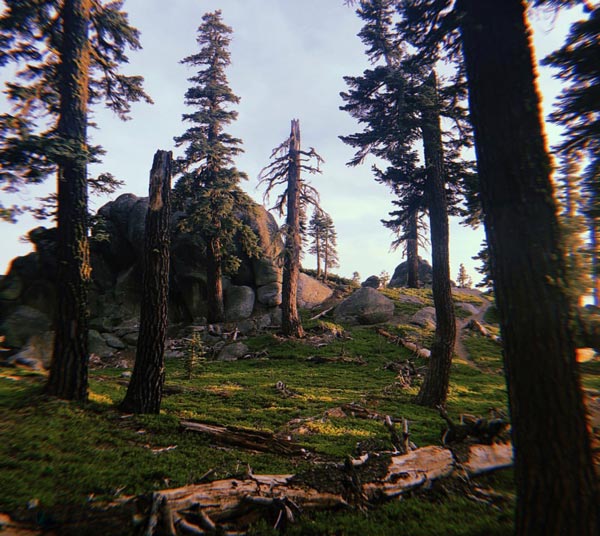 Hayatımda bir şekilde bir alışkanlık haline gelen karantina döneminde yapmaya başladığım bazı eğlenceli şeyler yürüyüş yapmak, daha sık resim yapmak ve dış mekanı keşfetmek. Tahoe Gölü'nde yaşamak, bana her gün keşfedilecek çok sayıda yürüyüş parkuruna ve yeni plajlara erişim sağlıyor. Göl, hava durumu ne olursa olsun her zaman sunacak yeni bir şeye sahiptir. Her sabah göl kenarında koştuğumu ve sadece ben olduğum ve etrafta kimsenin olmadığı serin esintinin tadını çıkardığımı hatırlıyorum; Spor salonları ve yoga stüdyoları kapalı olduğu için bu aynı zamanda harika bir çalışmaydı ve en önemlisi sosyal mesafenin kolay bir yoluydu. Ayrıca arkadaşlarımla ve köpeklerimizle, sadece yüce doğa ile çevrili olduğumuz turistik olmayan yerlere - büyük çam ağaçları ve üstümüzde uçan martıların ıslıklarına kadar yürüyüşler yaptım. Zirveye çıktığınızda ve yukarıdan gölün panoramik manzarasını takdir ettiğinizde yürüyüş yapmak çok ödüllendirici; bu benim en sevdiğim aktivitelerden biriydi çünkü insan yığınını içermiyordu, sadece vahşi yaşamın birlikteliğini içeriyordu.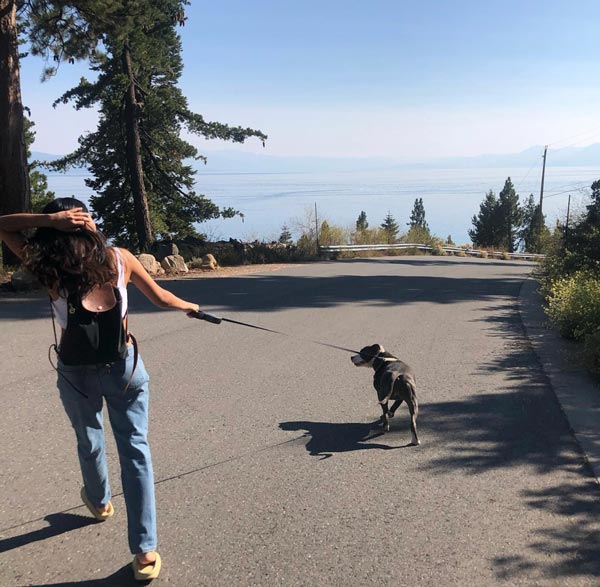 Yaz mevsimi bu zor zamanlarda harikaydı çünkü güvertemde çok fazla zaman geçirmem, resim yapmam, yemek yapmam ve yavaş bir hızda hayatın tadını çıkarmam gerekiyordu; o sırada yapabileceğim en iyi aktivite olduğunu anlarken. İşler düzelmeye başlayınca plajlara da gidebildim. Tahoe Gölü turistik bir yer olarak bilinmesine rağmen, bölgeyi daha çok keşfetmeyi başardım ve doğanın bir kez daha mahremiyet ayrıcalığını sağladığı yerlere gitmek için gizli plajlar buldum. Genel olarak, karantina durumunu her zaman yaratıcı olarak ve evde kalma fikrini daha sık benimseyerek yönetebildim ve bu da yemek pişirme becerilerimi geliştirdi. Mevcut duruma nasıl adapte olduğumuza ve bu zorlukların üstesinden nasıl geldiğimize gerçekten hayret ediyorum. Tüm öğrencileri, doğayı keşfetmeye ve doğanın tadını çıkarmaya zaman ayırmaya teşvik ediyorum; üzgün hissettiğinde bile huzur bulacaksın.
---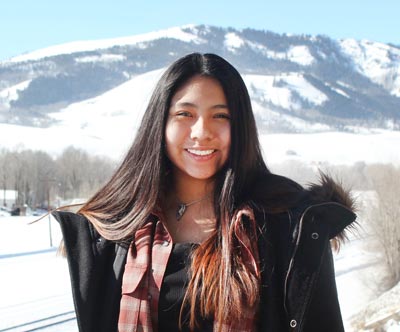 Bir
Peru Lima'dan Alejandra Salas, Truckee Meadows Community College'da mimarlık öğrencisi ve yeni Uluslararası Akran Danışmanıdır.