In our effort to bring good content to as many people as possible the text in this blog post has been machine translated so please excuse any mistakes. Thank you!
Alejandra Salas tarafından
Çocukken, ailemle Lima'nın tarihi merkezinde yürüdüğümü ve etrafımızdaki eski kolonyal binalar ve kiliseler tarafından büyülendiğimi hatırlıyorum. O eski ama büyüleyici yapılar aynı zamanda beni mutlu ve şaşkın hissettirdi çünkü onları kimin ve nasıl inşa ettiğini bilmek istedim, bu da bir anlamda merakımı uyandırdı - ben de aynısını yapmak istedim, kalıcı bir şey yaratmak istedim Zaman boyunca. Küçük yaşta sulu boya ve kil ile oynamak, sanat ve zanaat alanındaki yaratıcılığımı ifade etmeme ve keşfetmeme izin verdi. Yine de on yaşımdayken, eskiz defterime sırf eğlence olsun diye ütopik şehirler çizerken kendimi rahat hissettim, sonra en komik hobimi gerçek bir bağlılığa çevirdim - mimar olmaya karar verdim. Ebeveynlerim bunu en küçük kızlarından duymaktan çok mutluydu çünkü iktisatçılar, muhasebeciler ve mühendislerle dolu bir aileden gelen sanatsal bir kariyer seçen ilk kişi bendim, bu yüzden yolculuğum orada başladı.
Lise yolculuğumun tadını çıkarırken, kendimi bir sonraki büyük adımıma hazırlamam gerektiğini hemen fark ettim - bir mimarlık okuluna başvurmak. Peru, Lima'daki okullar hakkında çok araştırma yapmam ve ayrıca yurtdışında eğitim alma imkanlarını düşünmem gerekiyordu. Beş yıllık bir taahhüdün ne olacağına karar vermeden önce, kariyer avcılığı ile ilgili mevcut tüm seçeneklerimi yeniden düşündüm ve bir kez daha mimarlığın benim işim olmasını sağladım.
Yaratıcılığınızdan ve hayal gücünüzden ortaya çıkan bir şey tasarlama ve yaratma sanatı, çılgın ama büyüleyici olmanın da ötesinde. Mimariyi bir kariyer olarak sürdürmeye karar verdim çünkü düşüncelerinizi mekanlar aracılığıyla ifade etmenize, eğlenceli ve hassas bir şekilde tasarlamanıza izin veriyor ve daha da önemlisi bir proje geliştirip insan ölçeğinde bir gerçekliğe dönüşmesini izlemek ödüllendirici. Bir mimarın görevi, insanlar için fiziksel bir çevre tasarlamak ve yaratmaktır, ancak sadece yapılı çevreden daha fazlası, aynı zamanda insanlarda bir şekilde farklı duygular uyandıran kültürümüzün bir parçasıdır.
Kimse bana üniversite hayatının kolay olduğunu söylemedi; Kesinlikle olmadığını kendim öğrendim. Peru Uygulamalı Bilimler Üniversitesi'nde (UPC) okumak bana inanılmaz bir deneyim verdi; Dersleri ve eğitmenleri aracılığıyla Lima'nın en iyi mimarlarından bir şeyler öğrenebildim. Uzun gecelerden, birkaç saatlik uykudan telaşlı proje teslim tarihlerine kadar, bir mimarlık öğrencisi olarak günlük temelim buydu ve onu kucakladım. Dahası, mimarlık okulu bana gücü, sabrı ve dayanıklılığı öğretti; yine de bana hayattaki en iyi meslektaşlarım ve arkadaşlarımı verdi. Genel olarak tasarım okulu iyiydi, ancak kariyerimi sürdürülebilir mimaride vurgulamak istedim ve o zaman yurtdışında okumaya ve çevre tasarımı alanındaki çalışmalarımı sürdürmeye karar verdim; sonuçta, sürdürülebilir tasarım, gelecek nesiller için konut geliştirmeye yönelik gelecekteki yaklaşımdır.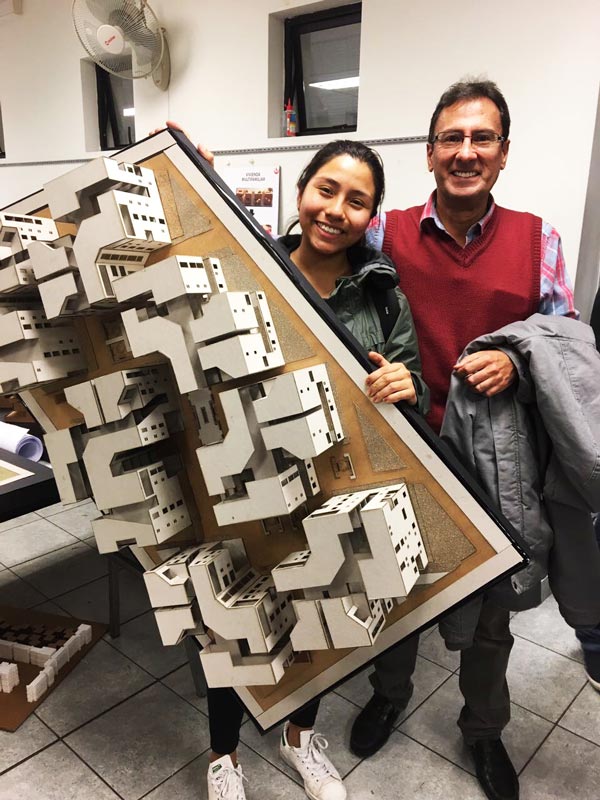 (Eğitmen Hugo Iberico ile son proje sunumumda)
Tasarım söz konusu olduğunda ilham kaynağım Frank Lloyd Wright, Le Corbusier ve Tadao Ando gibi ünlü mimarlardan geldi. Bu mimarlar tasarımlarında insan yerleşimi ile doğal dünya arasındaki denge olan natüralist bir konsept uyguladılar. Sürdürülebilirlik her anlamda önemlidir, bu yüzden zanaatkarlık ve doğa arasında bir denge yaratmanın daha iyi bir gelecek için anahtar olduğuna inanıyorum. Tasarımlarımda temel hedefim çevresel etkinin farkında olmak; bu nedenle, iklimle tasarım, iklim değişikliğine yaklaşmanın en akıllı yoludur. Güneşin ve rüzgarın yönlendirilmesi, elektriksiz ısıtma ve soğutma konusunda doğal çözümler sağlayacak tasarımlarda yardımcı araçlardır. Dünyanın teknolojisi muazzam bir şekilde ilerliyor olsa da, iklim değişikliğinin ana faktörü olan gaz emisyonlarının nasıl azaltılacağı konusunda çok fazla yenilik yok. Bu nedenle, büyüyen topluluklar arasında konut geliştirme için doğal kaynaklarımızın kullanımını nasıl artıracağımız konusunda farkındalık yaratmak önemlidir. Hepimizin bu dünyaya bir amaçla geldiğine inanıyorum ve benimkini buldum - doğayla tasarlayın ve çevreye zarar vermeden bir dünya inşa edin ya da en azından bu şekilde yapmak için elimden gelenin en iyisini yapın.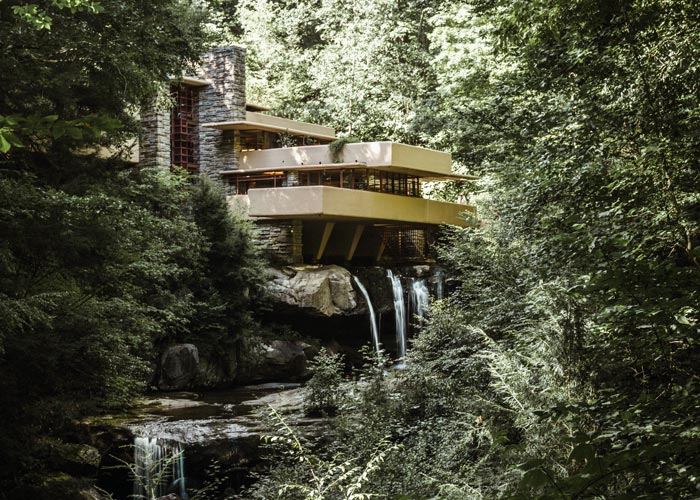 (Fallingwater House, Frank Lloyd Wright)
---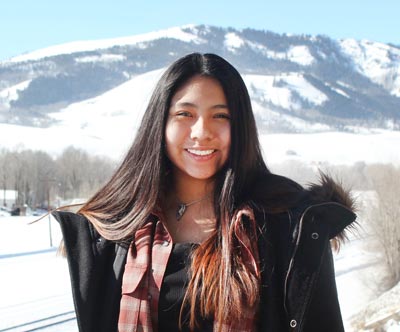 Bir
Peru, Lima'dan Alejandra Salas, bir mimarlık öğrencisi ve Truckee Meadows Community College'da yeni Uluslararası Akran Danışmanıdır.