In our effort to bring good content to as many people as possible the text in this blog post has been machine translated so please excuse any mistakes. Thank you!
Por Alejandra Salas
Quando eu era criança, lembro-me de andar pelo centro histórico de Lima com minha família e ficar hipnotizado pelos antigos edifícios coloniais e igrejas ao nosso redor. Aquelas estruturas antigas, mas fascinantes, me deixaram feliz e confuso ao mesmo tempo, porque eu queria saber quem as construiu e como, o que despertou minha curiosidade em um sentido particular - eu queria fazer o mesmo, queria criar algo que durasse através do tempo. Brincar com aquarelas e argila em uma idade jovem permitiu-me expressar e explorar minha criatividade em artes e ofícios. Ainda assim, quando eu tinha dez anos, me senti confortável desenhando cidades utópicas em meu caderno apenas por diversão, então eu transformei meu hobby mais engraçado em um compromisso real - decidi me tornar um arquiteto. Meus pais ficaram muito felizes em ouvir isso de sua filha mais nova, porque eu fui o primeiro a escolher uma carreira artística, vindo de uma família cheia de economistas, contadores e engenheiros, então minha jornada começou aí.
Enquanto aproveitava minha jornada no ensino médio, eu rapidamente percebi que tinha que me preparar para meu próximo grande passo - me inscrever em uma escola de arquitetura. Tive que fazer muitas pesquisas sobre as escolas da minha cidade de Lima, no Peru, e também pensar nas possibilidades de estudar no exterior. Antes de decidir o que seria um compromisso de cinco anos, repensei todas as minhas opções disponíveis em relação à caça de carreira e, mais uma vez, assegurei-me de que a arquitetura era a minha praia.
A arte de projetar e criar algo que sai de sua criatividade e imaginação é além da loucura, mas fascinante. Decidi seguir a carreira de arquitetura porque permite expressar seus pensamentos através de espaços, projetar com diversão e precisão e, mais importante, é gratificante desenvolver um projeto e vê-lo se transformar em uma realidade em escala humana. O dever de um arquiteto é projetar e criar um ambiente físico para os seres humanos, mas mais do que apenas o ambiente construído, é também uma parte da nossa cultura que de alguma forma evoca diferentes emoções nas pessoas.
Ninguém me disse que a vida universitária era fácil; Eu mesmo aprendi que certamente não é. Estudar na Universidade Peruana de Ciências Aplicadas (UPC) me proporcionou uma experiência incrível; por meio de suas aulas e instrutores, pude aprender com os melhores arquitetos de Lima. De longas noites, poucas horas de sono, a prazos agitados de projetos, esse era o meu dia a dia como estudante de arquitetura e eu abracei isso. Além disso, a escola de arquitetura me ensinou força, paciência e resiliência; no entanto, também me deu os melhores colegas e amigos que tenho na vida. No geral, a faculdade de design foi boa, mas eu queria enfatizar minha carreira em arquitetura sustentável, e foi então que decidi estudar no exterior e prosseguir meus estudos em design ambiental; afinal, o design sustentável é a abordagem futura do desenvolvimento habitacional para as gerações futuras.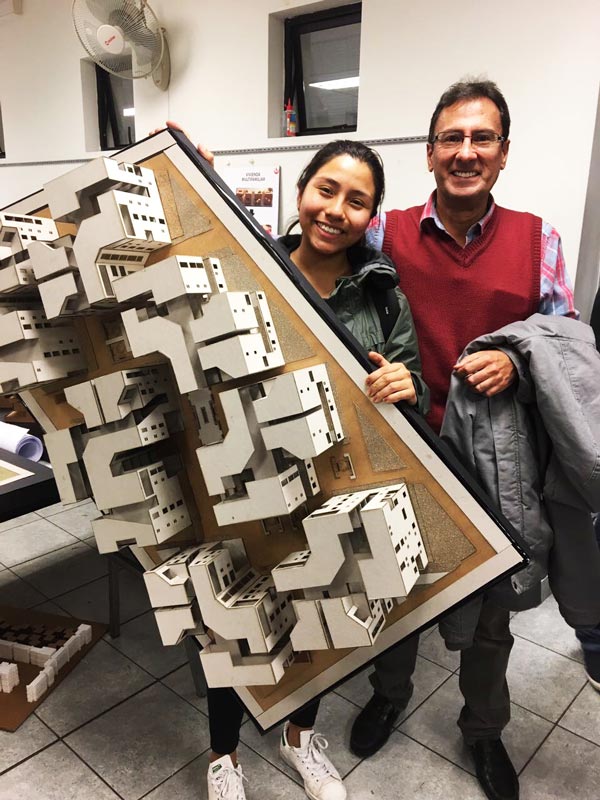 (Na minha apresentação final do projeto com o instrutor Hugo Iberico)
Minha inspiração, quando se trata de design, veio de arquitetos famosos como Frank Lloyd Wright, Le Corbusier e Tadao Ando. Esses arquitetos aplicaram um conceito naturalista em seus projetos, que é o equilíbrio entre a habitação humana e o mundo natural. A sustentabilidade é importante em todos os sentidos, por isso acredito que criar um equilíbrio entre o artesanato e a natureza é a chave para um futuro melhor. Em meus projetos, meu principal objetivo é estar atento ao impacto ambiental; portanto, o design com clima é a maneira mais inteligente de abordar as mudanças climáticas. A orientação do sol e do vento são ferramentas úteis ao projetar que fornecerá soluções naturais em relação ao aquecimento e resfriamento sem eletricidade. Embora a tecnologia mundial esteja avançando de forma colossal, não há muita inovação em como reduzir as emissões de gases, que é o principal fator das mudanças climáticas. É por isso que é importante criar consciência sobre como melhorar o uso de nossos recursos naturais para o desenvolvimento habitacional entre as comunidades em crescimento. Acredito que todos nós viemos a este mundo com um propósito e eu encontrei o meu - projetar com a natureza e construir um mundo sem danos ambientais ou pelo menos fazer o meu melhor para que assim seja.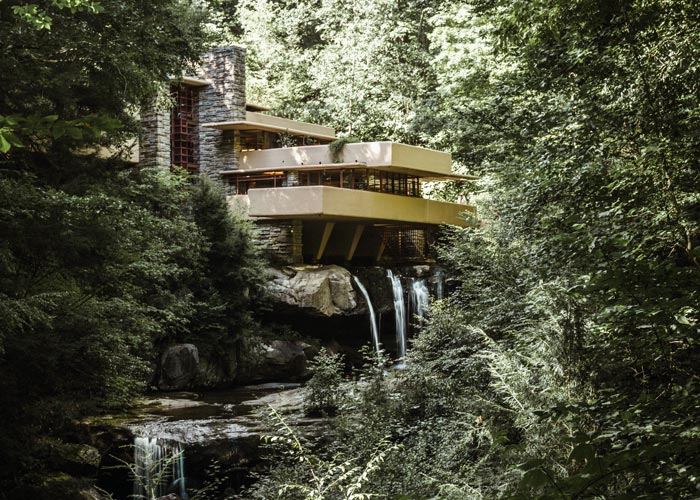 (Fallingwater House de Frank Lloyd Wright)
---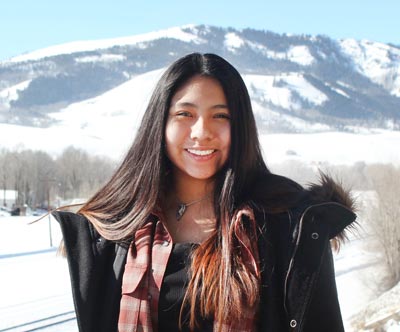 UMA
Alejandra Salas de Lima, Peru, é uma estudante de arquitetura e nova International Peer Mentor no Truckee Meadows Community College .