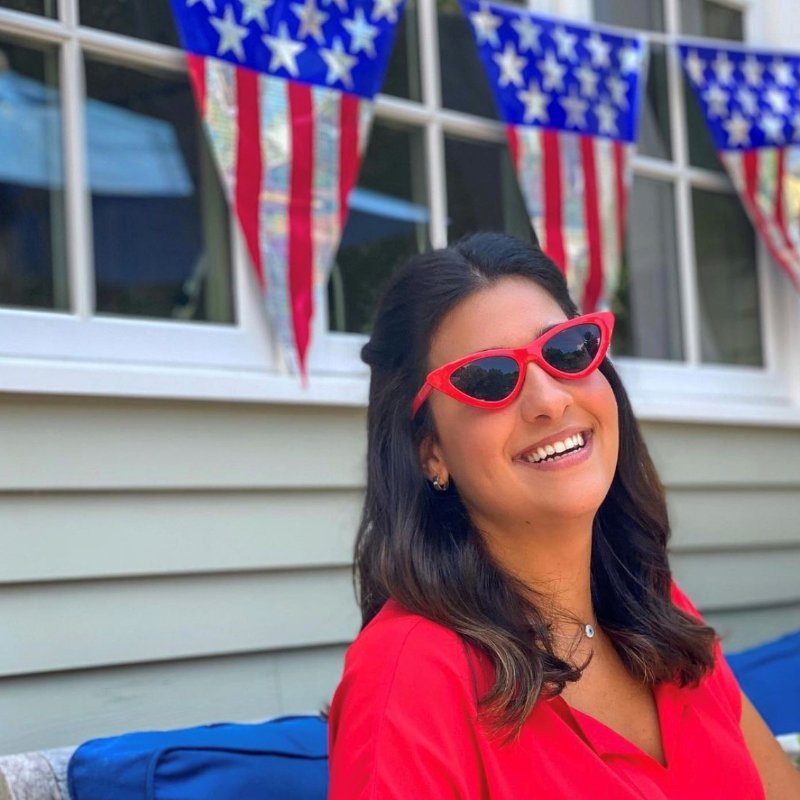 In our effort to bring good content to as many people as possible the text in this blog post has been machine translated so please excuse any mistakes. Thank you!
Oleh Pietro Rossini
"Saya tidak pernah benar-benar bermimpi untuk menghabiskan waktu begitu lama di luar negeri," kata Maria Eduarda Montan Semmelroth dari Brazil tentang pengalamannya di AS sebagai pelajar internasional (dengan visa F-1).
"Tetapi suatu hari," dia melanjutkan, "Saya sedang makan siang dengan ibu saya ketika dia bertanya apakah saya ingin mengambil kursus bahasa Inggris di suatu tempat." Beginilah perjalanan Maria ke luar negeri dimulai.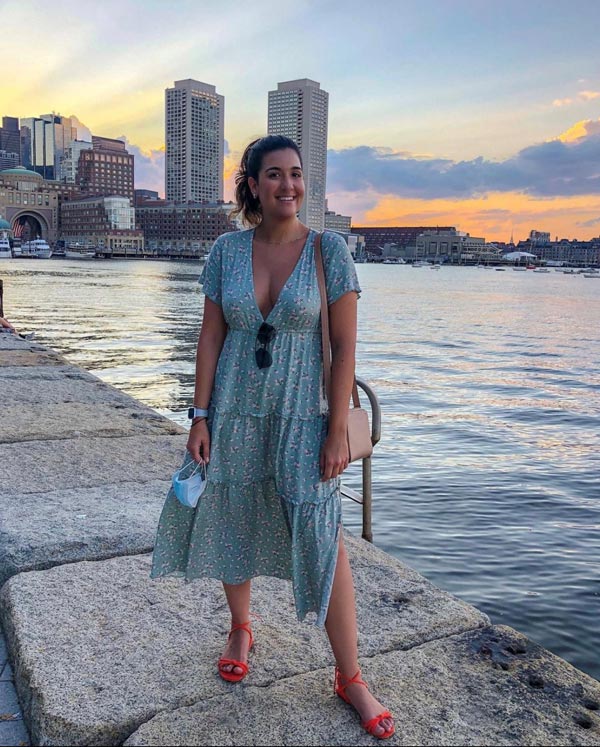 Maria di Boston
Dia menerima tantangan ini, dan pertama-tama dia datang ke AS sebagai au pair (dia merawat anak-anak keluarga angkatnya), dan kemudian sebagai pelajar bahasa Inggris (dengan visa J-1). "Saya ingin meningkatkan bahasa Inggris saya dan juga mendapatkan uang pada saat yang sama, jadi itu adalah pertukaran paling masuk akal yang saya temukan," katanya.
Ini bukan hanya pengalaman satu hari bagi Maria, "Saya jatuh cinta dengan negara ini, dan di sinilah saya, masih!" Setelah lebih dari tiga tahun, Maria masih tinggal di AS untuk menggapai mimpinya.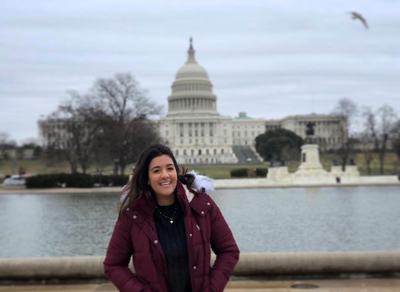 Maria di Washington DC
Maria saat ini adalah mahasiswa internasional. Dia lulus dengan gelar arsitektur di Brasil, dan sekarang dia mengejar gelar kedua dalam bidang komunikasi di Framingham State University (MA).
"Saya ingin sekali mencari pekerjaan di bidang hubungan masyarakat," kata Maria, dan dia melanjutkan untuk menjelaskan "Saya lebih suka belajar di AS karena gelar dari universitas Amerika akan meningkatkan kurikulum saya." Maria, memang, berharap dengan gelar Amerika dia bisa memiliki lebih banyak kesempatan untuk posisi pekerjaan di masa depan.
Namun, kehidupan siswa internasional seperti Maria tidak selalu mudah. "Sangat sulit berada jauh dari keluarga dan teman-teman saya, terutama, selama masa pandemi ini ketika mereka tidak dapat mengunjungi saya." Maria terkadang merasa rindu kampung halaman, dan pandemi menambah bahan bakar ke dalam api. "Saya melewatkan begitu banyak acara khusus - teman menikah, sepupu melahirkan bayi, ulang tahun pernikahan orang tua saya, dan bahkan pesta ulang tahun." Ini adalah bagian dari kehidupan sehari-hari seorang siswa internasional, dan Maria berkomentar, "Saya kecewa karena melewatkan semua itu, tetapi saya juga tahu bahwa saya menjalani saat-saat yang luar biasa di sini, jadi saya mencoba untuk menyeimbangkan."
Dengan visa F-1, Maria harus belajar setidaknya 18 jam per minggu, dan dia hanya bisa bekerja di kampus. Di sisi lain dia berkata, "Ketika saya mendapatkan gelar saya, saya dapat mengajukan izin setahun untuk bekerja di bidang saya." Ini disebut OPT (pelatihan praktis opsional), dan ini adalah pilihan yang dapat dibuat oleh setiap siswa internasional di akhir studi mereka.
"Jika saya menemukan organisasi yang saya sukai dan mensponsori visa kerja, saya akan senang tinggal di sini," lanjut Maria, "Namun, saya hidup satu hari pada satu waktu, berusaha untuk tidak merencanakan terlalu banyak ke depan."
Ada harapan dan mimpi seperti itu dalam apa yang dikatakan Maria. Dia tidak kekurangan kesempatan di depan, dan dia suka menjalani hidup hari demi hari. Dia berkata, "Inilah cara saya mencapai impian saya!"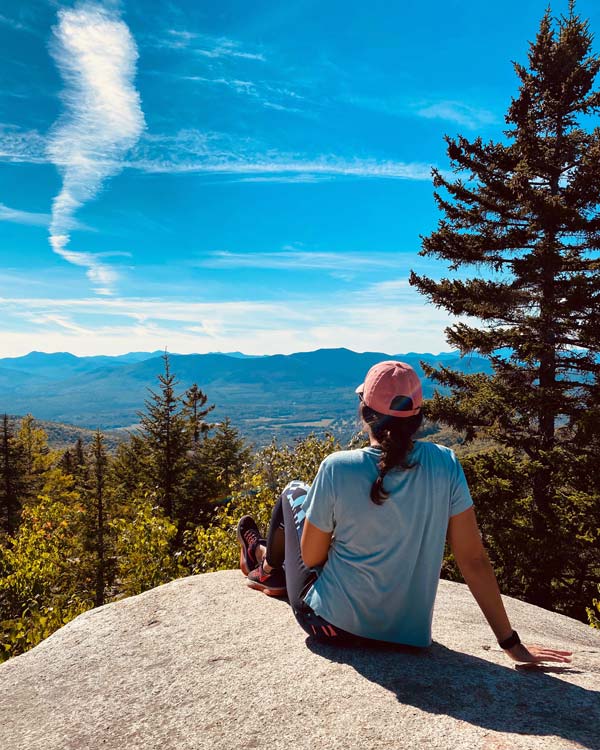 Maria juga memberikan saran kepada siswa lain yang akan datang ke AS, "Datang dengan hati terbuka, terbuka untuk bertemu orang, terbuka untuk menjalani budaya baru, terbuka untuk mencoba hal baru, hobi baru." Yang pasti, dia melanjutkan, "Akan ada saat-saat sulit, tetapi hasil keseluruhan adalah sesuatu yang istimewa."
---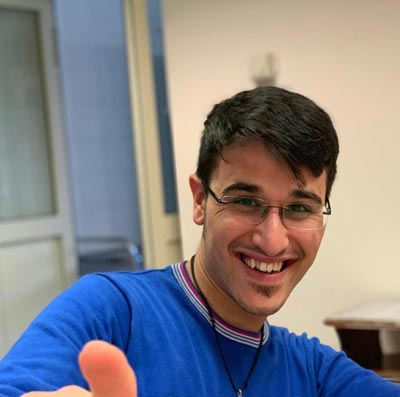 Pietro Rossini adalah Misionaris Xaverian dan mahasiswa ESL di Framingham State University . Ia datang ke AS pada Januari 2020 dengan tujuan belajar untuk master seni di bidang jurnalisme di Universitas Boston. Mimpinya adalah mengumpulkan dan berbagi cerita tentang kemanusiaan di seluruh dunia, menjadikan dunia sebagai satu keluarga.