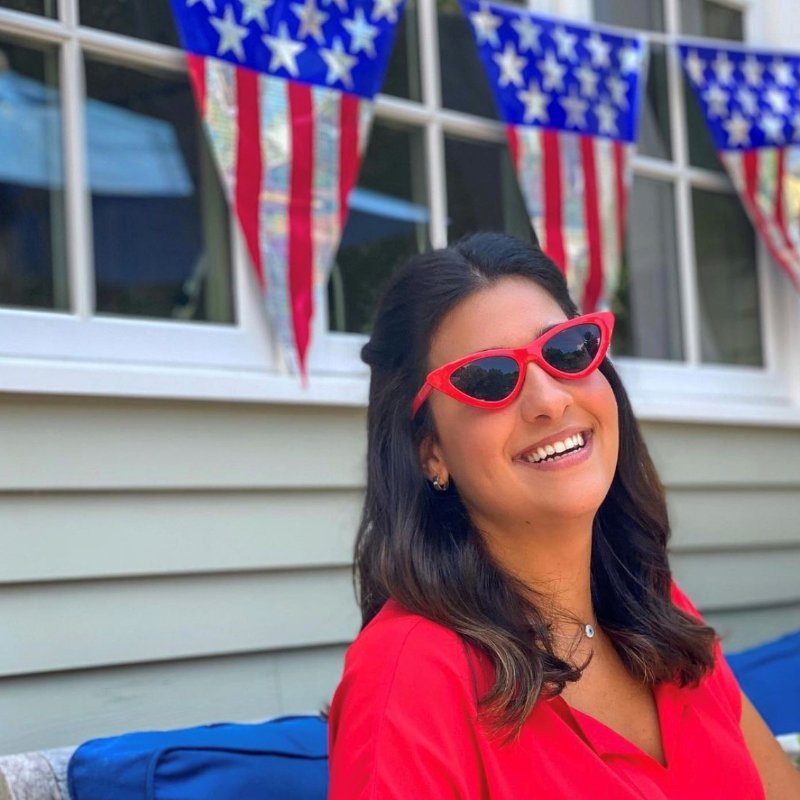 In our effort to bring good content to as many people as possible the text in this blog post has been machine translated so please excuse any mistakes. Thank you!
بقلم بيترو روسيني
قالت ماريا إدواردا مونتان سيميلروث من البرازيل عن تجربتها في الولايات المتحدة كطالبة دولية (بتأشيرة F-1): "لم أحلم أبدًا بقضاء مثل هذا الوقت الطويل في الخارج".
وتتابع قائلة: "لكن ذات يوم ، كنت أتناول الغداء مع أمي عندما سألتني عما إذا كنت أرغب في الالتحاق بدورة اللغة الإنجليزية في مكان ما." هكذا بدأت رحلة ماريا إلى الخارج.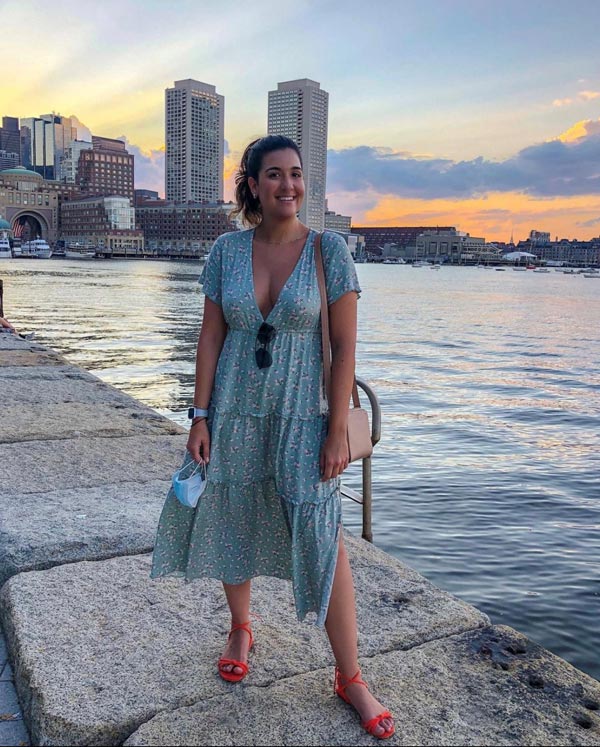 ماريا في بوسطن
قبلت هذا التحدي ، وجاءت إلى الولايات المتحدة أولاً كزوج au (اعتنت بأطفال عائلتها المضيفة) ، ثم كطالبة لغة إنجليزية (بتأشيرة J-1). قالت: "أردت تحسين لغتي الإنجليزية وكسب المال أيضًا في نفس الوقت ، لذلك كان هذا هو التبادل الأكثر منطقية الذي وجدته".
لم تكن هذه مجرد تجربة ليوم واحد لماريا ، "لقد وقعت في حب هذا البلد ، وها أنا ذا ، ما زلت!" بعد أكثر من ثلاث سنوات ، ما زالت ماريا تعيش في الولايات المتحدة وتحقق أحلامها.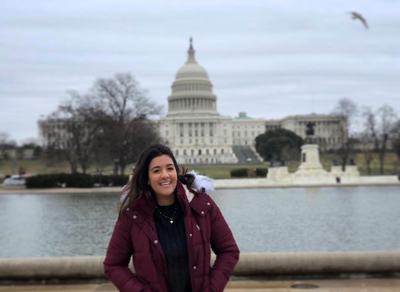 ماريا في واشنطن العاصمة
ماريا حاليا طالبة دولية. تخرجت بدرجة البكالوريوس في الهندسة المعمارية في البرازيل ، وهي الآن تسعى للحصول على درجة ثانية في الاتصال في جامعة ولاية فرامنغهام (ماجستير).
قالت ماريا: "أرغب في العثور على وظيفة في مجال العلاقات العامة" ، ومضت لتشرح "أفضل الدراسة في الولايات المتحدة لأن الحصول على شهادة جامعية من جامعة أمريكية سيعزز منهجي." تأمل ماريا في الواقع أن تحصل على المزيد من الفرص لشغل وظائف مستقبلية بشهادة أمريكية.
ومع ذلك ، فإن حياة طالب دولي مثل ماريا ليست دائمًا قطعة من الكعكة. "لقد كان من الصعب الابتعاد عن عائلتي وأصدقائي ، خاصة ، خلال هذا الوقت من الوباء عندما لا يستطيعون القدوم لزيارتي." تشعر ماريا أحيانًا بالحنين إلى الوطن ، ويضيف الوباء الوقود إلى النار. "أفتقد الكثير من المناسبات الخاصة - الأصدقاء الذين يتزوجون ، وأبناء العم الذين ينجبون أطفالًا ، والذكرى السنوية لزواج والدي ، وحتى حفلات أعياد الميلاد." هذا جزء من الحياة العادية لطالب دولي ، وتعلق ماريا قائلة: "أشعر بالضيق بسبب ضياع كل ذلك ، لكنني أعلم أيضًا أنني أعيش لحظات رائعة هنا ، لذا أحاول تحقيق التوازن."
بتأشيرة F-1 ، يجب أن تدرس ماريا ما لا يقل عن 18 ساعة في الأسبوع ، ولا يمكنها العمل إلا داخل الحرم الجامعي. من ناحية أخرى ، تقول ، "عندما أحصل على شهادتي ، يمكنني التقدم للحصول على تصريح لمدة عام للعمل في مجالي." وهذا ما يسمى OPT (تدريب عملي اختياري) ، وهو خيار يمكن لكل طالب دولي القيام به في نهاية دراسته.
تتابع ماريا: "إذا وجدت منظمة أستمتع بها وترعى تأشيرات العمل ، فإنني أرغب في البقاء هنا ، ومع ذلك ، فأنا أعيش يومًا واحدًا في كل مرة ، وأحاول ألا أخطط كثيرًا مسبقًا."
يوجد مثل هذا الأمل والحلم فيما تقوله ماريا. ليس أمامها نقص في الفرص ، وهي تحب أن تعيش حياتها يومًا بعد يوم. تقول ، "هكذا سأحقق حلمي!"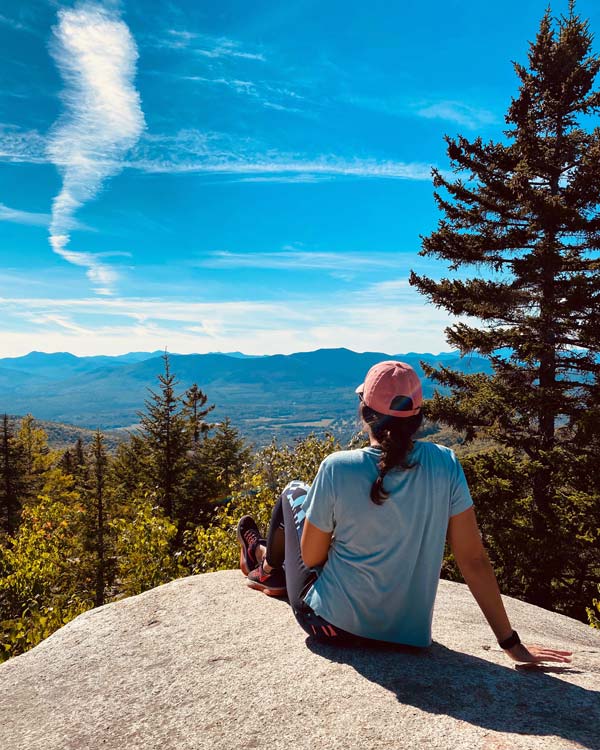 لدى ماريا أيضًا اقتراح للطلاب الآخرين الذين سيأتون إلى الولايات المتحدة ، "تعال بقلب مفتوح ، ومنفتح للقاء أشخاص ، ومنفتح على عيش ثقافة جديدة ، ومنفتح على تجربة أشياء جديدة ، وهوايات جديدة." بالتأكيد ، تتابع قائلة: "ستكون هناك لحظات صعبة ، لكن النتيجة الإجمالية شيء مميز".
---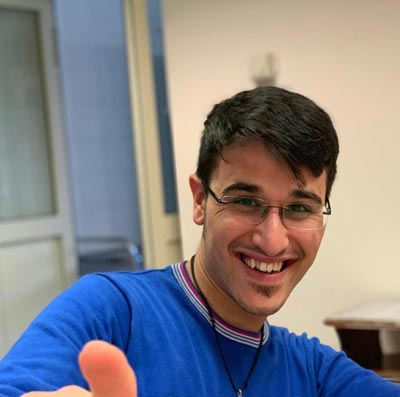 بيترو روسيني هو Xaverian Missionary وطالب ESL في جامعة ولاية فرامنغهام . جاء إلى الولايات المتحدة في يناير 2020 بغرض الدراسة للحصول على درجة الماجستير في الصحافة في جامعة بوسطن. حلمه هو جمع ومشاركة قصص الإنسانية في جميع أنحاء العالم ، وجعل العالم أسرة واحدة.