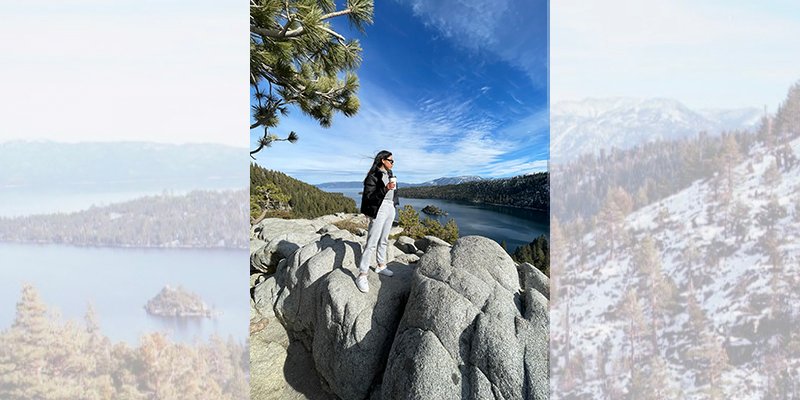 In our effort to bring good content to as many people as possible the text in this blog post has been machine translated so please excuse any mistakes. Thank you!
Автор: Алехандра Салас
Перед началом весны 2021 года я хотел совершить поход в одно из моих любимых мест вокруг озера Тахо в Калифорнии: национальный парк Эмералд-Бэй. Был солнечный день и прекрасная погода, чтобы побыть на улице, прежде чем сильная метель приблизилась к этому месту, поэтому я решил проснуться пораньше и отправиться в путь. Направляясь из Тахо-Сити в сторону шоссе 89 Вест-Лейк-Бульвар, вы сможете увидеть озеро, пока ведете машину, и, что наиболее важно, есть местные рынки и пекарни, такие как пекарня Tahoe House, где вы можете зайти, чтобы купить сладкие деликатесы, такие как знаменитый круассан с лесным орехом и обжаренный кофе, прежде чем отправиться в Изумрудный залив, который находится в 40 минутах езды. Я лично рекомендую всем иметь хороший музыкальный плейлист и наслаждаться поездкой в окружении завораживающей природы вокруг Тахо.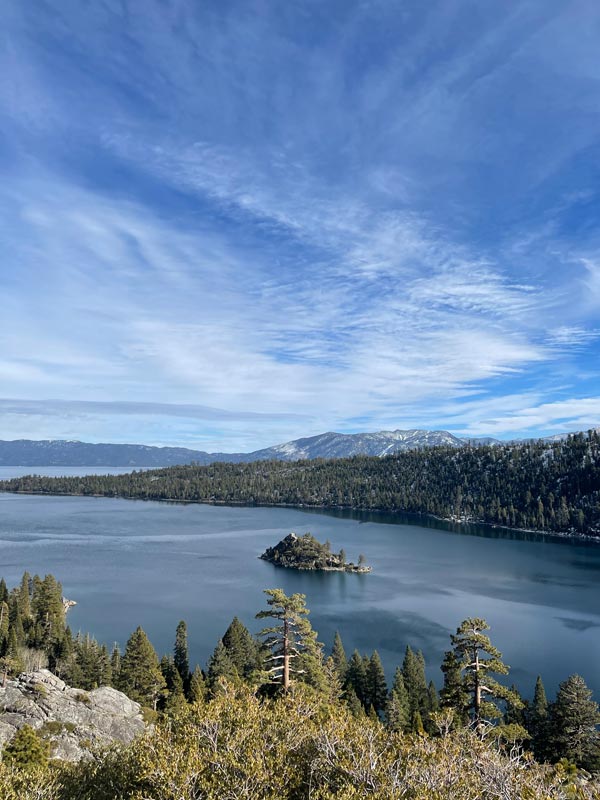 Оказавшись там, я заметил, что парковочных мест не так много, и большинство из них находится на обочине дороги (небольшая парковка обычно заполняется первым делом с утра), поэтому рекомендуется ехать пораньше, чтобы избежать этих типов вопросы. К счастью, мне удалось найти место, не напрягаясь до предела, и, выйдя из машины, я уставился на потрясающие пейзажи высоких гор и озера, но лучшее было еще впереди. Подойдя к смотровой площадке, вы увидите огромные валуны, которые позволят вам прогуляться и полюбоваться панорамным видом между бирюзовой водой, горным хребтом и островом Фаннетт, который выглядит почти как скрытый оазис в лесу.
На смотровой площадке я остановился и потратил немного времени, чтобы просто развлечься. Кроме того, это был идеальный момент тишины, чтобы очистить мой разум, зарядиться энергией и разумом и установить свои цели на начало семестра. Я настоятельно рекомендую исследовать природу в туманные дни, что помогает перезагрузить ум и каким-то образом дает вам это чувство ясности. Государственный парк Эмералд-Бэй огромен, поэтому, осмотрев смотровую площадку, я перешел дорогу и пошел по тропе к точке вдохновения, до которой легко добраться и быстро пройти пешком снизу. В конце концов, я рада, что провела свой последний день отпуска в этом особенном месте, где я могу оценить всемогущую природу.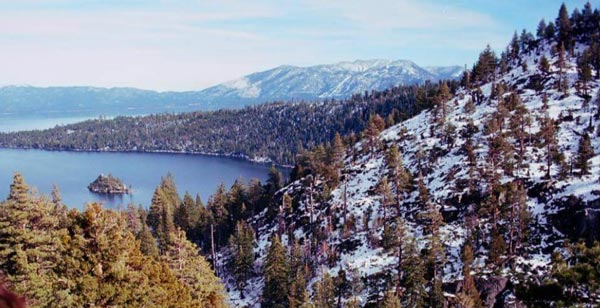 Вот фото, которое я сделал из Inspiration Point
---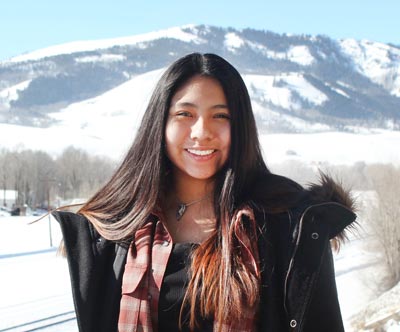 А
Алехандра Салас из Лимы, Перу, изучает архитектуру и является новым международным наставником в муниципальном колледже Траки Медоуз .