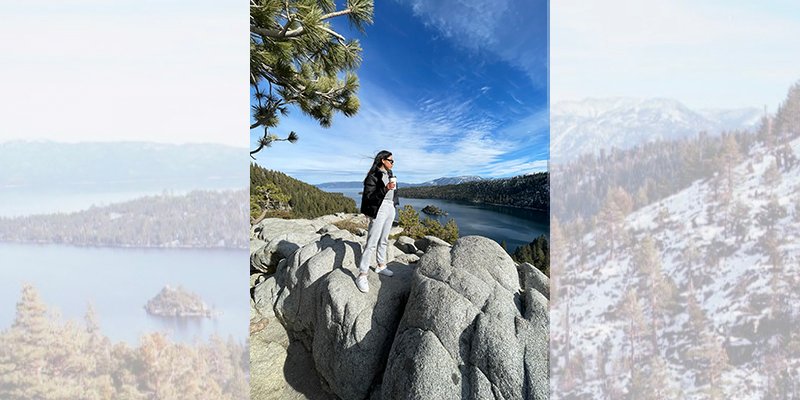 In our effort to bring good content to as many people as possible the text in this blog post has been machine translated so please excuse any mistakes. Thank you!
Por Alejandra Salas
Antes do início da primavera de 2021, eu queria fazer uma caminhada até um dos meus lugares favoritos ao redor de Lake Tahoe, na Califórnia: Emerald Bay National Park. Era um dia ensolarado e um tempo perfeito para estar ao ar livre antes que uma grande tempestade de neve se aproximasse da área, então decidi acordar cedo e pegar a estrada. Vindo de Tahoe City em direção à West Lake Boulevard Highway 89, você consegue ver o lago enquanto dirige e, o mais importante, há mercados e padarias locais, como a Tahoe House Bakery, onde você pode parar para comprar iguarias doces como seu famoso croissant de avelã e café torrado antes de ir para Emerald Bay, que fica a 40 minutos de carro. Eu pessoalmente encorajo a todos a terem uma boa lista de reprodução de música e curtir o passeio enquanto estão cercados pela natureza hipnotizante ao redor de Tahoe.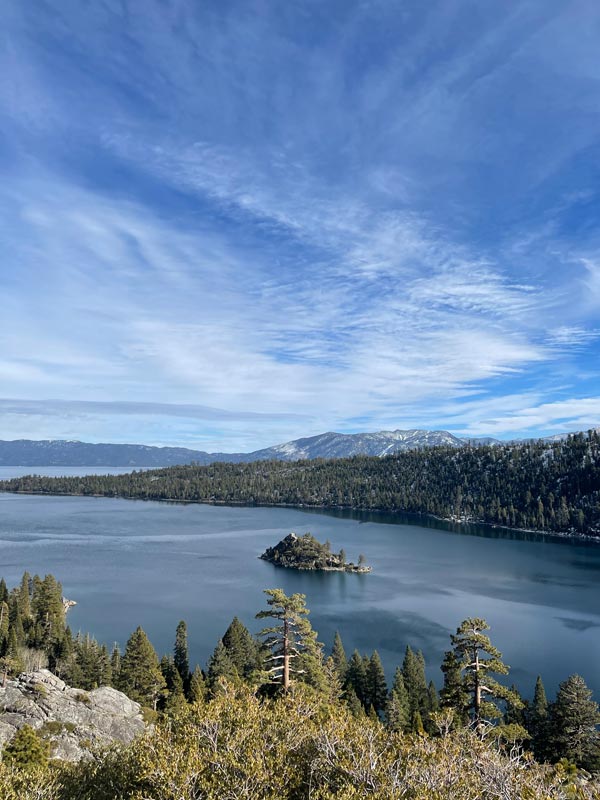 Uma vez lá, percebi que não havia muitos lugares de estacionamento disponíveis e a maioria deles na beira da estrada (o pequeno estacionamento geralmente enche de manhã cedo), portanto, ir cedo é mais recomendado para evitar esses tipos de questões. Felizmente, consegui encontrar um lugar sem apertar os limites e, uma vez fora do carro, olhei para a paisagem deslumbrante das altas montanhas e do Lago, mas o melhor ainda estava por vir. Caminhando em direção ao mirante você avista enormes rochedos que permitem entrar e admirar a vista panorâmica entre as águas turquesa, a cordilheira e a Ilha Fannette, parecendo quase um oásis escondido na floresta.
No mirante, parei e tirei um tempo só para me divertir. Além disso, foi o momento de silêncio perfeito para limpar minha mente, recarregar minha energia e mente e definir minhas metas para o início do semestre. Eu recomendo fortemente explorar o ar livre em dias embaçados, o que ajuda a reiniciar a mente e, de alguma forma, dá a você essa sensação de clareza. O Emerald Bay State Park é enorme, então após conferir o mirante, atravessei a estrada e peguei a trilha até o Inspiration Point que é um acesso fácil e uma caminhada rápida pelo fundo. Afinal, estou feliz por ter passado meu último dia de férias neste lugar especial, onde posso apreciar a natureza onipotente.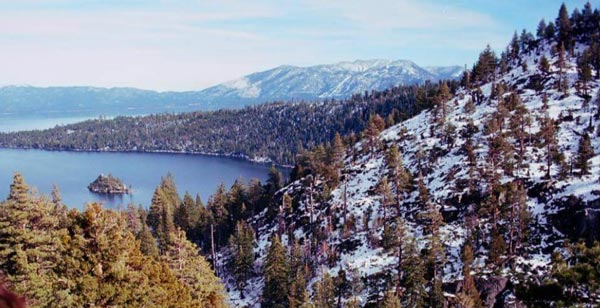 Aqui está uma foto que tirei do Inspiration Point
---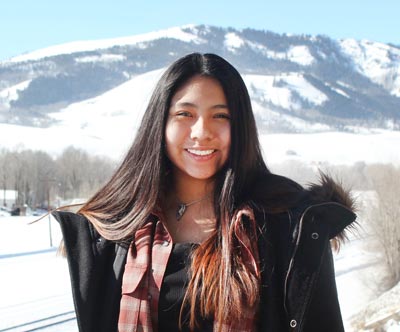 UMA
Alejandra Salas de Lima, Peru, é estudante de arquitetura e nova International Peer Mentor no Truckee Meadows Community College .