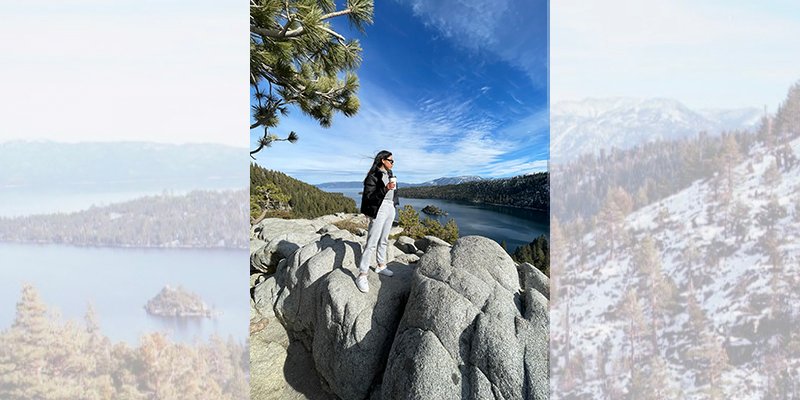 In our effort to bring good content to as many people as possible the text in this blog post has been machine translated so please excuse any mistakes. Thank you!
Oleh Alejandra Salas
Sebelum musim semi 2021 dimulai, saya ingin mendaki ke salah satu tempat favorit saya di sekitar Danau Tahoe di California: Taman Nasional Emerald Bay. Itu adalah hari yang cerah dan cuaca yang sempurna untuk berada di luar ruangan sebelum badai salju besar menghampiri daerah tersebut, jadi saya memutuskan untuk bangun pagi-pagi dan berangkat. Datang dari Tahoe City menuju West Lake Boulevard Highway 89, Anda dapat melihat danau sambil mengemudi dan yang terpenting, ada pasar lokal dan toko roti seperti Tahoe House Bakery di mana Anda dapat mampir untuk mendapatkan makanan manis seperti croissant hazelnut yang terkenal dan kopi panggang sebelum menuju ke Emerald Bay, yang berjarak 40 menit berkendara. Saya pribadi mendorong semua orang untuk memiliki playlist musik yang bagus dan menikmati perjalanan sambil dikelilingi oleh alam yang mempesona di sekitar Tahoe.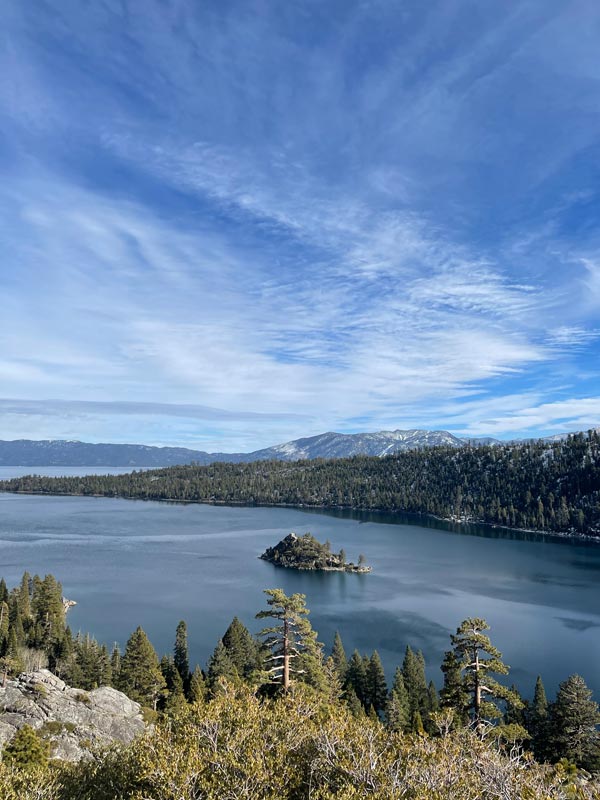 Sesampai di sana, saya perhatikan bahwa tidak banyak tempat parkir yang tersedia dan sebagian besar berada di pinggir jalan (tempat parkir kecil biasanya terisi pada pagi hari), jadi pergi lebih awal sangat disarankan untuk menghindari jenis parkir ini. masalah. Untungnya, saya dapat menemukan tempat tanpa menekan batas, dan begitu keluar dari mobil, saya menatap pemandangan pegunungan tinggi dan danau yang menakjubkan, tetapi yang terbaik belum datang. Berjalan menuju titik pandang, Anda bisa melihat batu-batu besar yang memungkinkan Anda masuk dan mengagumi pemandangan panorama antara air biru kehijauan, pegunungan dan Pulau Fannette, tampak hampir seperti oasis tersembunyi di hutan.
Pada sudut pandang, saya berhenti dan meluangkan waktu untuk bersenang-senang. Juga, itu adalah momen hening yang sempurna untuk menjernihkan pikiran, mengisi ulang energi dan pikiran saya, dan menetapkan tujuan saya untuk awal semester. Saya sangat menyarankan untuk menjelajahi alam bebas ketika dalam hari-hari yang kabur, yang membantu untuk menghidupkan kembali pikiran dan entah bagaimana memberi Anda kejernihan ini. Emerald Bay State Park sangat besar, jadi setelah memeriksa viewpoint, saya menyeberang jalan dan mengambil jalan setapak ke Inspiration Point yang merupakan akses mudah dan pendakian cepat dari bawah. Bagaimanapun, saya senang saya menghabiskan hari terakhir liburan saya di tempat khusus ini, di mana saya bisa menghargai alam yang maha kuasa.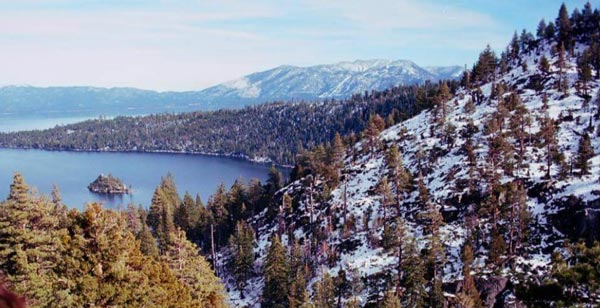 Ini foto yang saya ambil dari Inspiration Point
---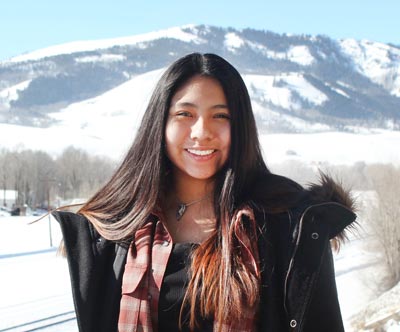 SEBUAH
Alejandra Salas dari Lima, Peru, adalah seorang mahasiswa arsitektur dan Mentor Sejawat Internasional baru di Truckee Meadows Community College .