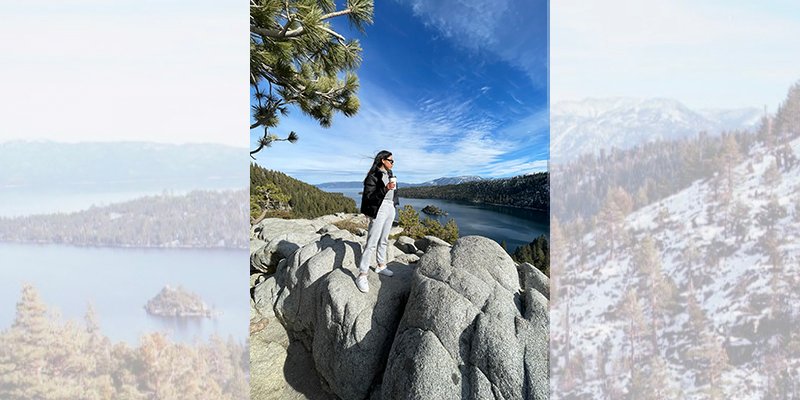 In our effort to bring good content to as many people as possible the text in this blog post has been machine translated so please excuse any mistakes. Thank you!
Por Alejandra Salas
Antes de que comenzara la primavera de 2021, quería hacer una caminata a uno de mis lugares favoritos alrededor del lago Tahoe en California: el Parque Nacional Emerald Bay. Era un día soleado y un clima perfecto para estar al aire libre antes de que una gran tormenta de nieve se acercara al área, así que decidí levantarme temprano y salir a la carretera. Viniendo de Tahoe City hacia West Lake Boulevard Highway 89, puede ver el lago mientras conduce y, lo más importante, hay mercados y panaderías locales como Tahoe House Bakery, donde puede pasar a comprar delicias dulces como su famoso croissant de avellana y café tostado antes de dirigirse a Emerald Bay, que se encuentra a 40 minutos en coche. Personalmente, animo a todos a que tengan una buena lista de reproducción de música y disfruten del viaje mientras están rodeados de la fascinante naturaleza que rodea a Tahoe.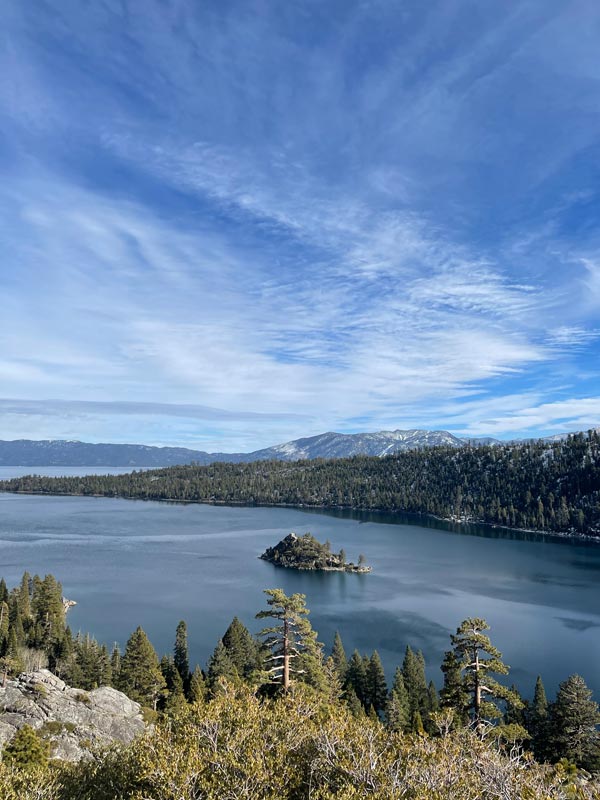 Una vez allí, noté que no había muchos lugares de estacionamiento disponibles y la mayoría de ellos al costado de la carretera (el estacionamiento pequeño generalmente se llena a primera hora de la mañana), por lo que lo más recomendable es ir temprano para evitar este tipo de cuestiones. Afortunadamente, pude encontrar un lugar sin exprimirme hasta los límites, y una vez fuera del auto, miré el impresionante paisaje de las altas montañas y el lago, pero lo mejor estaba por venir. Caminando hacia el mirador se llega a ver enormes rocas que le permiten caminar y admirar la vista panorámica entre el agua turquesa, la cordillera y la isla Fannette, casi como un oasis escondido en el bosque.
En el mirador me detuve y me tomé un tiempo para divertirme. Además, fue el momento de silencio perfecto para aclarar mi mente, recargar mi energía y mi mente y establecer mis metas para el comienzo del semestre. Recomiendo encarecidamente explorar el aire libre en días borrosos, lo que ayuda a reiniciar la mente y de alguna manera te da esta sensación de claridad. El Parque Estatal Emerald Bay es enorme, así que después de revisar el mirador, crucé la carretera y tomé el sendero hasta el Punto de inspiración, que es un acceso fácil y una caminata rápida desde el fondo. Después de todo, me alegro de haber pasado mi último día de vacaciones en este lugar especial, donde puedo apreciar la naturaleza todopoderosa.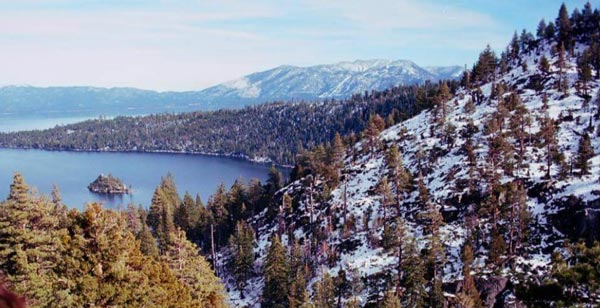 Aquí hay una foto que tomé de Inspiration Point
---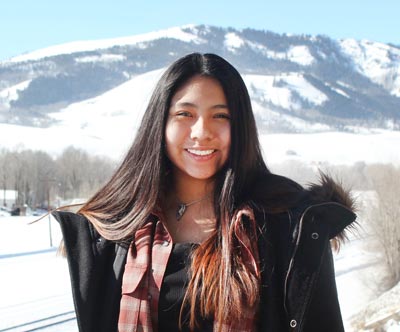 A
Alejandra Salas de Lima, Perú, es estudiante de arquitectura y nueva mentora internacional en Truckee Meadows Community College .